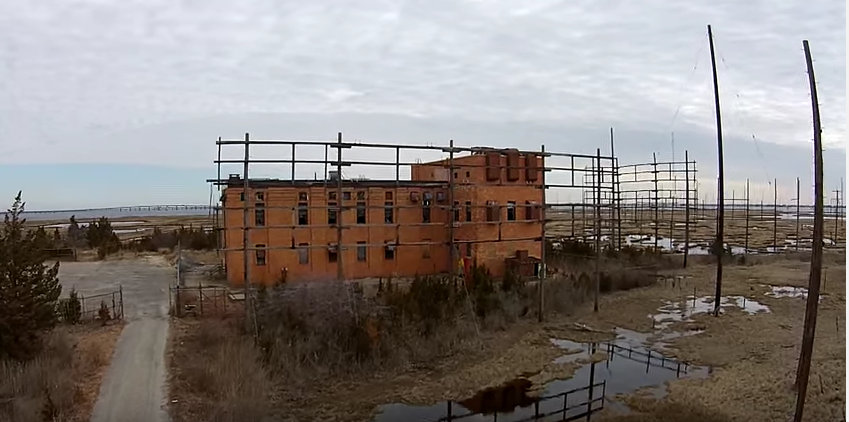 Many thanks to SWLing Post readers Al Quaglieri and Alan Tu for sharing the following story via app.com about the removal of the remnants of radio station WOO:
BERKELEY TOWNSHIP — The mysterious poles have stood in the open marshland off Good Luck Point for nearly 80 years, but sometime in January these local landmarks will finally be removed.

"We're still working with the contractor to determine the exact start time," said Virginia Rettig, a spokeswoman for the Edwin B. Forsythe National Wildlife Refuge. "This is a little more difficult than the typical project, as we're trying to be sensitive to the marsh surface."

The Good Luck Point poles – and a similar pole field in Stafford's Manahawkin section – were part of inactive shortwave antenna fields used by AT&T for ship-to-shore shortwave communications.

They've become a familiar landmark for boaters, fishermen and residents of the area, and can be seen from the bayside in Seaside Heights and Seaside Park.

The antenna field was in operation from the early 1930s until 1999. A shuttered building on the Good Luck Point portion of the antenna field contained equipment related to shortwave communications.

Under the call sign WOO, the shortwave facility at Good Luck Point (known as Ocean Gate) was a renowned transmitting station, which helped broadcast Voice of America around the globe after 1944 and enabled communication with ships at sea throughout the 20th century, according to the U.S. Fish and Wildlife Service.

According to federal officials, about 340 poles will be removed from the Berkeley site, along with several metal antennae.

In Manahawkin, about 113 wooden poles will be removed from the antenna field. Several metal antennas will also be removed.
Check out this excellent video–an aerial view of Good Luck Point: