I'm currently in the process of adding 200-300 watts of 12-volt solar panels to my truck camper.
Solar panels will keep my camper's 12V deep-cycle battery topped off, thus allowing longer stretches of time for boon-docking or primitive camping, during which an occupied camper is off-grid from shore power.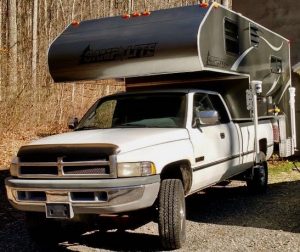 My truck camper actually came with a simple built-in charge controller which charges the battery via shore power. Thing is…this shore power charger is incredibly noisy when I'm on the radio.  The QRM it generates is broadband, and almost entirely wipes out HF and MW radio listening.
Because of this, I'm forced to unplug my power whenever I'm in the camper and want to hop on the air. And since the whole idea of camper living is to enjoy a bit of rest-and-relaxation, in other words, to pursue one's hobbies in modest comfort, having to unplug the power––or else not play radio––limits my total enjoyment of RV camping.
But. Before I invest in a new solar charge controller, which would essentially charge the battery any time the sun is out, I need to be absolutely certain it doesn't create RFI, too. Yet I'm finding it difficult to confirm whether a charge controller is RF-quiet prior to purchasing…
What's more, I suspect I'm not the only radio listener or ham radio operator with an RV who has encountered the noise dilemma.
What's a radio geek with an RV to do––?
A ham radio buddy who is an avid RVer recommended the Solar Boost 3000i (see top photo above). While it might be overkill for my application, I'm willing to invest, knowing it may charge without creating RFI.
But before I do, I'm curious if any SWLing Post readers have any experience with solar charge controllers, and/or can confirm models that create little to no RFI? I'd even appreciate knowing which models do pollute the spectrum––models to avoid, in other words, if radio listening or ham radio operations are your goal.
My hope is that SWLing Post reader recommendations may not only help me with this problem, but might help other RVer/off-grid radio enthusiasts, as well.