Many thanks to SWLing Post contributor, Pete Eaton (WB9FLW), who writes:
QRP Labs has just announced the QSX an All-Band All-Mode Transceiver Kit that should be available later this year. The Target price for the 10 Band Model is $150, also available will be a 40 Meter version for $75.00.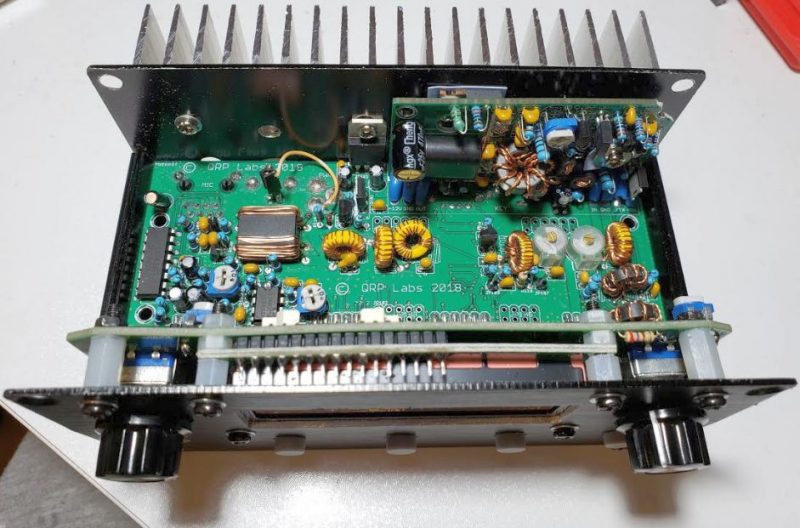 Details from QRP Labs:
QSX (QRP Labs SSB Xcvr) is a 40m SSB transceiver with 10-band (160m-10m) and enclosure options. The kit inherits all the functionality of the famous QCX single-band CW transceiver kit but adds SSB, AM, FM, PSK31 and RTTY. This will be the lowest cost all-HF radio available but also high performance and packed with features. These are the planned features of QSX:
Software Defined Radio (SDR) technology with standalone Digital Signal Processing (DSP), no PC required
Very high performance 24-bit Analog to Digital Converter (ADC) and 24-bit Digital to Analog Converter (DAC)
40m (single band) or 160-10m (10-band, including 60m) versions available
Modes: SSB, CW, AM, FM, PSK31, RTTY, WSPR beacon
Power output: 10W from 13.8V supply (power output is adjustable by the firmware)
Single power supply needed, 12V to 14V
USB host interface and connector, for USB keyboard to allow PC-less operation on PSK31 and RTTY
USB device interface and connector, for PC CAT Control
QSX can appear to a PC as a high performance 24-bit USB sound card and radio – for digital modes from a PC e.g. FT8, either demodulated or as I-Q for PC SDR programs
Built-in CW IAMBIC keyer (or straight keying also possible) with raised-cosine key-envelope shaping
DSP features (selectable sharp filters, AGC, Speech Compression, Noise Reduction etc.)
Dual microphone inputs (mobile phone headset with VOX, or RJ45 connector for Kenwood/Yaesu mics)
Dual VFO (A/B/Split), frequency and message memories
Through-hole assembly only
Built-in test equipment features for alignment, debugging and general purpose use
Detailed assembly manual
Macro facility for user defined sequences of operations, or redefinition of controls
Front panel: 16 x 2 LCD (yellow/green backlight), 2 rotary encoders, 4 buttons, mic/earphones socket
Soft-power on/off switch, the radio saves its state automatically on switch off, so that it starts up in the same state next time
Free firmware updates for life, very simple firmware update procedure via a USB memory stic
QSX is still in development! The above list is subject to change. The following is a FAQ with information about QSX.
More Info on QRP Labs Web Page:
https://www.qrp-labs.com/qsx.html
Check out the following video from YOTA 2018:
Click here to view on YouTube.
Fantastic! Many thanks for sharing this, Pete! This looks like a brilliant little kit for any skill level of patient kit builder.