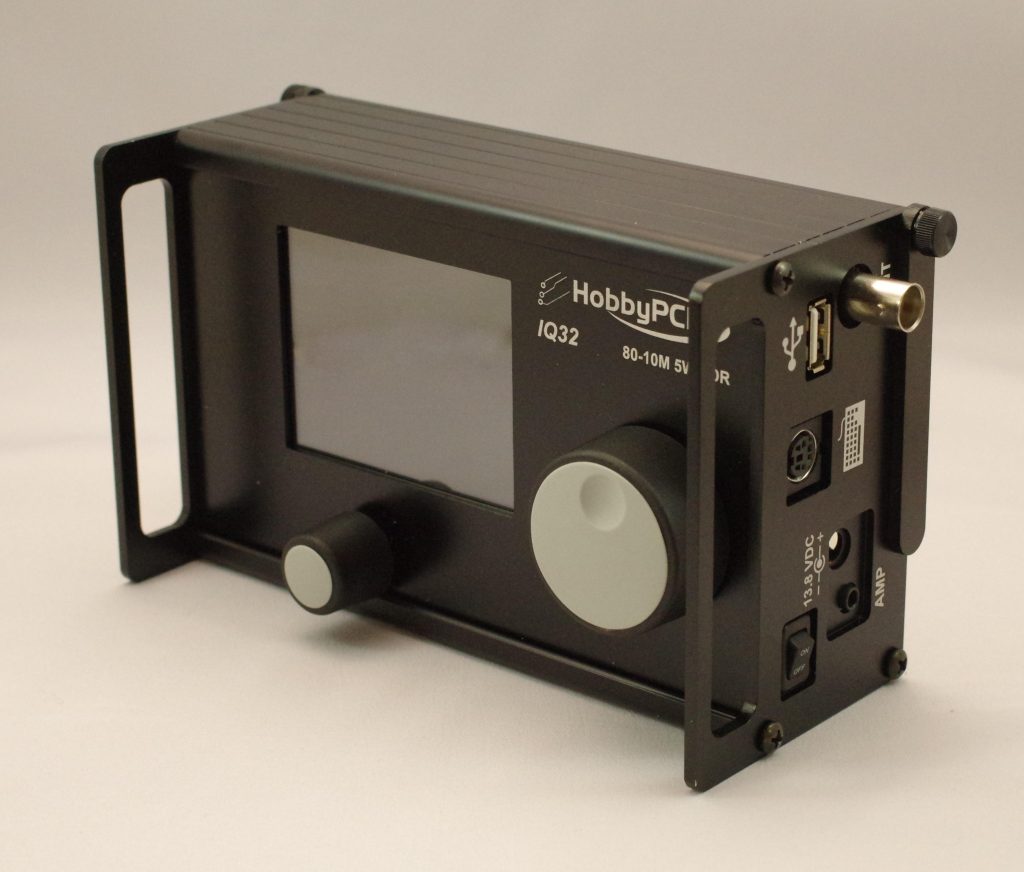 Many thanks to SWLing Post contributor, Pete (WB9FLW), who shares the following information regarding HobbyPCB's much-anticipated portable transceiver which is now shipping.  The price is a competitive $529.00.
The following information comes from the HobbyPCB website:
The IQ32 is 5W output, 80-10M Amateur Radio transceiver with powerful 32 bit processing providing high-end features at an entry level price. The IQ32's 3.2″ color LCD touch-screen display and dual control knobs provide an enjoyable operating experience in a robust package.

Available for immediate delivery!

Introducing the HobbyPCB IQ32 HF transceiver, based on the high performance RS-HFIQ RF system, the receiver in the IQ32 consists of 5 band-pass filters to reject out-of-band signals, an LNA with frequency dependent gain and a conventional quadrature down-converter. The transmitter features a Class A, 5W power amplifier with individual low-pass filters for each band to exceed FCC requirements for spectral purity.

The IQ32 features a large, color, touch-screen display providing an enhanced user interface and informative spectrum and waterfall displays found on radios costing much more. With a powerful STM-32 DSP processor, the IQ32 transceiver has variable filtering, multi-mode AGC, memory functions, built-in PSK encode/decode with keyboard support.

5W not enough power? Add a HARDROCK-50 to your station to boost up to 50W. The IQ32 and HARDROCK-50 seamlessly integrate together for a powerful mobile/base station!

Simple upgradeable firmware, no connection to a computer required, no drivers, no cables. Simply insert a thumb-drive with the appropriate file and the IQ32 updates its own firmware.

Specifications

Frequency Range: 3-30MHz (performance guaranteed on 80/60/40/30/20/17/15/12/10M ham bands)
Sensitivity: MDS < -128 dBm on 80M dropping to < -135 on 10M
Noise Figure: < 8 dB
TX Power: 5W typical, 4W minimum
LO Feed-thru: < -50 dBc @ 5W output
Spurious and Harmonics: < -50 dBc typical
DC Power: 13.8VDC, 2 amp max
Size: 172mm x 105mm X 75mm
Weight: < 700 grams
Display: 3.2″ Color LCD Touchscreen
Modes: USB, LSB, CW, PSK 31
DSP Processor: STM-32, 32 Bit
Pete also notes:
If one already has the RS-HFIQ board fear not an upgrade kit is available:
Thank you for sharing this, Pete!
I may see about grabbing an IQ-32 to evaluate. I'm very curious how its receiver might stack up to the Elecraft KX2, the CommRadio CTX-10 and the LnR Precision LD-11. (Please note that these links lead to my other radio site, the SWLing Post.)
It doesn't appear that the IQ-32 has an AM mode, but I would still like to see how it might handle broadcast listening on the shortwave meter bands using ECSS.
I love the portable form factor and the fact that it ships with stand-off handles to protect the front face of the radio.
Video:
Check out WA2EUJ's IQ-32 presentation from the 2018 Hamvention on YouTube:
Click here to check out the IQ-32 product page at HobbyPCB.
Have any Post readers purchased the IQ-32?  Please comment!
Do you enjoy the SWLing Post?
Please consider supporting us via Patreon or our Coffee Fund!
Your support is greatly appreciated. Thank you!