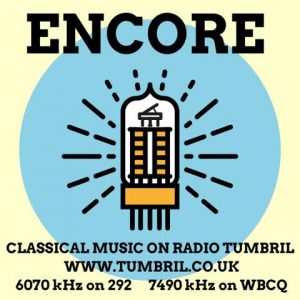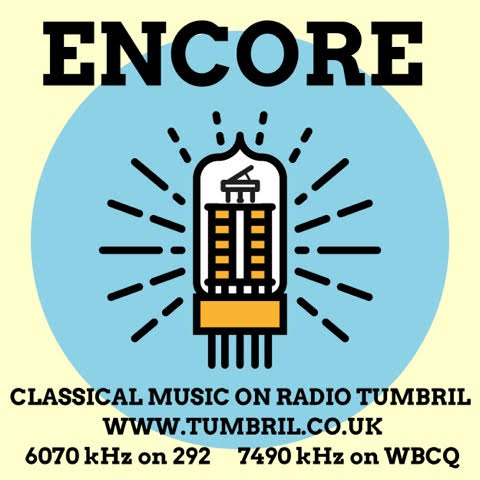 Encore – Classical Music on Shortwave – Broadcast on Sunday afternoon in Europe and USA
Encore – Classical Music this weekend is being broadcast as usual by Channel 292 (Europe) on 6070 kHz at 15:00 UTC Sunday 26th May.
And by WBCQ on 7490 kHz at 00:00 – 01:00 UTC Monday 27th May.
There is a repeat on 6070 kHz on Friday 31st May at 19:00 UTC.
This week's show starts with something a bit loud – the Dies Irae from Verdi's Requiem and then spends most of the rest of the hour calming and soothing us:
Niels Gade's A summer's Day in the Country, Jennifer HIgdon's Scene's from the Poet's Dreams, Radu Lupu playing Brahms, Jascha Heifetz on his Strad, Allegri's Miserere, and a Nielsen quartet.
And a bit of chat from me. You get the picture.
In the meantime – Thank you everyone for spreading the word about Encore – Classical Music on Shortwave.
Promulgating the goodness of classical music.
Brice Avery – Encore – Radio Tumbril.
Regular Broadcast times are:
15:00 – 16:00 UTC Sunday, and repeated 19:00 – 20:00 UTC Friday on 6070 kHz (Channel 292 Germany).
00:00 – 01:00 UTC Monday on 7490 kHz 9WBCQ – Maine).
Both Channel 292 and WBCQ live stream on the internet if reception is poor. And KiwiSDR's world-wide network of online receivers do a great job too.