(Source: Spaceweather.com via Michael Bird)
A SUNSPOT FROM THE NEXT SOLAR CYCLE: Breaking a string of 40 spotless days, a new sunspot is emerging in the sun's southern hemisphere. It comes from the next solar cycle. The unnumbered spot is inset in this map of solar magnetic fields from NASA's Solar Dynamics Observatory: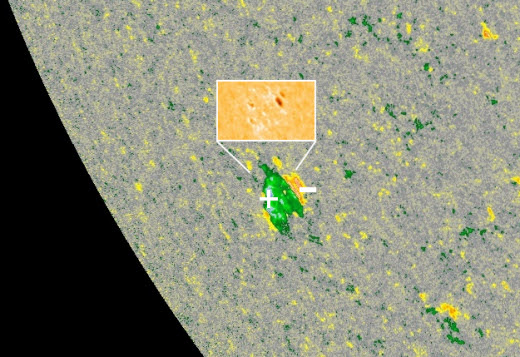 How do we know this is a new-cycle sunspot? Its magnetic polarity tells us so. Southern sunspots from old Solar Cycle 24 have a -/+ polarity. This sunspot is the opposite: +/-. According to Hale's Law, sunspots switch polarities from one solar cycle to the next. This sunspot is therefore a member of new Solar Cycle 25.
Recently we reported that Solar Minimum has reached a century-class low. This sunspot, plus a few others like it earlier this year, affirm that Solar Minimum won't last forever. Solar Cycle 25 is showing signs of life. Forecasters expect the next solar cycle to slowly gain strength in the years ahead and reach a peak in July 2025.