(Source: Pete Madtone)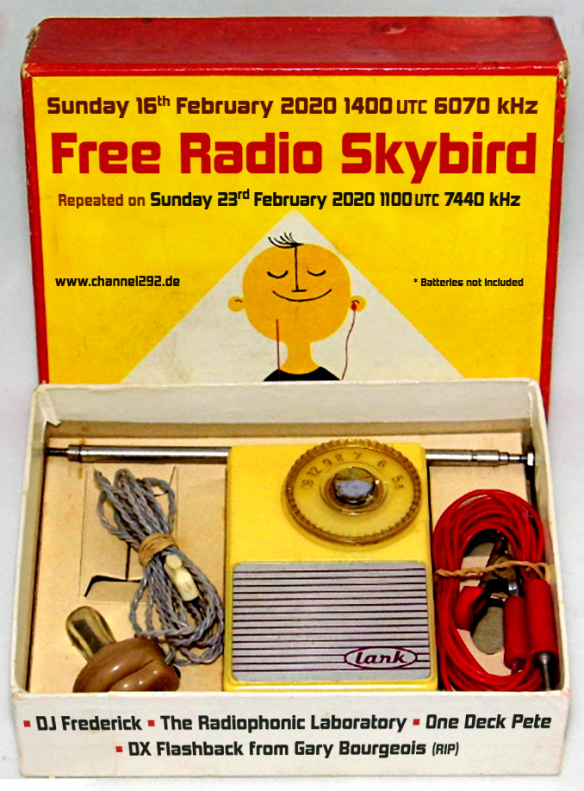 It seems like it's been a while since DJ Frederick's Free Radio Skybird was last on the shortwaves. Don't worry, it won't be long until the next one on Sunday 16th February at 1400 UTC/UK on 6070 kHz via Channel 292. The show will be rebroadcast on Sunday 23rd February at 1100 UTC/UK on 7440 kHz. If you haven't got a shortwave radio it can also be heard on the SDR link on Channel 292's site here.
The programme will feature Justin Patrick Moore's Radiophonic Laboratory and One Deck Pete (from Weeds up to me knees) presenting the Skybird Mailbag. There'll also be an airing of Pete's "Less is more" that has new tunes from Mai, Mohammad-Reza  Shajarian & Seventh Soul and Blanco.
Mixes from previous shows are available at our audio podcast page here. The programme will be available on DJ Frederick's Soundcloud page a day or so before transmission date if you want to hear it in true stereo but we here prefer the show with added noises from the ionosphere. Tune in and turn on! #shortwavesnotdead #madtone #freeradioskybird