(Source: Pete Madtone)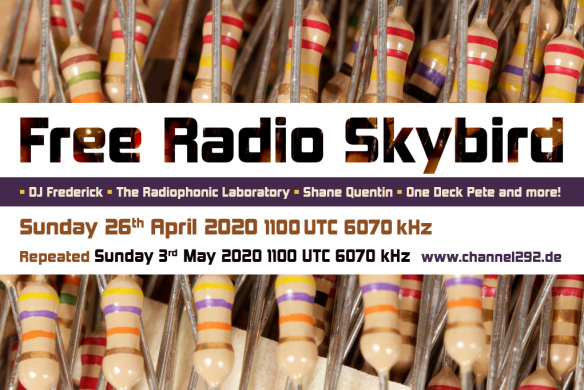 This Sunday coming 26th April 2020, DJ Frederick's Free Radio Skybird will be broadcasting another show in its weekly spring run at 1100 UTC (1200 UK) on 6070 kHz via Channel 292. 
This week's episode features Justin Patrick Moore's Radiophonic Laboratory and One Deck Pete's "Radio connects us all" mix featuring Patrick McGoohan, Sasskia, Mokka and Camille Murray. We've also the debut of Shane Quentin from the excellent Garden of Earthly Delights radio show who's bringing us a bit of "Radio Re-flex-ology".

Tune in using your shortwave radio in the 49 Metre band on 6070 kHz or by using the link here. It's going to be one interesting hour!