(Source: Pete Madtone)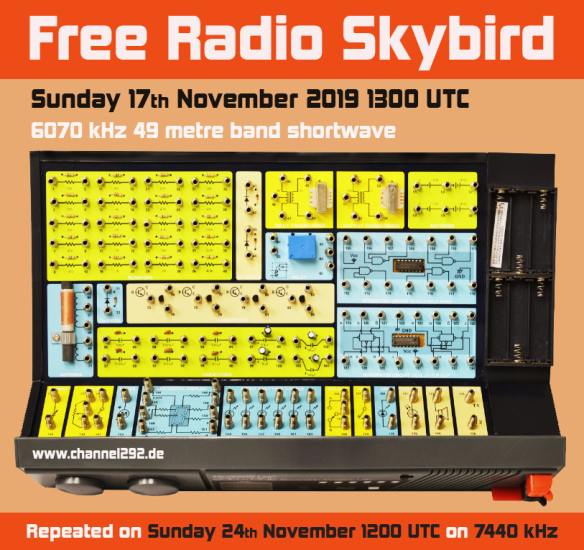 On Sunday 17th November at 1300 UTC there's a new transmission from DJ Frederick's Free Radio Skybird on 6070 kHz shortwave by Channel 292 and if you haven't got a suitable radio it can also be heard on the SDR link on their site here. The show will be rebroadcast the week after on Sunday 24th November at 1200 UTC on 7440 kHz.
This month's programme will feature: Justin Patrick Moore's Radiophonic Laboratory, Steve with Mini-indie radio and our very own One Deck Pete presenting the Skybird Mailbag. They will also play Pete's "Shortwave mix and match" that has new tunes from: .ihaveaface, Jazzy System, Dabey and Leaking Shell.
The programme will be available on DJ Frederick's Soundcloud page a day or so before transmission date if you want to hear it in true stereo but we here prefer the show via by ground wave. Tune in and turn on! #shortwavesnotdead #madtone #freeradioskybird