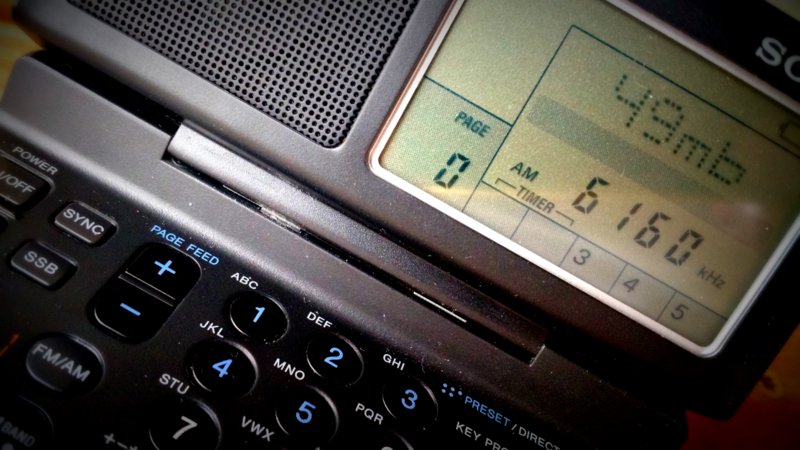 Radio Waves:  Stories Making Waves in the World of Radio
Because I keep my ear to the waves, as well as receive many tips from others who do the same, I find myself privy to radio-related stories that might interest SWLing Post readers.  To that end: Welcome to the SWLing Post's Radio Waves, a collection of links to interesting stories making waves in the world of radio. Enjoy!
Many thanks to SWLing Post contributors Skip Arey,  David Goren, Paul Evans, Kanwar Sandhu and Dave Porter for the following tips:
---
MEXICO CITY (Reuters) – The young technician shut off the electricity at a cellular tower in rural Mexico to begin some routine maintenance.

Within 10 minutes, he had company: three armed men dressed in fatigues emblazoned with the logo of a major drug cartel.

The traffickers had a particular interest in that tower, owned by Boston-based American Tower Corp (AMT.N), which rents space to carriers on its thousands of cellular sites in Mexico. The cartel had installed its own antennas on the structure to support their two-way radios, but the contractor had unwittingly blacked out the shadowy network.

The visitors let him off with a warning.

"I was so nervous… Seeing them armed in front of you, you don't know how to react," the worker told Reuters, recalling the 2018 encounter. "Little by little, you learn how to coexist with them, how to address them, how to make them see that you don't represent a threat."

The contractor had disrupted a small link in a vast criminal network that spans much of Mexico. In addition to high-end encrypted cell phones and popular messaging apps, traffickers still rely heavily on two-way radios like the ones police and firefighters use to coordinate their teams on the ground, six law enforcement experts on both sides of the border told Reuters.[…]
If you've been binge-watching movies lately, you may have come across "Pirate Radio." Director Richard Curtis' 2009 comedy-drama stars the late Philip Seymour Hoffman as The Count, a disc jockey for an unlicensed rock radio station that broadcast from a rusty, decrepit ship off the British coast in the mid-1960s, defying government authorities to spin the rock records that weren't allowed on the BBC at the time. The plot is based loosely on the saga of an actual former pirate station, Radio Caroline, that was founded by an offbeat Irish entrepreneur named Ronan O'Rahilly, the inspiration for the character portrayed by Bill Nighy.

"Pirate Radio" is a period piece, set in a time when the Rolling Stones' "Let's Spend the Night Together" and the Who's "My Generation" were still scandalous and controversial rather than nostalgic anthems for today's aging baby boomers. So you couldn't be blamed for assuming that it depicts a long-vanished phenomenon, like Nehru jackets with iridescent scarves and psychedelic-patterned paper mini dresses.

To the contrary, though, more than a half-century later, pirate radio is still a thing. In fact, it's possibly more widespread than it was in the 1960s, even in an age when streaming internet services such as Spotify and Pandora put the equivalent of a jukebox in the pocket of everyone with a smartphone. And as a bonus, Radio Caroline still exists — though, ironically, it's gone legal.[…]
[Note: Arqiva is the UK domestic broadcast transmission provider.]

Arqiva is working on a restructure of its business that could result in a third of its staff being made redundant.

According to a report in the Telegraph, the media infrastructure business is preparing to cut around 500 staff, which is approximately a third of its workforce.

An Arqiva spokesperson confirmed to IBC365 that some job losses will occur.

They said: "The sale of our telecoms business makes Arqiva a smaller organisation, changes our revenue profile and reduces our available profit pool.

"We are therefore conducting a review of the costs and systems we need to run our business over the next three years.

"Regrettably, we will need to reduce the size of our workforce, but it's much too early to speculate about numbers."

The Telegraph report cites the shift to streaming and a drop in income for broadcasters as reasons for the potential cuts.[…]
In the middle of a Russian swampland, not far from the city of St Petersburg, is a rectangular iron gate. Beyond its rusted bars is a collection of radio towers, abandoned buildings and power lines bordered by a dry-stone wall. This sinister location is the focus of a mystery which stretches back to the height of the Cold War.

It is thought to be the headquarters of a radio station, "MDZhB", that no-one has ever claimed to run. Twenty-four hours a day, seven days a week, for the last three-and-a-half decades, it's been broadcasting a dull, monotonous tone. Every few seconds it's joined by a second sound, like some ghostly ship sounding its foghorn. Then the drone continues.

Once or twice a week, a man or woman will read out some words in Russian, such as "dinghy" or "farming specialist". And that's it. Anyone, anywhere in the world can listen in, simply by tuning a radio to the frequency 4625 kHz.

It's so enigmatic, it's as if it was designed with conspiracy theorists in mind. Today the station has an online following numbering in the tens of thousands, who know it affectionately as "the Buzzer". It joins two similar mystery stations, "the Pip" and the "Squeaky Wheel". As their fans readily admit themselves, they have absolutely no idea what they are listening to.[…]
---
Do you enjoy the SWLing Post?
Please consider supporting us via Patreon or our Coffee Fund!
Your support makes articles like this one possible. Thank you!