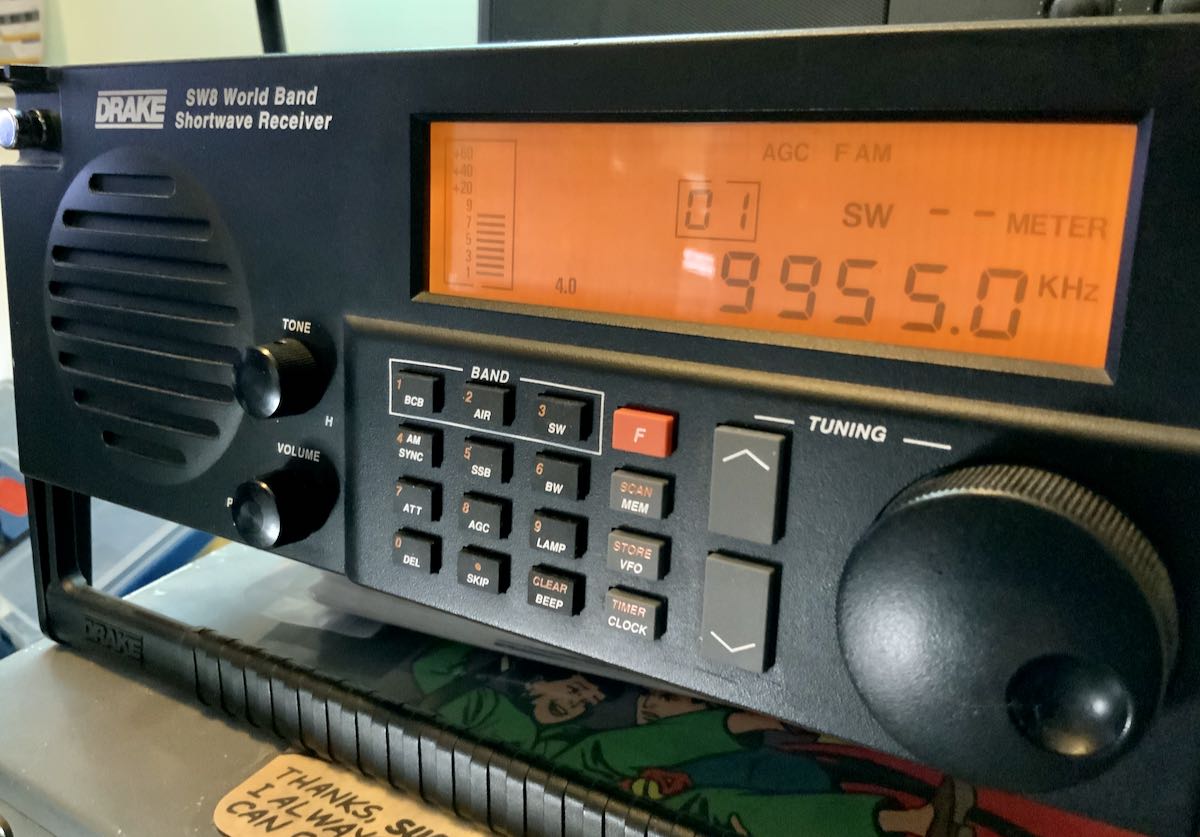 Radio Waves:  Stories Making Waves in the World of Radio
Because I keep my ear to the waves, as well as receive many tips from others who do the same, I find myself privy to radio-related stories that might interest SWLing Post readers.  To that end: Welcome to the SWLing Post's Radio Waves, a collection of links to interesting stories making waves in the world of radio. Enjoy!
---
In 1949, Victor Hoeflich held a press conference to introduce the "Man from Mars, Radio Hat". Hoeflich knew a picture would tell the story so he had several teenagers modeling the radio hats for the reporters and photographers. Soon pictures and news stories appeared in newspapers coast to coast. The articles typically included a photo of a young lady wearing the hat and a six-paragraph story.
Although the radio hat had a futuristic appearance at the time, this was in fact due to technical limitations. While the transistor had been invented in 1947, it was still experimental and not widely available. The hat's radio relied on vacuum tube technology, and Hoeflich made the tubes a prominent feature, as well as the loop aerial. The tuning knob sat between the two valves. The battery was carried in the user's pocket.
The radio hat was sold in department stores and by mail order. A Van Nuys, California service station chain sold the hats as a promotion item to customers who purchased gasoline. The radio hat retailed for $7.95. Designed after a pith helmet, it could be ordered in eight colors: Lipstick Red, Canary Yellow, Blush Pink, Rose Pink, Tangerine, Flamingo, Chartreuse and Tan. Later seven more color options were added.
The massive publicity did not lead to lasting sales. Advertisements for the radio hat stopped in early 1950. Its failure was primarily due to technical limitations. It had only two valves, while household radios featured five or six, and thus, performed better. The loop antenna was directional and signal could be lost as the user turned his or her head. The Radio Hat had an advertised range of 20 miles; sometimes when tuning, it picked up stations further away, but these would be received as an annoying squeal, as the hat did not have the necessary circuitry. In a 1956 interview, Hoeflich said the company still got orders for the hat even though it was long out of production.[…]
The ARRL report that the schedule of FCC amateur radio application fees likely will not go into effect before 2022.
FCC staff confirmed during a recent virtual meeting with Volunteer Examiner Coordinators (VECs) that the agency is still working on the necessary changes to the Universal Licensing System (ULS) software and other processes and procedures that must be in place before it starts collecting fees from amateur applicants. Earlier this year, the FCC said it would not start collecting fees from amateur applicants before this Summer. The new estimate is that the fees won't go into effect until early next year.
Once it's effective, the $35 application fee will apply to new, modification (upgrade and sequential call sign change), renewal, and vanity call sign applications. All fees will be per application. Administrative update applications, such as those to change a licensee's name, mailing, or email address, will be exempt from fees. ARRL VEC manager Maria Somma, AB1FM, said Volunteer Examiner (VE) teams will not face the burden of collecting the $35 fee.
"Once the FCC application fee takes effect, new and upgrade applicants will pay the exam session fee to the VE team as usual, but they'll pay the $35 application fee directly to the FCC using the FCC Pay Fees system," she explained. When the FCC receives the examination information from the VEC, it will email a link with payment instructions to each successful candidate who then will have 10 days from the date of the email to pay.
The FCC Pay Fees system can be accessed at,
https://apps2.fcc.gov/Batch_Filer/login.cfm .
After the fee is paid and the FCC has processed an application, examinees will receive a second email from the FCC with a link to their official license. The link will be good for 30 days. Licensees also will be able to view, download, and print official license copies by logging into their FCC ULS account. The FCC no longer provides printed licenses.
Licensees can log into the ULS with their 10-digit FRN (FCC Registration Number) and password at any time to view and manage their license and application, print their license, and update anything in their FCC license record, including adding an email address.
FEE SCHEDULE:
INDIVIDUALS –
$35 FEE: New, modification (upgrade and sequential call sign change), renewal, and vanity call sign applications. All fees will be per application.
NO FEE: Administrative updates, such as a change of name, mailing or email address, or license cancellation.
AMATEUR RADIO CLUBS –
$35 FEE: New, renewal, trustee change, and vanity call sign applications. All fees will be per application.
NO FEE: Administrative updates, such as a change of name, mailing or email address, or license cancellation.
MANTECA (CBS13) — A San Joaquin County man is credited with saving his friend's life from hundreds of miles away. A small black ham radio travels with Bill Scott everywhere.
"On Saturdays, I'll hear check-ins from just about every part of the world," he explained.
Scott spends hours on the radio every day. He takes it on walks, vacations and even social gatherings. Over his 40 years of being an amateur radio operator, he has communicated with people everywhere from South Africa to the Space Station.
The radio frequencies also connected him to friends around the United States. This past June, he received a phone call and recognized the voice on the other end.
"It was all kind of skewed and everything. I thought it was a prank call at first and so then after we finally established, he said 'You are an amateur radio operator,' and I said 'Yeah', then it all started coming together," explained Scott.
His ham radio friend, Skip Kritcher, 500 miles away in Myrtle Point, Oregon dialed Bill's number by mistake. Scott said Kritcher was on the floor and in need of help.[…]
This post comes on the heels of the takeover of Kabul by the Taliban. When it became clear on Sunday that the U.S.-backed Afghan government would be unable to sustain itself against the Taliban's rapid advance into the capital city, I grabbed my portable SDR-based spectrum capture combo and headed to a nearby park. The set-up comprised of my newly purchased GPD MicroPC, AirSpy Mini, SpyVerter 2 and the 2x6m dipole antenna, which I managed to spread out across some tree branches. Using this set-up I was able to make a 3-hour long, 6 MHz wide recording between 1600 and 1900 UTC. This included the 39, 31 and 25 metre bands in their entirety. Below is a preview of what the tail end of that recording looked like when played back in SDR#:
When I returned home, I quickly scanned the spectrum capture to identify the most relevant individual shortwave transmissions. These turned out to be the BBC World Service in English and Pashto, out of Singapore, the Voice of America Deewa Radio, also in Pashto and out of Udon Thani, Thailand, and a new and seemingly unidentified transmission in Dari on 7600 kHz, continuously mentioning the Taliban. I chose 1800 UTC as the starting time for extracting individual station recordings, as by then the presidential palace had already been captured.[Continue reading and listen to audio clips…]
---
Do you enjoy the SWLing Post?
Please consider supporting us via Patreon or our Coffee Fund!
Your support makes articles like this one possible. Thank you!