There are a few hobbies and activities that always seem to tie radio enthusiasts together: topics like aviation, astronomy, trains, languages/travel, and the weather.
The weather is a big one for amateur radio operators because it's often one of the ice-breakers used while connecting with a fellow operator over the air. I suppose it's for this reason, I can't remember a single Hamvention that didn't include at least one vendor exclusively selling personal weather stations.
A few weeks ago, SWLing Post sponsor Radioddity reached out and asked if I would be interested in reviewing and evaluating a new weather station they've started selling.
My how times have changed…
I've always wanted a proper personal weather station with built-in automatic rain gauge and an anemometer to measure wind speed in real-time. Many years ago, we purchased a commercial-grade Davis weather station for my brother-in-law who is a complete meteorology/weather geek. If memory serves, the entire system cost well over $500, but the Davis is a station that's robust enough that scientists purchase these for remote monitoring, and research.
My brother-in-law used this station for many years until he moved to a ground floor apartment where he simply had no way to install it. He gave it to me, but I never installed it at our house because doing so with wires would have been challenging and, frankly, not terribly neat–black wires would have been running along our our exterior walls.
I considered purchasing a wireless station, but many were either too expensive or I didn't know the company well so questioned the quality.
Enter the Raddy WF-100C
I get a lot [understatement alert!] of requests to review products from various companies and decline almost all of them. The reason is, I'm not persuaded by free products and my time to actually do reviews is very limited and precious to me. I stick with reviews directly related to the radio world and products I feel might be useful to our community.
Radioddity has been a sponsor of the SWLing Post now for about one year and I've been very impressed with them because they're wide open to honest criticism. Last year, they sent me the new Xiegu GSOC prior to it hitting the market and, in a nutshell, I didn't like it and was very up-front about it. Lesser retailers would have pulled sponsorship (which, by the way, is perfectly fine by me), but Radioddity actually thanked me for being honest in my review.
So when Radioddity asked if I would care to review their new Raddy WF-100C weather station, I agreed to do it.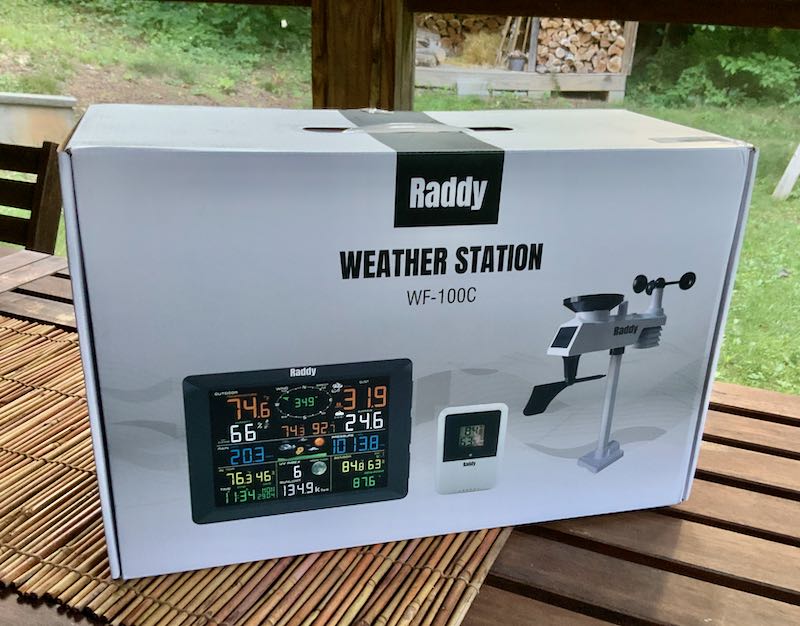 Within two days, it arrived at my doorstep and, as always, in the spirit of full disclosure, at no cost to me–in other words, a free product.
What's included with WF-100C: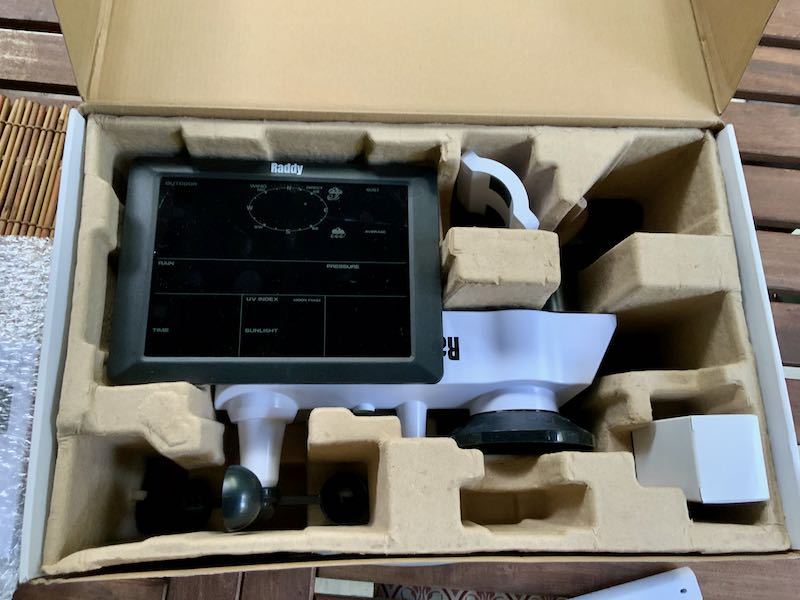 One main outdoor sensor unit – This unit includes a UV sensor, rain gauge, wind vane, anemometer, and a thermo-hygrometer radiation shield. It comes with a short mounting pole and universal bracket that allows for a lot of installation flexibility. Radioddity claims the system is able to communicate up to a 330ft (100m) range.
One remote temperature/humidity sensor – This indoor/outdoor sensor displays the temperature and humidity on a simple LCD display.
One main display console – As you can see in the image above, the main display console contains a lot of information: wind direction, wind speed, "feels like" index, barometric pressure, simple 24 hour forecast, moon phase, remote sensor temperature/humidity, solar intensity, UV index, date and time, indoor temperature/humidity (as measured at the display), rain amount and rate, dew point, and temperature/humidity at the main sensor unit. The color LCD display is backlit and very high contrast, hence very easy to read even at a distance.
One user manual – The printed user manual is actually quite comprehensive
The outdoor unit uses three AA batteries, the remote sensor requires two AAA cells, and the main display console is powered by a supplied AC adapter, however it uses three AAA cells for backup. Batteries are not supplied.
Installation
One of the reasons this review unit is a freebie instead of a loaner is because it requires installation. Good news, however, is that installation is quite simple.
Unlike my brother-in-law's wired Davis unit, the Raddy WF-100C is 100% wireless which takes almost all of the complications out of the installation process.
The outdoor unit should ideally be installed away from any obstructions and as high as you can manage. It also needs to be oriented with the integrated solar panel pointing south and it should be level for it to function properly (there's a small spirit level bubble on top of the sensor unit).
Again, ideally the main sensor unit should be high (above your home's roofline), in the clear with no tree limbs above, and within 100 meters of your main display console. This is not always practical for each installation, of course–especially if you live in a town home, condo, or a neighborhood with restrictions.  Just keep in mind that if there are obstructions around or trees overhead, it will affect the accuracy of the wind speed readings, wind direction, and rainfall amounts. Also, if limbs fall from a tree overhead, it could also damage the main sensor unit.
I really consternated over how to mount the main sensor unit on our house so that it's somewhat concealed, yet facing south and away from obstructions. It also needs to be mounted in a way that I could easily change out the AA batteries at some point in the future.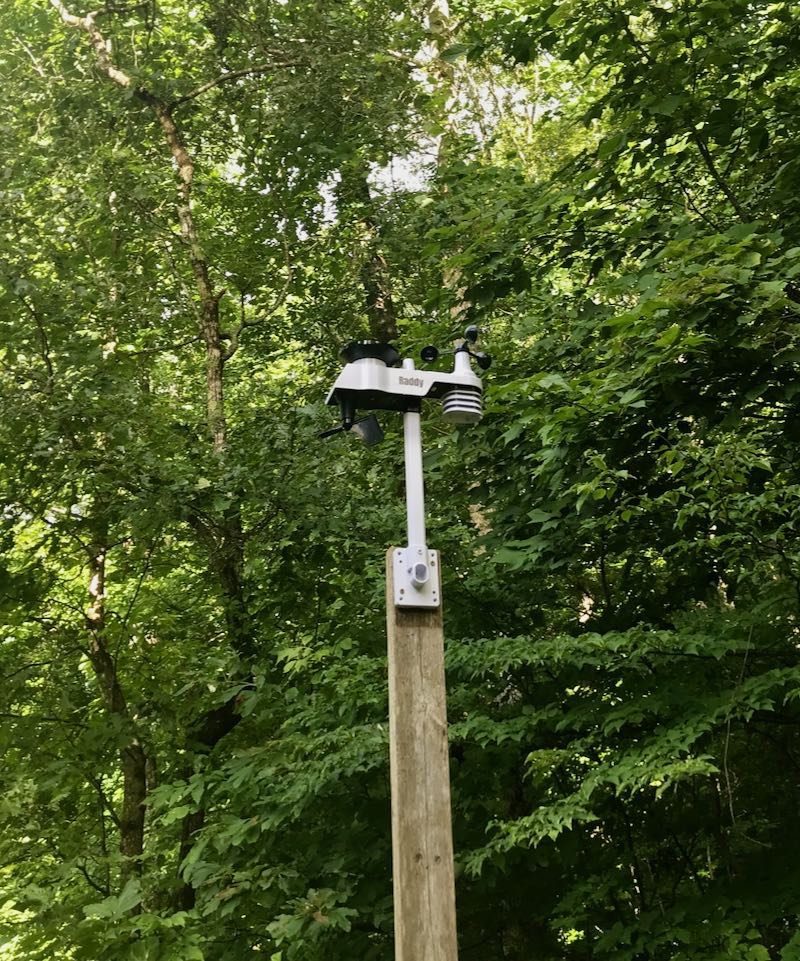 Then it hit me that since the unit is wireless, I could actually mount it pretty much anywhere on my property including on my storage building or wood shed. In the end, I decided to temporarily mount it on an 8 foot wood post behind the house. I will eventually mount it even higher and further away from overhanging tree limbs.
The extra indoor/outdoor remote sensor is small and can be mounted on one screw. Note that you might need to assign the small remote sensor a transmit channel for the main unit to detect. This is done by a series of dip switches under the battery cover.
The main display console can be mounted on a wall or on a tabletop integrated flip-out support.
I added three AAA batteries, plugged in the AC adapter and within a minute, the main display console gathered data from the main and supplemental remote sensors. This was proper "plug and play."
I opted (for now) to simply place the display console on a table near the front windows of our home. Eventually, I'll mount it in my radio room if my family doesn't protest!
I had to set the time manually, which was also quite easy to do. In fact, the display unit can be configured to Imperial or Metric units, 12/24 hour time, and a number of different ways.
At the end of the day, the way I currently have the main sensor unit installed outside, I know that my wind speed and direction readings will not be terribly accurate–our house will block winds from the southeast. This will improve dramatically when I install the unit higher in the near future.
The most important readings for me are the temperature, humidity, and rainfall amounts.
Speaking of rainfall…
Trial by rain
I had only had the WF-100C installed for a week when a very wet weather system moved into our area earlier this week and was fueled even further by the remnants of Tropical Depression Fred.
Here in the mountains of North Carolina we experienced flash-flooding and in some areas mud and rock slides. Fortunately, SWLing Post HQ is on a stable slope with good drainage and we had no property damage. Nearby low-lying areas, though, had many more problems.
We watched the rain gauge carefully to see how well it would handle and measure these tropical downpours. We are not meteorologists, and I had no accurate equipment for data comparison, but it seemed that the rain gauge handled both intense rain and light showers very effectively.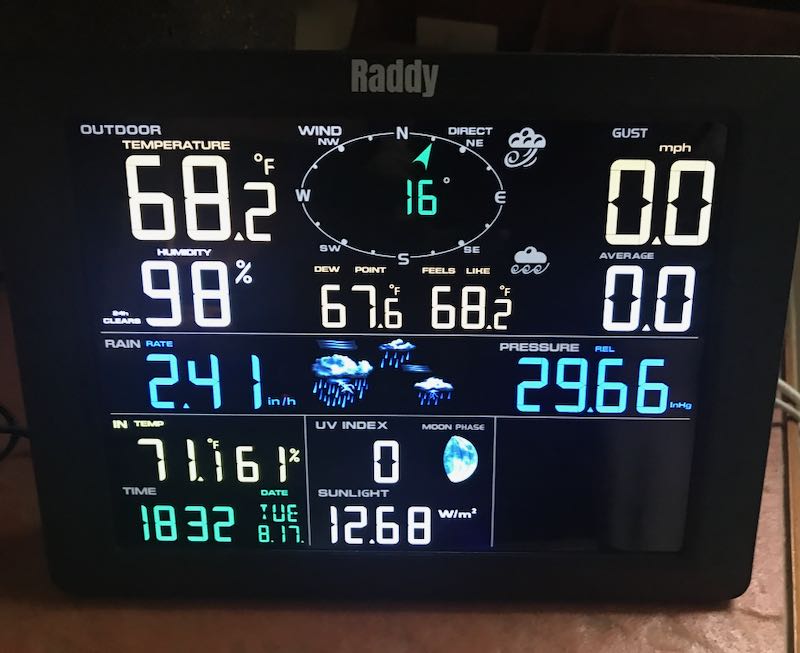 I snapped the photo above when we receiving around 2.5″ of rain per hour.
Connectivity
One of the biggest advantages of a personal weather station like the WF-100C is that it can natively connect to and sync with the Wunderground and Weathercloud Personal Weather Station networks.
This is a brilliant feature as it will allow you to share your live weather information with anyone on the planet, if you wish. I have friends that own vacation properties and set up very similar weather stations primarily so they can monitor real-time, on-the-ground weather conditions via the Internet.
Due to our unique and spotty internet connectivity here at SWLing Post HQ (mobile phone hotspots), I have not connected the WF-100C to either online weather network. I likely will since the amount of data being exchanged is very low-bandwidth and I hope the console can cope with our frequent Internet outages.
I should add that the connection process is actually quite simple and outlined in the owner's manual.
Summary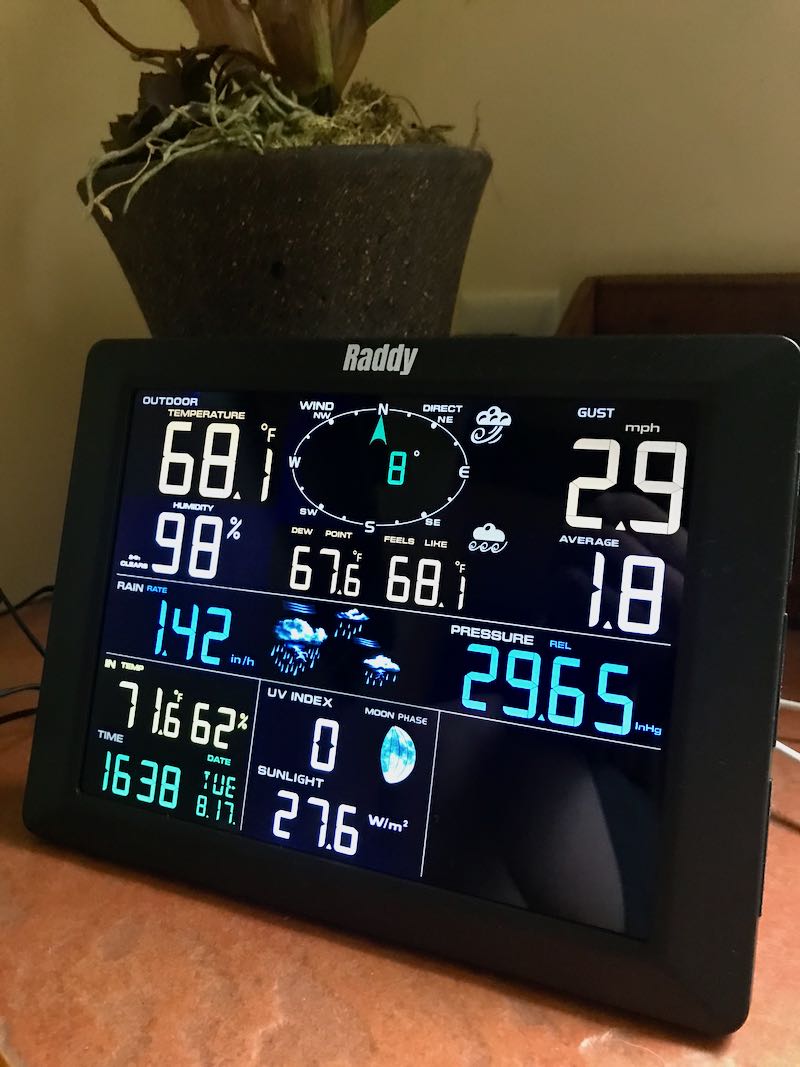 Being honest here, I'm a little outside my comfort zone reviewing a personal weather station. I don't know this market well and I have no equipment to provide comparisons.
With that said, I believe the Raddy WF-100C is a fun and effective device: it's easy to set-up, flexible, provides a mountain of weather data, has connectivity to the best PWS networks, and is backed by Radioddity who I've been impressive with so far.
Radioddity currently has the WF-100C listed at $189.99 US which–based on my pricing research–is equivalent to similar units at other retailers. A pro tip with Radioddity? They're always running sales and typically offer coupons for folks who sign up for their newsletters, etc. You'll probably be able to snag the WF-100C for less than their retail price.
If you're looking for a research-grade weather station, the WF-100C is likely not it. You'll need to spend a lot more money to get that level of accuracy and quality–especially if it's a wireless system. If those things are important to you, then check out Campbell Scientific and Davis Instruments.
I always question longevity of consumer electronics and products like this. From what I can tell, the sensor units feel like they're sealed nicely and should hold up to being exposed to weather extremes. According to Radioddity, the main sensor unit can withstand hurricane-force winds. I hope I'm not given the opportunity to test that claim.
I will try to remember to post how well the WF-100C is holding up over time. Feel free to nudge me in the comments section if you're reading this months into the future and I haven't added an update to the post.
And my thanks, again, to Radioddity for not only sending the WF-100C my way for a frank review, but for sponsoring the SWLing Post. Thank you!