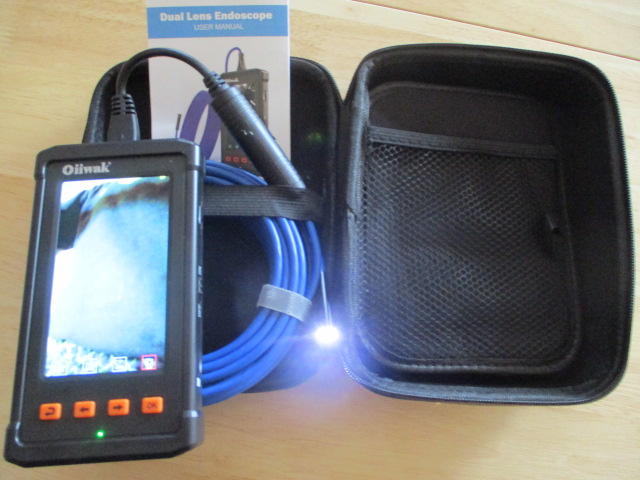 Many thanks to SWLing Post contributor, Mario Filippi (N2HUN), who writes:
Hi Thomas,
I recently purchased an Oiiwak Digital Endoscope [affiliate link] for household use.
It consists of a 33 foot optical cable and handheld four inch monitor It has an internal battery that can take photos and videos of areas that are hard to get to. I bought it to check things such as chimneys, inside walls, dryer vents, pipe clogs (this one has a waterproof lens), range hood vents, roof vents, etc. The price of endoscopes has gone down precipitously and you can save even more if you have a Smartphone as there are endoscopes probe cables that attach directly to them. I purchased mine for about $100 from Amazon. There are many makes and models to choose from though.
This gadget might be of interest to hams, SWLs or anyone needing to route antennas through walls, or other dark spaces. For example, you could drill a test hole through a wall then thread the probe cable into the space to see if there are any wires, pipes or other hidden obstructions. I've drilled completely through the siding of my home to an inside wall on many occasions while keeping my fingers crossed that no electrical wires or pipes would be damaged. Now, with my endoscope, it won't be such a worrisome procedure.
Thanks and 73's,
Mario Filippi, N2HUN
Thank you for sharing this, Mario! The pricing on household borescopes or endoscopes has really fallen over the past few years. I have one persistent plumbing issue in our house and this gadget could help me identify the location. To have a pro come out to the house with a commercial grade camera, it's an instant $300 plus taxes. As a bonus, I could use it to inspect my antenna conduit!
Thanks again, Mario.