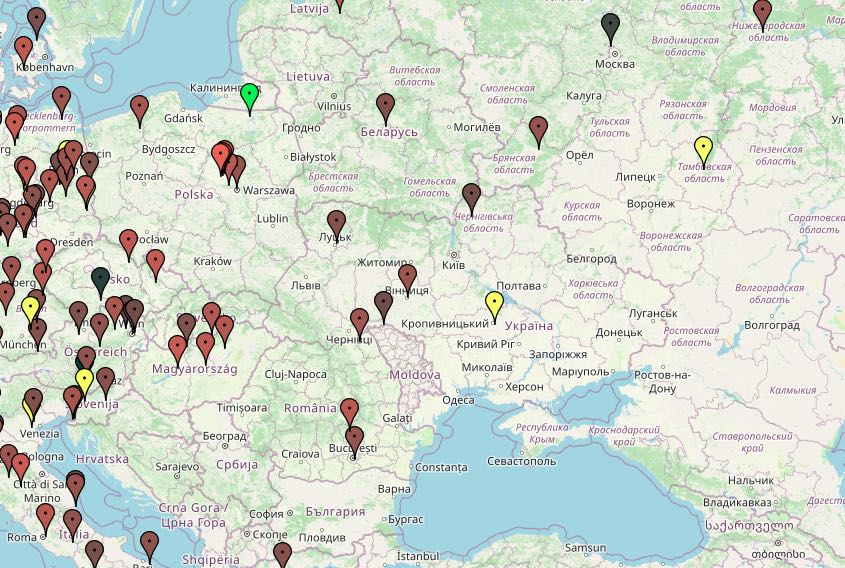 Many thanks to SWLing Post contributor, Al Hearn, who writes:
Given the emerging situation in the Ukraine, I would appreciate any tips and suggestions that you might offer directly or on your blog as to what we might find interesting in terms of SWL — related broadcast stations, pirate stations, unencrypted government stations, ham nets, or numbers stations that might be monitored for increased activity. KiwiSDR could be an important tool in such monitoring.
Thank you for any information you can provide.
Al Hearn
WA4GKQ
You are not alone in asking this, Al. Indeed, I've gotten a numerous inquiries as of late and as tensions continue to rise along the border.
There are numerous KiwiSDRs in the region and throughout Europe that should be positioned well for monitoring pirates, hams, etc. (see map at top of post).
A reminder that the RTL-SDR blog did share a note of caution recently for SDR users in the Ukraine.
Of course, the limiting factor to me is that I don't speak the language, so I would appreciate any comments from and SWLing Post community members in the region. Have you noticed any new HF activity? What stations are you turning to for information?
Please comment.
I do hope for a peaceful outcome to all of this.