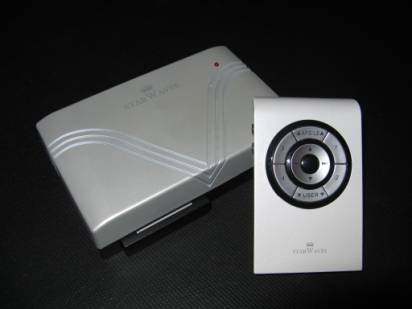 Many thanks to SWLing Post contributor, Jerome van der Linden, who writes:
Hello Thomas,
Back in January 2019 you featured in SWLing an item about a portable DRM/DAB receiver produced by Starwaves GmbH.
It seems the same company had also produced a DRM/DAB to FM convertor for use in trucks and cars, as this Youtube Link shows:
Click here to view on YouTube.
It shows the unit tuned to 6095khz and later to 13810khz, with music being played, I assume via the converter and transmitted on a free FM frequency the car radio is tuned to.
The video also shows a couple of shots of the converter and remote control, and a second bit of hardware that I'm unsure of its function. This was all back in 2007, I gather. The comments from those that have seen the video are not I suspect from people familiar with SW listening, and the suspicion that a car whip antenna is entirely unsuited to SW reception should be questioned, as I had personal experience of this while in Saudi Arabia in 1990, where SW car radios were not uncommon, and strong signals provided perfectly acceptable audio quality. Sure, 1 metre long whip won't be much good for SW DX, but who's going to be doing that while driving a car?
Anyway, I'm curious to know if anyone has ever purchased a Starwaves Truckbox? I gather it is currently not available.
73s
Jerome van der Linden
Thanks for sharing this, Jerome. I, too, am curious if the Starwaves Truckbox made it beyond the prototype stage to be mass produced. Please comment if you have more info!