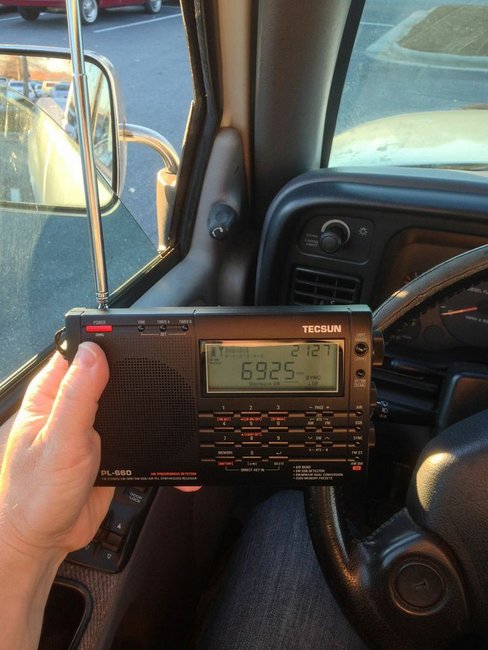 Many thanks to SWLing Post contributor, Thomas Ally, who notes that Andrew Yoder has released the 2017-2018 Pirate Radio Annual.
Here's the announcement from the Hobby Broadcasting Blog:
2017-2018 Pirate Radio Annual is done and I've received the copies back from the printer already! This edition is 308 pages and contains an audio CD-R (playable on standard CD players) with clips from 87 different pirate stations from around the world, nearly all from 2016 and 2017. This edition contains 181 illustrations and entries for approximately 307 stations reported in North America in 2016 and 2017 (280 North American shortwave stations and 27 from Europe and South America).

It also contains some "articles" on the Common and Precious Beacon, Radio Pirana International from South America, and upcoming Global HF Pirate Weekends/propagation for reaching different parts of the world.

This edition will cost $20 ($16.50 + $3.50 shipping) in the U.S. I took the packed book to the post office for the international shipping cost and was shocked to discover that it will cost $24 to ship it anywhere in Europe (so, $38.00 = $16.50 + $21.50 to Europe) I'll eat a couple dollars of the cost because the shipping is so high. It's so expensive that it will soon pay for airfare to Europe just to deliver copies!

This price is good for the next month (up through 5/1/2019). I'm not sure if I'll keep the price the same or raise it at that time.

Please send check or money order to:

Hobby Broadcasting
PO Box 109
Blue Ridge Summit, PA 17214

or send the money via PayPal to info [at symbol] hobbybroadcasting.com.  If you trust that I won't run off with the money to Sealand, please use the "Friends and Family" option so that PayPal won't charge a fee.

4/2 update: One final note about ordering via PayPal: Could you please include your shipping address with the PayPal order? The PayPal messages haven't included addresses and when I sign into PayPal and click on the "more information about this transaction," the address still isn't coming up. So, I've been e-mailing people for addresses, which could delay shipping.
Thanks for the tip, Tom!  I just ordered my copy!