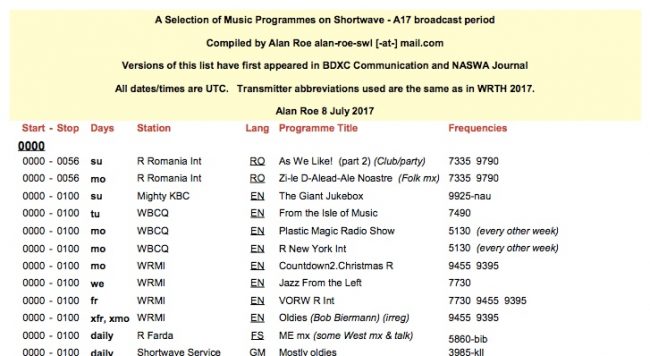 Many thanks to SWLing Post contributor, Alan Roe, who writes:
I have attached my latest Music on Shortwave List Update (A-17 v2)[.]

1) Updated frequencies for RNZI (0300-0500)
2) Corrected/expanded entries for RAE
3) Additional SP program added for RRI
4) Added additional entries for V of Hope Africa (1700-1930)
5) Corrected station name of Countdown2.Christmas R (0000)

I hope that you find the list of use. Corrections and suggestions are always welcomed.
Click here to download the updated A17 Shortwave Music Guide (PDF).
Alan, thanks so much for keeping this excellent guide updated and for sharing it here with the community!