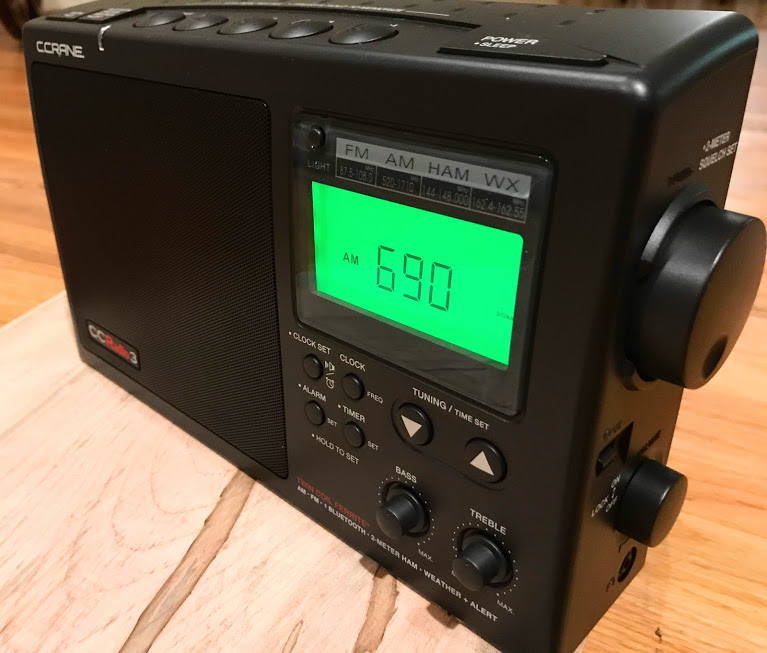 Radio Waves:  Stories Making Waves in the World of Radio
Welcome to the SWLing Post's Radio Waves, a collection of links to interesting stories making waves in the world of radio. Enjoy!
Many thanks to SWLing Post contributor, Eric Jon Magnuson, who has been taking an active role in helping to curate our Radio Waves tips.
---
SYUHAI, Taiwan, May 24 (Reuters) – Shortly after dawn on a southern Taiwanese beach, Robin Hsu's iPhone pings with the first radio message of the day from Taiwan's air force as it warns away Chinese aircraft.
"Attention!" a voice says on the radio, speaking in Mandarin to a Chinese military plane flying at an altitude of 3,500 meters. "You have entered our southwestern air defence identification zone and are jeopardising aviation safety. Turn around and leave immediately."
Taiwan, which China claims as its own territory, has complained for years of repeated Chinese air force missions into its air defence identification zone (ADIZ), which is not territorial airspace but a broader area it monitors for threats.
Although Taiwan's Defence Ministry details these almost-daily incursions on its website, including maps outlining the activity, a band of Taiwanese radio enthusiasts like Hsu has been tuning in to related radio traffic and publishing the recordings online. [Continue reading…]
Thelma Denny doesn't know life without the ABC.
Now 84, the resident of Apple Tree Creek near Bundaberg, was born six years after radio announcer Conrad Charlton announced to the country: "This is the Australian Broadcasting Commission."
As a young girl, Thelma remembers her father "always had the radio on", especially for the cricket or her mother's favourite long-running radio drama Blue Hills.
These days the radio is her comfort and companion, especially since her husband, Ronald, died in 2016, two days after their 58th wedding anniversary.
Still living independently, the great-grandmother loves nothing more than to unwind with Phillip Adams talking from her bedside table each weeknight as she falls asleep.
But ABC radio is also her lifeline, so when her radio went on the blink, Thelma was at a loss.
"That's been the problem, I can't get an update on the weather," she said.
"If there is a storm on, I have to turn off the television and the computer which has the weather bureau site."
In times of emergency, it's recommended battery-powered radios are part of home emergency kits, with power outages, poor internet and phone coverage meaning many regional areas' only source of information is the radio. [Continue reading…]
ERLANGEN, Germany — Funklust, a German Digital Radio Mondiale shortwave station that began broadcasting in 2003, has returned to the air after undergoing extensive improvements.
Funklust is the student radio station of Friedrich-Alexander-Universität Erlangen-Nürnberg in Germany. The station is a partnership between the university and the nearby Fraunhofer Institute for Integrated Circuits.
Friedrich-Alexander-Universität describes itself as "one of the largest research universities in Germany," while Fraunhofer bills itself as "Europe's largest application-oriented research organization."
A joint effort
The students produce the program content and schedule. Fraunhofer handles the technical side of Funklust. Programming is mostly non-stop music, but it does carry a few external programs, such as Radio Goethe. The station was originally on the air as BiteXpress in 2003 and switched to Funklust several years later.
Fraunhofer recently updated the station's equipment, and Funklust returned to shortwave in October 2021 after going off air in 2018.
The original transmitter was a 1,000 watt Telefunken S2525 DRM-capable transmitter. Fraunhofer replaced it with a new RFmondial 250 watt transmitter, which feeds the signal into a vertical lambda/four-monopole antenna mounted on a concrete mast at a height of 58 meters (just over 190 ft.)
A shortwave broadcast station typically broadcasts an analog signal using amplitude modulation. A single transmitter would only carry a single audio service, nothing more. By contrast, a DRM transmitter offers additional signal options, including the carrying of transmission information and other data. [Continue reading…]
By Gilles Marchand, Director General of SRG SSR
"The fate of democracies will depend on their ability to produce and disseminate quality information."
This article was originally published in Le Monde on 15 April 2022.
The debate surrounding funding for public service broadcasting is wide open and has, in particular, been covered by this newspaper. The French Presidential election campaigns have provided various different proposals, ranging from replacing the licence fee with an allocated budget to privatising the entire sector.
Clearly, this is a sensitive issue. It concerns a fragile ecosystem that has been disrupted by international pressure from streaming platforms and turned upside down by social media. It also fascinates politicians who enjoy the rush of being regulators, clients and media consumers all at the same time. Switzerland, with its direct democracy model, is an interesting testing ground as the citizens of this small multilingual and multicultural federal state get to decide regularly on the fate of the country's public service with a vote.
Switzerland: a testing ground
As such, SRG SSR (Swiss Broadcasting Corporation) is the only public service provider in Europe to have come face to face with universal suffrage. In 2018, a referendum on abolishing all forms of public funding for it sparked fierce, unprecedented debate surrounding SRG SSR's radio, TV and online programmes. The European broadcasting industry watched on in amazement as the battle lines were drawn between those for and against the existence of public service media. In the end, following a lot of intense campaigning, there was a convincing outcome at the polls as over 70% came out in favour of this public service and a licence fee which at the time amounted to around 360 euros a year per household! [Continue reading…]
---
Do you enjoy the SWLing Post?
Please consider supporting us via Patreon or our Coffee Fund!
Your support makes articles like this one possible. Thank you!