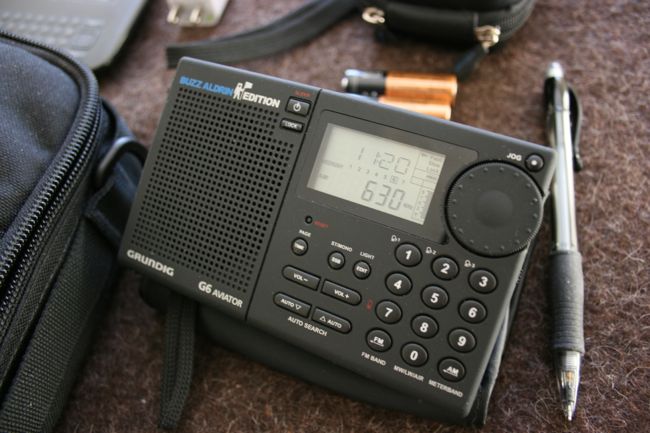 Many thanks to SWLing Post contributor, Derrick Yamaura, who reached out to Eton Corporation seeking a solution to sticky radio chassises. Derrick writes:
I phoned Eton Canada's customer support number and reached a friendly lady who immediately responded with a solution as soon as I mentioned "sticky rubber".

She stated that Eton officially recommends a product called "Purple Power Industrial Strength Cleaner/Degreaser" because it is water-based, non-toxic, biodegradable, non-abrasive, and contains no solvents.

It's made by Aiken Chemical and can be found at auto supply shops (e.g. Autozone, NAPA, etc.), home improvement stores, and a few major retailers (such as Walmart).

The method involves dampening a cloth or microfibre towel with the cleaner, then wiping the radio in a single direction with gentle pressure.  Don't rub back and forth or swirl in circles.  It won't remove logos, lettering, or numbers.

The agent stated that only one cleaning is necessary.  The rubber coating will remain non-tacky, permanently, after using Purple Power.

Having said all that, I haven't personally tested it.  You'll might recall that I had already cleaned my radios with oven cleaner.

Also, Purple Power is hard to find in Canada.  I do have other degreasers in my workshop; some of them are even purple-coloured (e.g. Zep Commercial Purple Cleaner and Castrol SuperClean), but they're highly corrosive and toxic, so I'm not keen on trying those on my
radios.

Therefore, if one of your other readers already has a jug of Purple Power handy, maybe they can test it out and report back to us.

Thanks again for the great website!
Thank you so much, Derrick, for taking the time to share this. I'm happy to hear that Eton endorses the use of Purple Power–we posted an article about this cleaner five years ago. Sticky radios are so common, we have a number of posts in the archive on the topic.
My Grundig G6 desperately needs cleaning–its chassis is incredibly sticky at the moment. I also know I have some Purple Power at home, so when I return from travels I'll put it to work on the G6!
Thanks again!
Click here to check out Purple Power at Amazon.com (affiliate link). As Derrick notes, Purple Power is also widely available at local auto parts stores, home improvement stores and big box retailers.