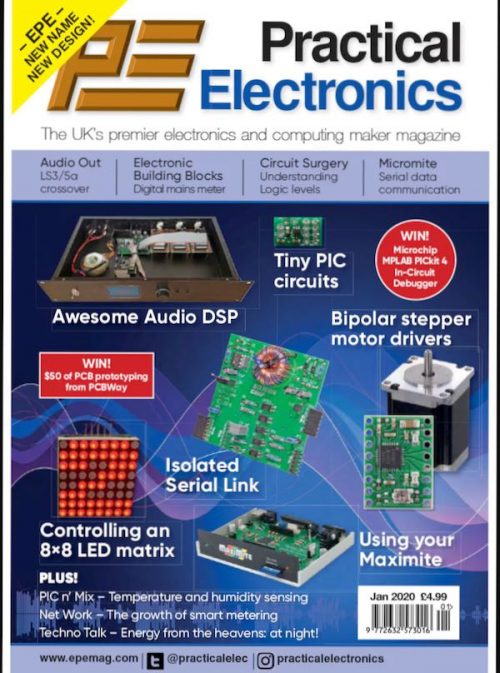 Many thanks to SWLing Post contributor, Mangosman, who writes:
There used to be magazines like Radio Electronics (USA), Practical Wireless (UK), Radio Television and Hobbies (Australia) and other magazines on electronics were sold in shops and on subscription for money which paid their writers. The internet has killed most of these magazines. There are still a few still in publication that I know of:

There are other Amateur radio magazines as part of membership.

Silicon Chip

Silicon Chip magazine publishes an extensive range of electronics projects every month including many which use Arduino, Raspberry Pi and Australia's own very popular Micromite/Maximite microcontrollers. These projects are conceived, developed, constructed, written, photographed published and any unusual parts are sold on the magazine's website by professional people who are paid by sales of the magazine.

Whether you're into the latest digital electronics or prefer restoring vintage radios, or anywhere in between, we have something to interest you.

Of particular interest to radio enthusiasts are;

New W-I-d-e-b-a-n-d RTL-SDR Modules Part 1  and Part 2 where the performance of the available modules are measured and compared by Jim Rowe. Some modules will not work at all below 30 MHz but will above. Sensitivity dropped off at different frequencies depending on the module. Jim has the testing knowledge because he constructed his own version in 2013. Also check out Using the SiDRADIO to receive DRM30 and More Reception Modes for the SiDRADIO.

More recently they published a touch screen DAB+/FM/AM radio construction project.

The online subscription rate is  $Au 85 (= $US 56.29 = € 51.12 = £ 45.88) at the moment for a year of 12 magazines. Individual articles are also available. GST is an Australian Goods and Services Tax.

The above magazines produce their own content rather than just promote a manufacturers' product.
Many thanks for the suggestions, Mangosman! I imagine there are a number of electronics magazines still in publication in other languages, too. Readers, please comment if you subscribe to a quality publication not mentioned above.
I would also note that if you would like to read archived/vintage copies of electronics and radio magazines–some dating back to the early 20th century–explore the American Radio History website.