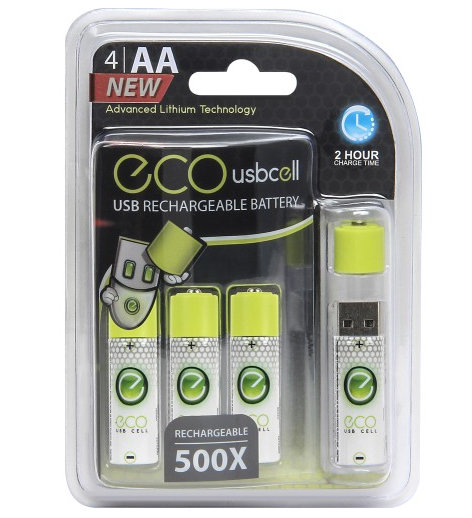 Many thanks to SWLing Post reader, Steven Crawford, who writes:
Avid follower of your SWL Blog and site. I saw these and thought your followers may find these AA and AAA lithium ion USB rechargeable cells may be of interest as they are limited to 1.5 volts. I'm interested for my C. Crane Pocket SW and Sony ICF-SW7600GR as well as for various Mag Instrument flashlights.
An excerpt from PCWorld:
Card-carrying members of the Radio Shack Battery of the Month Club, get ready to salivate: The Eco USBcell is the most exciting development we've seen in rechargeable batteries in a long time.
Unlike most rechargeable AA and AAA cells that use nickel metal hydride chemistry, the USBcell's are based on the same advanced lithium polymer technology that's used in many smartphones.
That may not sound like a big deal, but one limiting factor in using LiPo in a AA or AAA battery is voltage. LiPo and Lithium Ion's typical minimum voltage is 3.7 volts and would fry a standard device looking for 1.5 volts.
The Eco USBcell features a power control chip to match the voltage to the standard disposable alkalines we're used to.
[…]And that's not even the slick part of the USBcell. Once the battery is dead, you simply pull the top off to reveal a standard USB Type A port. That means there's no need to carry a charger anymore. Plug it into a 1 amp wall-wart charger and it'll be topped off in about two hours, even flashing an embedded green LED to let you know. The company says it can technically be charged on a computer's USB port, but it'll be a lot slower.
Click here to read the article in PCWorld.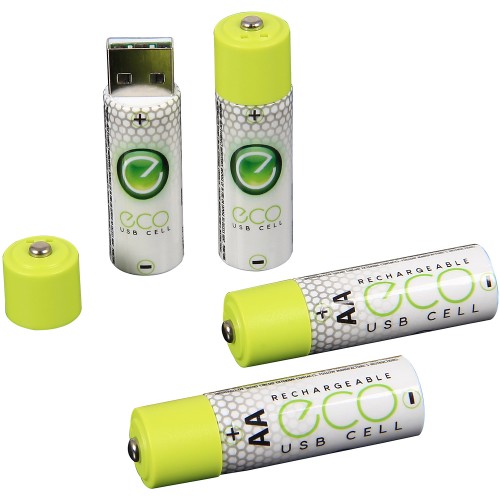 Thanks, Steven! This is a very cool product, indeed! I noticed that, on BestBuy, there are currently six reviews–dating back to October '15–with a full 5 star rating. Not bad.
With USB ports and chargers being ubiquitous in our world, I can see where charging these would be very convenient.
My only hesitation is that I have a healthy fear of LiPo batteries after having a GoalZero LiPo pack melt down and burn on my bed while charging once. That was three years ago, however, and charging circuits have become much more reliable since then.
I'll put these on my wish list and purchase them later in the year if the reviews remain positive. I just purchased a 12 pack of Panasonic Enloop cells, so I'm in no hurry.
Thanks again for the tip, Steven!
By the way, if you're confused by various battery chemistries, check out our recent rechargeable battery primer by clicking here.