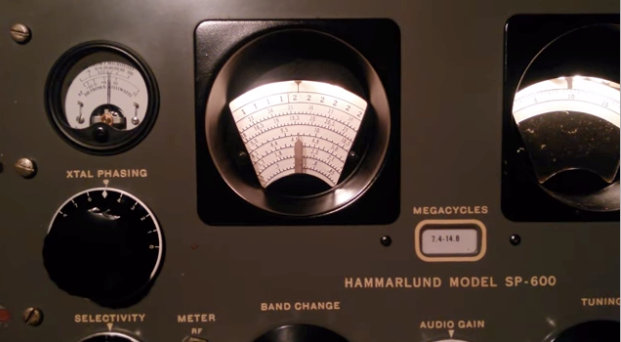 Radio Waves:  Stories Making Waves in the World of Radio
Because I keep my ear to the waves, as well as receive many tips from others who do the same, I find myself privy to radio-related stories that might interest SWLing Post readers.  To that end: Welcome to the SWLing Post's Radio Waves, a collection of links to interesting stories making waves in the world of radio. Enjoy!
Many thanks to SWLing Post contributors Trevor, Dan Robinson, and the Southgate ARC for the following tips:
---
During the 1950's and '60's, when the Hammarlund Manufacturing Company had a factory just west of Mars Hill College, the town could have been considered a world center of advanced electronic technology. With a company motto of "Quality Without Compromise," almost 90% of American WWII wartime military electronic equipment employed Hammarlund capacitors. They also built U.S. Navy search radar installed on aircraft carriers, battleships and cruisers.

Hammarlund was one of the three leading brands of radio communications equipment at the time, along with Hallicrafters and Collins Radio. These three companies dominated in providing state of the art electronics equipment to the U.S. military, large and small corporations, and to private individuals who had the means and taste to own the very best.

Hammarlund Radio initially operated out of New York City starting in 1910, in the early days of radio. They began consolidating all of their operations in Mars Hill in 1951, in a newly constructed facility that spread out to over 100,000 square foot on Hammarlund Drive — now named Hickory Drive. The site employed hundreds from around the area and their work lives on today. […]
Building radio receivers from scratch is still a popular project since it can be done largely with off-the-shelf discrete components and a wire long enough for the bands that the radio will receive. That's good enough for AM radio, anyway, but you'll need to try this DIY FM receiver if you want to listen to something more culturally relevant.

Receiving frequency-modulated radio waves is typically more difficult than their amplitude-modulated cousins because the circuitry necessary to demodulate an FM signal needs a frequency-to-voltage conversion that isn't necessary with AM. For this build, [hesam.moshiri] uses a TEA5767 FM chip because of its ability to communicate over I2C. He also integrated a 3W amplifier into this build, and everything is controlled by an Arduino including a small LCD screen which displays the current tuned frequency. With the addition of a small 5V power supply, it's a tidy and compact build as well.[…]
by Dan Robinson

Trump USAGM CEO Michael Pack Was Attacked For Attempts to Focus on Problem

It was May of 2016 and Amanda Bennett was only a few weeks into what would become a nearly four year stint as director of the Voice of America, among the "plum" jobs in Washington, D.C.

Bennett was just getting her feet wet, and at the time was dependent on a group of longtime embedded VOA managers that she would at one point describe as a "fantastic leadership team."

She had received fair warning, from former VOA employees and extensive reporting by the independent watchdog website BBG and USAGM Watch, of disturbing issues at VOA, located in what has long been one of the most dysfunctional of federal agencies.

Some VOA journalists were using their taxpayer-funded positions to engage in self-promotion and campaign for political causes, a fact little known to most Americans. VOA's website and digital operations were plagued by failures in breaking news coverage, and inaccuracies in content.

Both VOA and what was then called the Broadcasting Board of Governors (BBG) were increasingly seen by U.S. lawmakers as moribund. A Republican-led and eventually bipartisan effort in Congress proposed major restructuring – there was little patience left on Capitol Hill where the agency was increasingly considered to be "broken," "rudderless," and "worthless." President Obama signed the reform legislation in December 2016 to create a powerful agency CEO position and to make the BBG Board purely advisory.[…]
An ARISS Slow Scan TV (SSTV) event is scheduled from the International Space Station (ISS) for late December. This will be a special SSTV event to celebrate the 20th anniversary of ARISS.

The event is scheduled to begin on December 24 and continue through December 31.

Dates are subject to change due to ISS operational adjustments.

Dave, AA4KN
ARISS PR
The Geminids are a prolific meteor shower caused by the object 3200 Phaethon, which is thought to be a Palladian asteroid with a "rock comet" orbit. This would make the Geminids, together with the Quadrantids, the only major meteor showers not originating from a comet.

They are the biggest meteor shower of the year, and normally occur between 4 December – 17 December.

The peak is expected on 14 December.

Expect FM "pings" and hopefully interesting dx opportunities.

Mike
---
Do you enjoy the SWLing Post?
Please consider supporting us via Patreon or our Coffee Fund!
Your support makes articles like this one possible. Thank you!