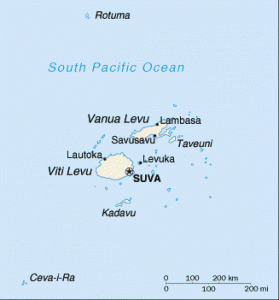 I just received this message from Glenn Hauser via the Hard-Core DX group:
** FIJI [non]. As first reported exclusively on WORLD OF RADIO 1617 and DXLD 12-20:

HOT NEWS: A station for Fiji named Domo I Viti should start on 4 June at 0830-0900 on 11565 via WRN from Palau. Not sure what its agenda is, clandestine or at least political? Seems there are at least two programs/stations by same name, in Auckland and Sydney by expatriates. Related to either of them, originating where? E.g.:
http://www.aucklandfiji.org.nz/community_features_view.asp?newsid=408
(Glenn Hauser, OK, May 9, WORLD OF RADIO 1617, DX LISTENING DIGEST)

WRN confirms that this new clandestine starts June 4 at 0830-0900 on 11565 via PALAU, and will be weekly on Mondays only. It`s sponsored by the Fiji Freedom and Democracy Movement, based in Adelaide, South Australia.

If anyone can hear it, please note how much, if any, is in English, any contact info, and if possible record an ID. I haven`t found any Adelaide office, altho searching on ABC News stories gets some hits which aren`t very productive.

Note that HFCC has WHRI rather than T8WH registered on 11565 at 08-09. WHR schedules show Angel 4, the most likely transmitter, on 17650 at that time, and Angel 3 on 9930. 11565 was probably just a place-holder in HFCC. Searching WHR program schedules is fruitless (Glenn Hauser, June 3, DX LISTENING DIGEST)
Click here to check out Glenn Hauser's DX program, World of Radio.
Note that we've covered Fiji in the past as their ruling party routinely blocks free press. Click here to read past articles referencing Fiji.