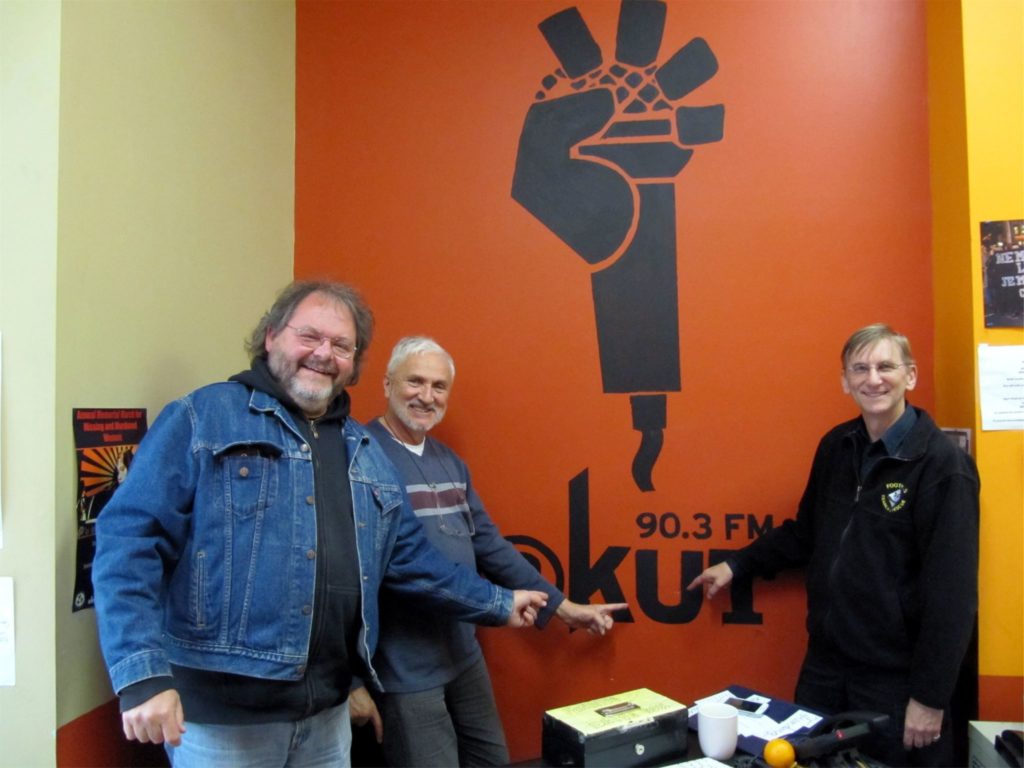 Note: Our previous post had incorrectly noted the date in the title.  The show is today, Sunday November 19:
(International Radio Report press release via Sheldon Harvey)
NOTICE: 30th Anniversary edition of The International Radio Report on CKUT-FM 90.3 MHz in Montreal

Sunday, November 19, 2017 from 10:30 am to 11:30 AM Eastern (1530 to 1630 UTC)
The International Radio Report, is a radio program conceived by Sheldon Harvey and submitted to CKUT's first station manager Ms. Susan Elrington as a proposal in the fall of 1987. CKUT obtained its FM broadcasting license in 1987 and began broadcasting regular programming, 24 hours a day, 7 days a week, in November 1987.

The program proposal was approved and the International Radio Report, a weekly 30-minute program about the medium of radio, first aired on Thursday afternoons from 2:30 to 3 PM, beginning in mid-November 1987 when CKUT first went on the air. The program eventually moved to Sunday mornings from 10:30 to 11:00 AM. It has aired every week for the past 30 years on CKUT.

The program, originally hosted and produced by Sheldon Harvey and William Westenhaver, initially dealt exclusively with the world of international radio broadcasting, or shortwave radio, featuring information on radio broadcasts from around the world that could be listened to on shortwave radio. Over the years the scope of the program evolved and expanded to also include information and developments in local and national radio broadcasting, campus/community radio, pirate and clandestine radio and, eventually, Internet and digital radio. The program also covers developments in radio equipment, radio technology, and more.

Throughout its 30 years on the air, the program has had a few other hosts and producers. Sheldon Harvey and William Westenhaver took a break for several years, but the program continued with hosts Janice Laws and Steve Karlock. Eventually Steve left and Sheldon returned to co-host with Janice. Then Janice left and was replaced by David Asselin. Today the show continues with co-hosts Sheldon Harvey and David Asselin.

Over the years numerous guests have appeared on the program, including personalities from local and international radio stations, members of various shortwave and amateur radio clubs and organizations, representatives of Industry Canada and the Canadian Radio Television and Telecommunications Commission (CRTC), and other radio related organizations.

The program has developed a dedicated local audience, as well as many listeners from around the world tuning in via CKUT's webpage live-stream. There is also a very active Facebook group with over 365 members from around the world.

The International Radio Report will be celebrating its 30th anniversary broadcast on Sunday, November 19th with a special one-hour edition of the program from 10:30 to 11:30 am. Sheldon and David will have an array of special in-studio guests, plus some samplings of past historic broadcasts, including a clip from the very first edition in November 1987. We will also pay tribute to past hosts and guests and have a round-table discussion on the evolution of radio over the last 30 years and what the future holds for the medium.

We invite you to tune in to this special 1-hour edition of the International Radio Report, live from 10:30 to 11:30 AM, on Sunday, November 19, 2017 on CKUT-FM 90.3 in Montreal and online, live-streaming, on www.ckut.ca. The broadcast will then be available on the CKUT archives.