One project I have been following very closely since its debut is Outernet: a satellite-based information retrieval system that promotes free–and anonymous–access to information. In a sense, it's the closest thing I've ever seen to shortwave radio in the digital realm, in terms of information access.
I first mentioned Outernet nine months ago; since then, it appears to have met or exceeded all of its development goals.
Yesterday, I received an email from the Outernet campaign regarding a product they have in development called "Lantern." Outernet describes Lantern thus:
"Lantern is an anonymous portable library that constantly receives free data from space.

[…]Lantern continuously receives radio waves broadcast by Outernet from space. Lantern turns the signal into digital files, like webpages, news articles, ebooks, videos, and music. Lantern can receive and store any type of digital file on its internal drive. To view the content stored in Lantern, turn on the Wi-Fi hotspot and connect to Lantern with any Wi-Fi enabled device. All you need is a browser…Here is a quick overview of how the system works:

1. Outernet continuously broadcasts data from space. Most of what we broadcast is decided by you. The rest is either part of our Core Archive (critical content, like educational material or disaster updates) or Sponsored Content. In every case, we tell you how the content got there. If it's sponsored, we tell you who paid for it.

2. Lantern connects to the satellite signal. A receiver, such as Lantern, can be bought from Outernet, or we'll show you how to build one yourself. Lantern can receive numerous types of signals from various satellites and frequencies. Lantern can be plugged into a satellite dish to receive data at an even faster rate (200 MB/day and up).

3. Connect your Wi-Fi enabled device to Lantern. Lantern's Wi-Fi hotspot allows anyone with a computer, tablet, or phone to interact with Lantern's content. Everything can be viewed in a browser, just like the Internet, except this is an "offline" version."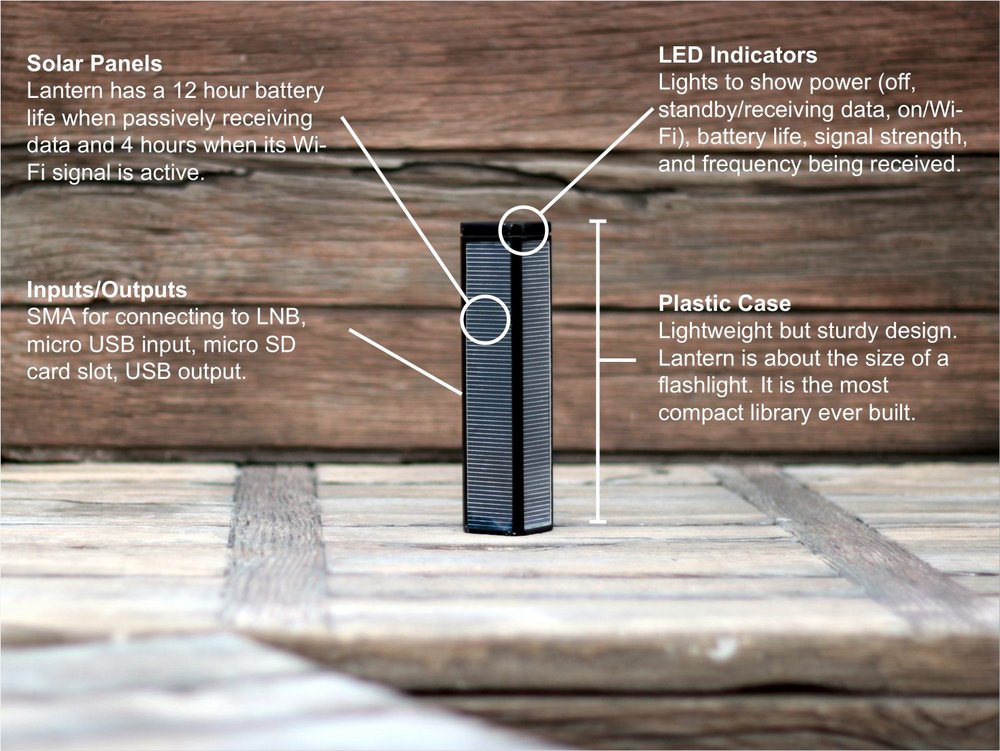 With ETOW in mind, I've already pre-ordered a Lantern, supporting the project via IndieGoGo.  During the first 24 hours of the campaign, which started yesterday, the cost of a Lantern is $89 US.
If this interests you, too, watch the following video about Lantern and consider supporting the project at IndieGoGo: