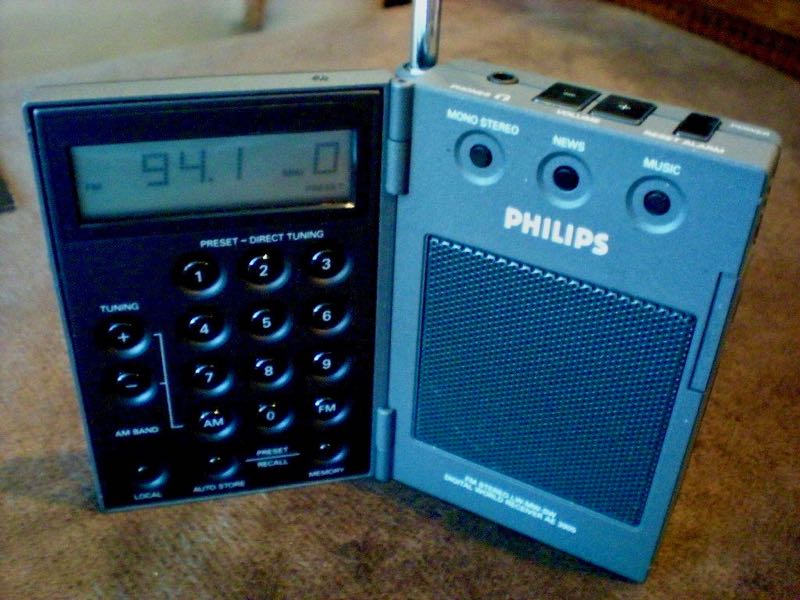 Many thanks to SWLing Post contributor, Troy Riedel, who writes:
The radio is the PHILIPS AE3905 – and made in … wait … Austria!

There is one on eBay right now.

The first listing started at $275 – there were no takers – so now the second listing is set at $250.

Phillips still has a support page for this tiny little radio – which is essentially a page where people can download a manual:

http://www.p4c.philips.com/cgi-bin/cpindex.pl?scy=DK&slg=EN&ctn=AE3905

Universal Radio lists it on their "Discontinued" page here:

https://www.universal-radio.com/catalog/portable/ae3905.html

I do not believe it was ever reviewed in Passport to World Band Radio. The first appearance of it was an advertisement in the 1992 Passport. It also appeared in an ad in the 1993 Passport, but by 1994 it was gone. This radio was released to compete with the Sony ICF-SW100 and was apparently very short-lived.

There isn't a lot of online information about it, just a forum posting asking members to list "the most over-rated SW radio ever" and this one received a vote. The posting states this radio was known to have capacitor issues (just like every other radio of the era) & "poorly designed battery contacts" that would fail.

There is at least 1 video of the radio on YouTube pitting it against the ICF-SW100, and the Sony is very clearly better.

This appears to be a radio [only] for collectors &/or uber radio enthusiasts, but I feel this price point is a bit steep.