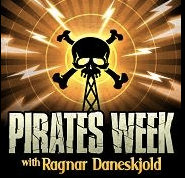 If you like pirate radio, you should subscribe to the Pirates Week podcast.
Pirates Week is hosted by Ragnar Daneskjold and is chock-full of pirate radio news, events and off-air recordings.
I subscribe to the podcast via iTunes by using the Pirates Week RSS feed url: http://piratesweek.info/feed
You can also listen to each episode and read show notes on the Pirates Week website.