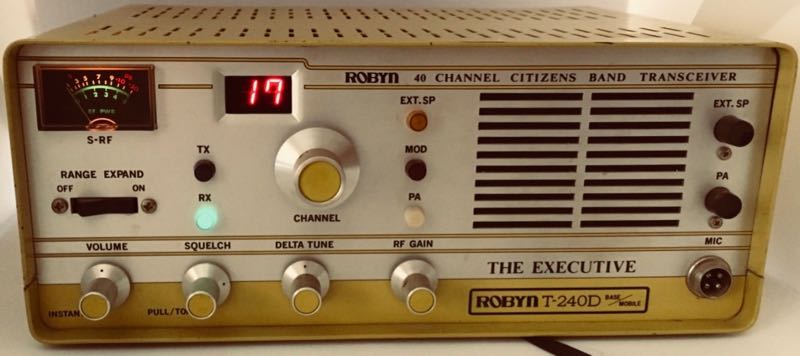 This morning, I read a message from a ham radio operator who was just awarded a vanity call sign in honor of his father's 1970s era CB radio call sign. He was obviously very proud of the role CB played in his "formative" radio years.
Although I often only think of the impact my first transistor radio and first shortwave radio had on my life, CB radio also played a major role.
My father entered the CB radio scene in its early days here in the US. His FCC-issued call sign was KJD1166–it's laser-etched in my memory from hearing him call it so many times when I was a kid.
Dad had a number of radios, but his favorite was a yellow Robyn T-240D (above). As a kid, I really admired this radio; not only was it stylish, but it also had a digital channel display, amazing audio, and that "Range Expand" toggle switch!
In the 1970s, the CB radio scene in my hometown was dynamic and rather well-organized. Every evening, my dad would turn on the radio and connect with a vast network of radio friends. Not only did they have call signs–and used them–but they also had the best CB handles (like "Tombstone Pete," "Lady J," and "Robby Rocket").
The local CB radio scene also had in-person social meet-ups–a place where you could put a call sign and handle to a face. And let me tell you: you'd see a wide array of folks from all walks of life there. A proper melting pot.
Dad also took me to the CB radio repair shop where he'd buy supplies and occasionally get something fixed. I loved looking at the workbench full of half-disassembled radios. At one point in my childhood, all I really wanted to do was have a workbench like that and dig into radios. Even at a young age, I knew how to use a screwdriver and could void pretty much any warranty.
After the FCC did away with call signs, much of the local CB community fell apart. My dad would still check-in with friends on the air the years following, but much less frequently.
CB: A Ham Radio Gateway Drug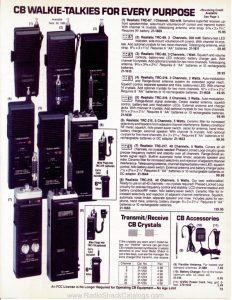 No doubt about it: CB radio eventually lead me down the path to ham radio.
While I never participated in the 70s CB radio scene like my dad, my best friend and I used CBs to communicate with each other across the neighborhood in the 1980s.
My buddy grew up in a multi-generation household and telephone time was restricted to grown-up use (and his teenage sister).
CB radio bridged that communication gap for us. At one point, we both used Realistic 5 Watt 40 channel walkie-talkies–it was incredibly fun and effective.
CB radio, and my dad, taught me about the components of a radio transmitting system–the radio, coaxial feed line, antenna and grounding, etc.–and also concepts like power output, standing-wave ration (SWR), and skip.
I still own my 40 channel CB walkie-talkie (a Realistic TRC-217) and my dad still has his Robyn T-240D, although neither have been on the air for decades. Still, I feel very nostalgic about the 1970s radio scene and should certainly give it credit for paving the path to my ham radio ticket.
Did CB radio play a role in your life? Please comment!
---
Do you enjoy the SWLing Post?
Please consider supporting us via Patreon or our Coffee Fund!
Your support makes articles like this one possible. Thank you!