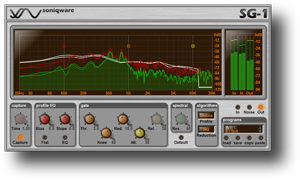 Recently, I posted a video showing how @LondonShortwave uses the GarageBand plugin, SoniqWare SG-1, for noise reduction. Since GarageBand is an Apple application, I didn't believe SoniqWare SG-1 would work on a Windows PC, but SWLing Post reader Jeff Benedict (KB7AIL) writes:
"I run Mac OSX and GarageBand so it's not really a concern of mine but, according to the documentation, SG-1 is compatible with Windows sound processing applications.
Here's the documentation from SoniqWare:

From:  http://www.soniqware.com/pdf/SoniqWare-SG-1.pdf
p. 17

System Requirements
• Microsoft Windows XP/Vista,
• Mac OS X 10.5/10.6,
• 512 MB RAM,
• VST, VST3, or AU compatible host software

An explanation of the VST and a list of applications for Windows which are compatable with VST plug-ins:

http://en.wikipedia.org/wiki/Virtual_Studio_Technology

Of course, this comes with the caveat that I do not run any version of Windows or any of these sound processing applications so YMMV.

A short explanation of the different formats for sound processing plug-ins:

http://support.pluginboutique.com/knowledgebase/articles/51119-interface-types-explained-vst-rtas-au-etc-
Many thanks, Jeff, for the tip!