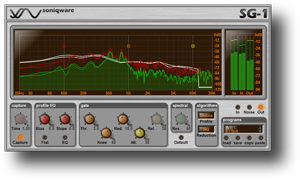 Many thanks to @LondonShortwave, on Twitter, who made a video showing how to use a GarageBand plugin to filter noise out of shortwave audio in real time. He describes this on his YouTube channel:
"I recently discovered a Mac AudioUnit plugin called Soniqware SG-1 that allows real-time noise filtering based on a brief noise sample (sometimes referred to as the "noise profile" or the "noise fingerprint"). This video shows it being applied to shortwave radio signals, which I believe is a first, as I have been unable to find anyone else who has already done it. In a number of cases, it turns laborious DXing into armchair listening.

The antenna used in these experiments is a Wellbrook ALA1530SP-1 and is positioned indoors. More information is contained in the first few seconds of the video."
Click here to watch the video on YouTube.
Note that GarageBand is an application only available on the Mac OS X platform. Fortunately, it comes free with every new Apple computer purchase. You can find the Soniqware SG-1 spectral noise gate plugin by clicking here.
Be sure to follow @LondonShortwave on Twitter: http://twitter.com/LondonShortwave