Last August and part of September, I traveled through the US with the CommRadio CR-1 and a couple of portable antennas: the Par Electronics EF-SWL and  NASA PA-30. I had the opportunity to try both in the field, and took notes as I used them. Following is a short review of the Par Electronics EF-SWL.
Par Electronics EF-SWL 
At the Dayton Hamvention last year, I had the pleasure of speaking with representatives of the North Carolina-based LNR Precision Inc. LNR is a mom-and-pop company with a focus on providing antennas, keys, and transceivers for the ham radio and shortwave listener markets.  Indeed I have several SWL friends who use on a daily basis an antenna this company manufactures and retails: the Par Electronics EF-SWL. LNR asked if I would consider reviewing their antenna, and since I was planning a road trip with radios in tow–the perfect opportunity to test such an antenna–I agreed.
The Par Electronics EF-SWL is an end-fed shortwave antenna designed for 1-30 MHz reception. It's a receive only-antenna–perfect for the SWL. The radiator is 45 feet of #14 black polyethylene coated Flex-Weave wire. When I first used the EF-SWL, I noted the quality of its construction: no doubt it can withstand many deployments in all weather conditions–and it's manufactured here in the US.
With a 45′ radiator, the EF-SWL needs a little space, but offers more gain than the other portable antenna I packed, the NASA PA-30 (look for its review in the near future). I put the EF-SWL to use in New Mexico where several large trees were readily available. I hooked the EF-SWL up to the CommRadio CR-1 and simply hung the end of the radiator as high as I could in a nearby tree. Though not a picture-perfect installation, it nonetheless certainly did the trick! I didn't bother with a ground connection as I wasn't in an area with much radio noise (RFI).
In the past, when setting up portable ham radio and shortwave listening, I've typically built my own antenna either for the specific meter band I hoped to use, or brought along a portable antenna tuner. It was quite nice having an antenna designed to be resonant on the broadcast bands.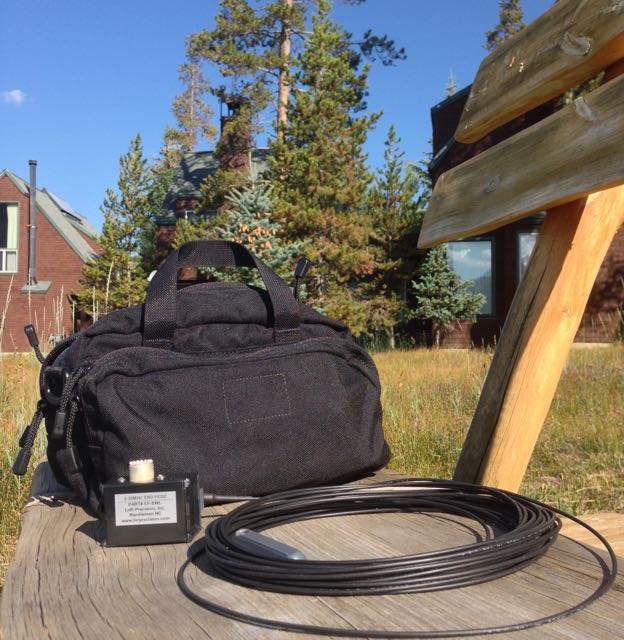 Though I didn't do this, I did noticed that the EF-SWL's radiator is attached via a stainless stud–Par Electronics did this so you can remove the radiator and replace it with a different wire length. With the stock 45′ radiator, I still find the EF-SWL quite portable, especially when compared with most of the portable amateur radio antennas I use, which tend to take a dipole or delta loop configuration.
After returning from my trip, I decided to hook up the EF-SWL at my home base for longer-term evaluation. These past months I've had it on the air as an auxiliary antenna, and I've been impressed with its performance. In truth, it's not in an optimal location hanging off the corner of my house, but I think this may actually represent with some accuracy the installation most SWLs will likewise be able to provide–in other words, placement that must factor in antenna restrictions or limited space. Of course, for any permanent installation, you will need to ground the EF-SWL for lower noise reception.
And yet, even in these suboptimal conditions, the antenna performs remarkably well.
As with any exterior antenna, of course, take precautions against lightening if you live in an area with thunder storms. If nothing else, at least disconnect the antenna when not in use.
Moving forward, I will plan to relocate the EF-SWL to a more ideal permanent location and most likely purchase another to keep in my antenna bag. I hope to use this antenna in a DXpedition I've planned later this year.
The EF-SWL retails for $75 US directly from LNR Pecision or $72 US from Universal Radio.
Note that LNR also sells a number of QRP field-portable transceivers: the LD-5, FX-4a and Mountain Topper. Click here for more details.