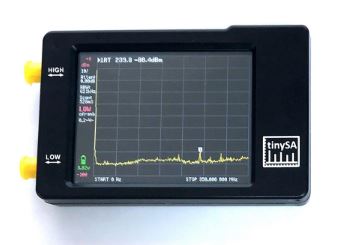 Many thanks to SWLing Post contributor, Paul Evans (W4/VP9KF), who writes:
At last, the tinySA is out and target is $50 (orders at R&L): https://www.tinysa.org/wiki/
tinySA Introduction Video
The following information regarding orders and availability was taken from the tinySA Wiki Page:
---
Buying the tinySA

There are currently (September 1st, 2020) no clone tinySA. All are genuine and manufactured by hugen.

Various persons bought some small amount of tinySA and are now selling them on various sites. The sellers listed below are official partners and are guaranteed to deliver good service in case of problems.

The tinySA is on pre-order at Alibaba.com
For other payment methods, such as Paypal, hit the "chat now" button and Maggie will help you.

At the right top of the browser window there should be "my messages" where you will have a better overview of your messages

The tinySA is on pre-order at AliExpress

The tinySA is on pre-order at R&L Electronics in the USA

Shipment is expected to restart end of August

An additional re-seller is expected to appear on eBay, Amazon and other platforms, these will also originate from hugen.

How to recognize a genuine tinySA.

Look for the tinySA logo. As this is part of our trademark, no others manufacturers may use this logo.
Look for the nice black gift box with the golden logo and the accessories as you can see on the First Use page

---
For more info about the tinySA check out the tinySA Wiki.
Thank you again, Paul, for sharing this tip! I love how the tinySA developers recognize it's only a matter of time before clones appear on the market. Sadly, a true sign of the times…