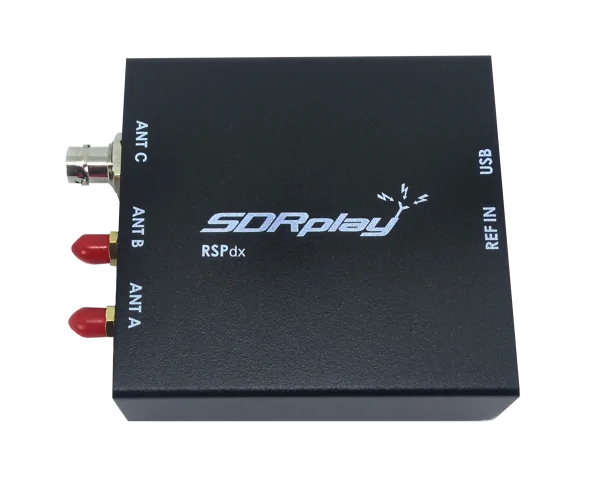 By Jock Elliott, KB2GOM
It is hard to imagine a less spectacular looking piece of radio gear than the SDRplay RSPdx. It is literally a black box. Aside from the printing on top of the box, the most exciting thing about the RSPdx are the two red plastic covers on the antenna connectors on the side. There are no switches, no knobs . . . you can't do anything to it except connect an antenna (or antennas) on one side and a USB cable on the opposite.
But once you connect the USB cable to your laptop and fire up the SDRuno software (that you have previously downloaded and installed), you are now in command of a listening post that covers from 1 kHz to 2 GHz.
We'll get to the important stuff in just a minute, but first a little background.
For an oldster retrocrank like me, a proper radio has knobs and switches . . . preferably a knob or switch for every job. Lately, however, I have noticed that a lot of DXers and ordinary listeners are reporting good success with SDRs – software-defined radios. So I started to wonder about them.
There are three elements to a software-defined radio like the SDRplay RSPdx:  the SDR box itself, which is the part of the system that actually receives the radio signals; a Windows computer (laptop or desktop), which provides the command and control for the SDR; and whatever antennas are required to receive the signals that the listener would like to hear. And, just to be absolutely clear, you need all three elements for the SDR system to work at all.
With my curiosity about SDRs rising, I inquired of Thomas, SWLing's Maximum Leader, whether SDRplay – one of SWLing Post's sponsors – might like me to take a look at one of their SDRs. Their answer was an emphatic Yes, and I had an RSPdx in my hands just a couple of days later at no cost to me or the SWLing Post.
I have to admit I had some trepidation about the process of bringing the RSPdx online because any time you have three different elements from three different sources that must work together for a system to function properly, there is always the possibility that some of the elements might not "play well together."
Installation is easy and fast. Connect the RSPdx to the computer using a USB A-male to B-male cable (which the user must supply; often called a printer cable), then connect the antennas using the appropriate cable. In my case, I connected an MFJ 1886 Receive Loop to the Antenna C connector and an off-center fed dipole to the Antenna A connector.
To SDRplay's great credit, they have produced an excellent video for first-timers and folks not familiar with SDRs — https://youtu.be/Oj_-dOLVzH8 . I recommend watching it, perhaps a couple of times, before you get started.
When you first fire up the SDRuno software, you will see the main panel: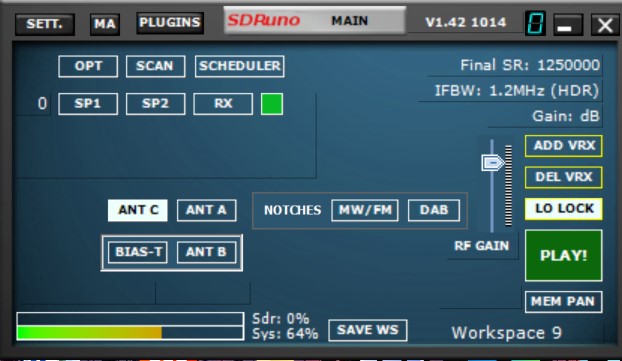 Click on the "RX" button, and the Receive panel will be displayed. After you slide it over, it will look something like this:

Click on SP1 or SP2 in the main panel, and one of the peak displays will appear: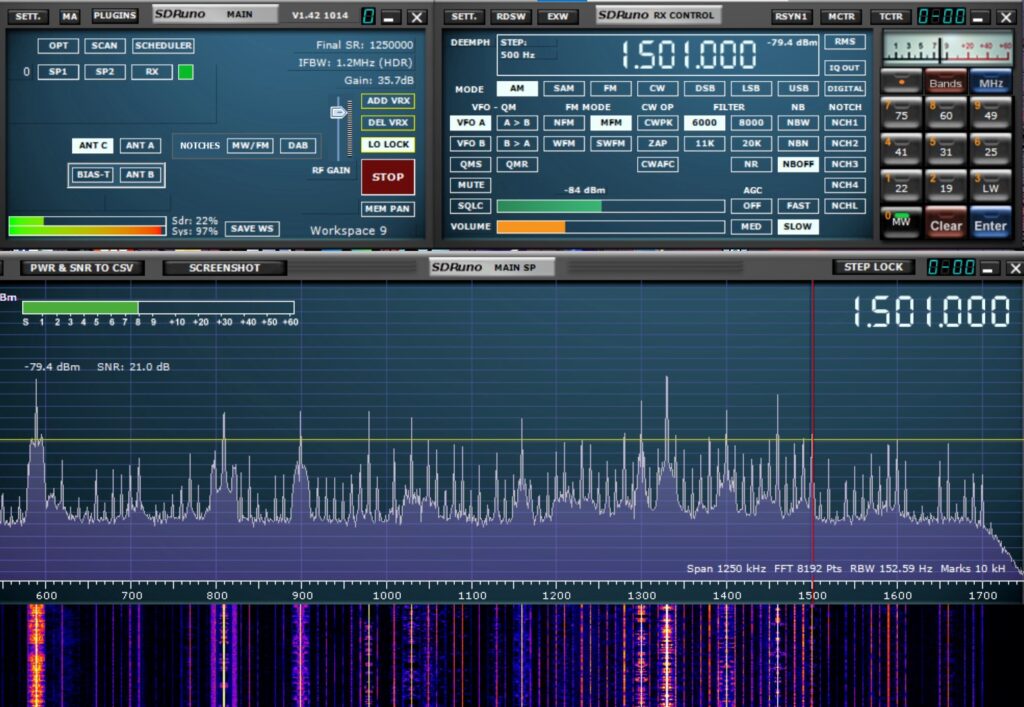 Finally, click on the PLAY button in the main panel, and whatever frequency you have selected will begin to play. Continue reading →