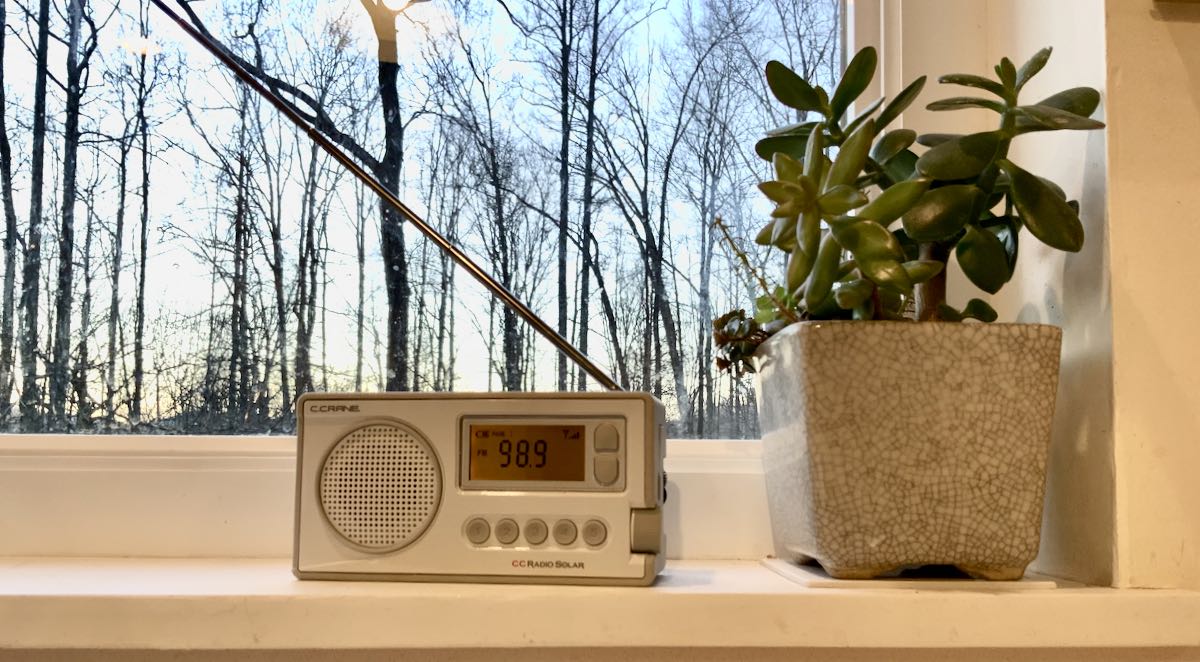 I remember when I first laid hands on a self-powered portable radio. It was the Baygen FPR1 designed by the amazing Trevor Bayliss. The FPR1 was a large portable radio with a black plastic body, large front-facing speaker, and large hand crank on the side. It was a clockwork radio, meaning you'd use the hand crank to wind up an internal spring that would slowly release and provide enough dynamo power to bring the radio to life for a few minutes at a time.
The FRP1 had a very utilitarian feel to it and was incredibly basic.
After the introduction of the FRP1, radio manufacturers jumped on self-powered radio technology and we've seen many different designs and iterations on the market for nearly two decades.
Introducing the C.Crane CCRadio Solar
Back in October 2020, C.Crane sent me a pre-production sample of the CCRadio Solar to evaluate. This was before C.Crane had published their new print catalog that features the CCRadio Solar on the cover, so I really had no idea what to expect. I assumed it might be a refreshed version of the CC Solar Observer.
Man…was I wrong!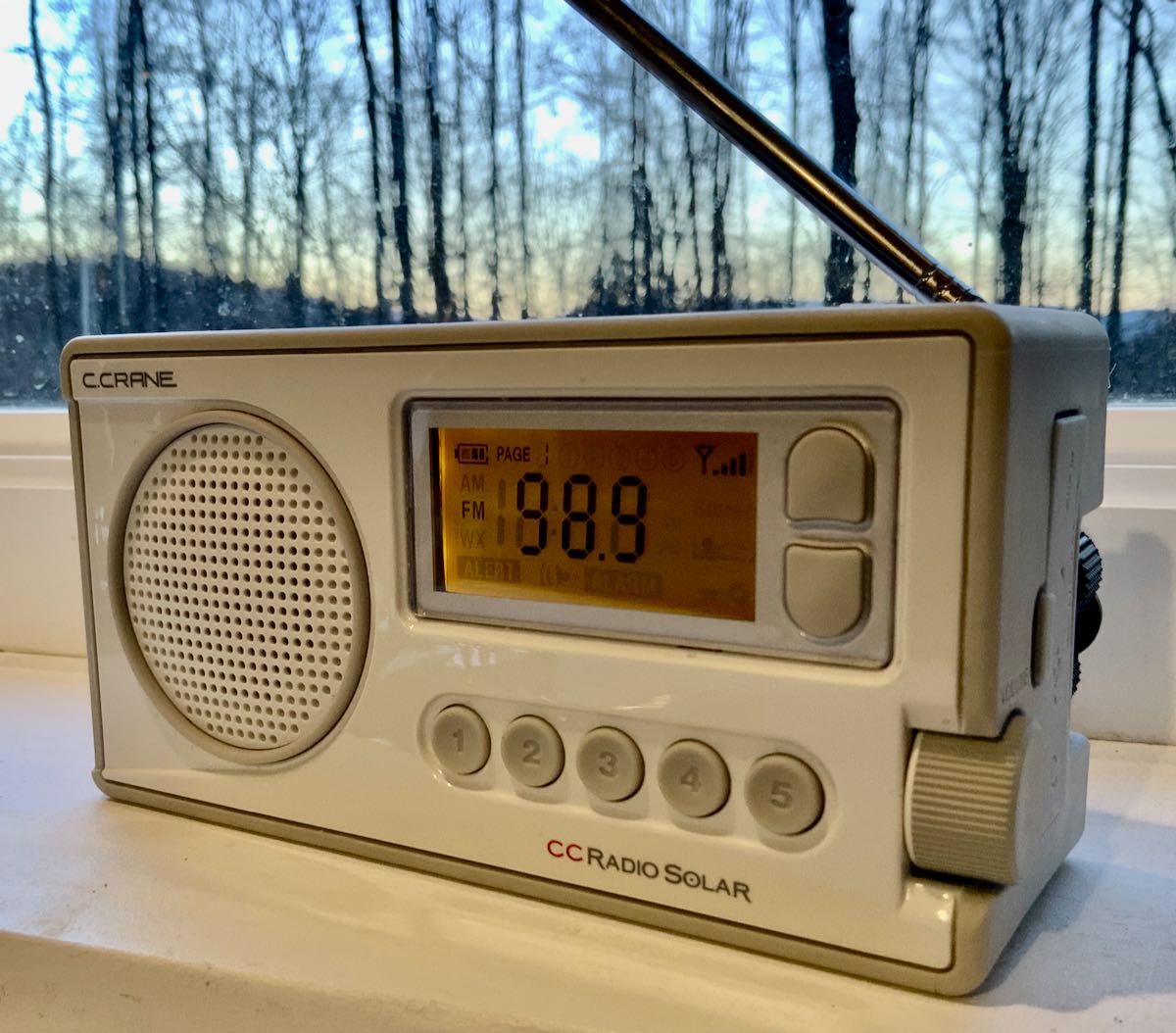 Most self-powered radios these days either look like a flashlight, a portable analog radio, or they sport "high tech" styling (like the FRX3).
I can honestly say that the CCRadio Solar is the first self-powered radio that my wife actually welcomed into our kitchen!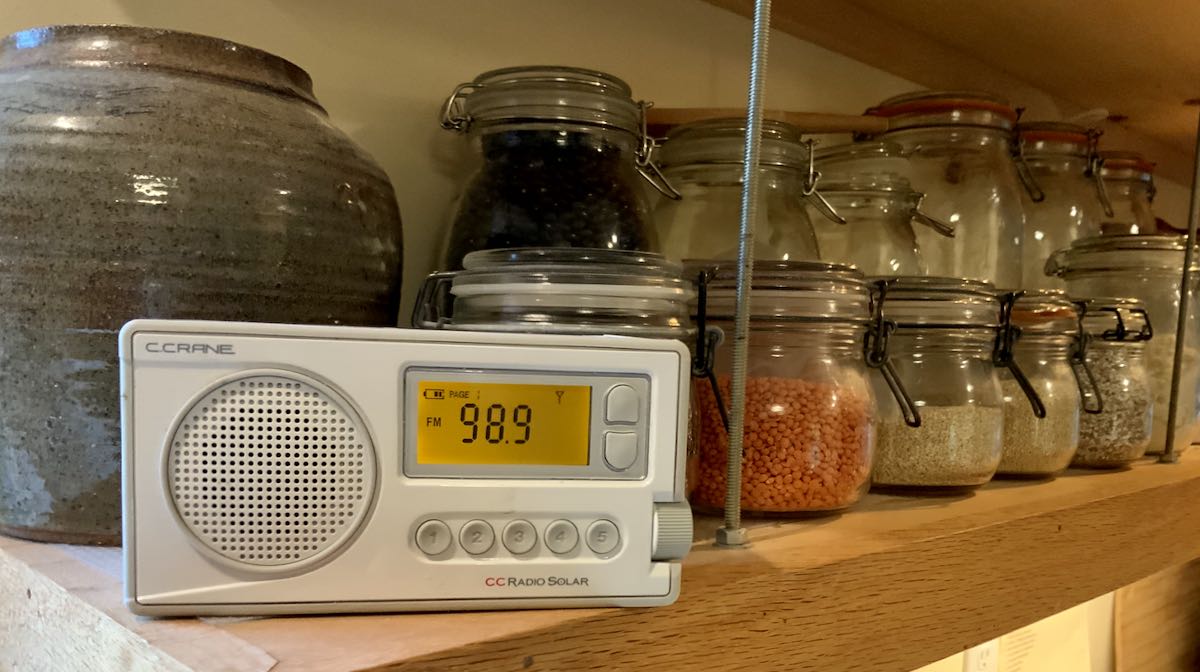 This is a huge.
Out of all of the radios I've owned or tested over the years, my wife only tolerated their temporary presence in our living spaces.
There have been a few notable exceptions:
The Tivoli Model One
KLH FM Radio 1
and now the CCRadio Solar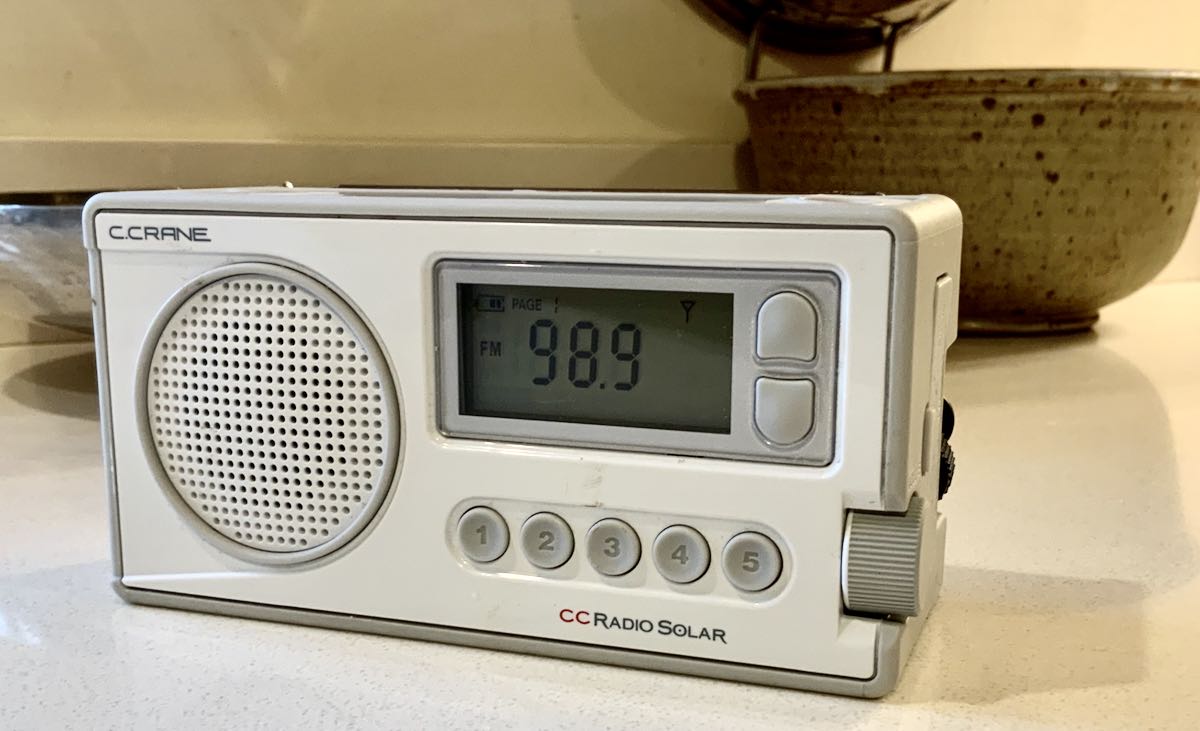 The CCRadio Solar's design is very simple and clean.
The radio body measures 6″ x 3″ x 2.25″ and weighs about one pound. It's easy to hold in your hand, but is also incredibly stable on a surface due to its low center of gravity, flat base, and UV-resistant rubber perimeter/jacket. (Note that the rubber jacket is in no way associated with rubberized coatings found on legacy portables that could break down over time and become sticky.)
I can place the CCRadio Solar in a window sill and not worry about it getting accidently knocked off.
On the top of the radio, there's a large built-in solar panel, power button, flashlight button, and band button (to toggle between FM, AM, and WX radio).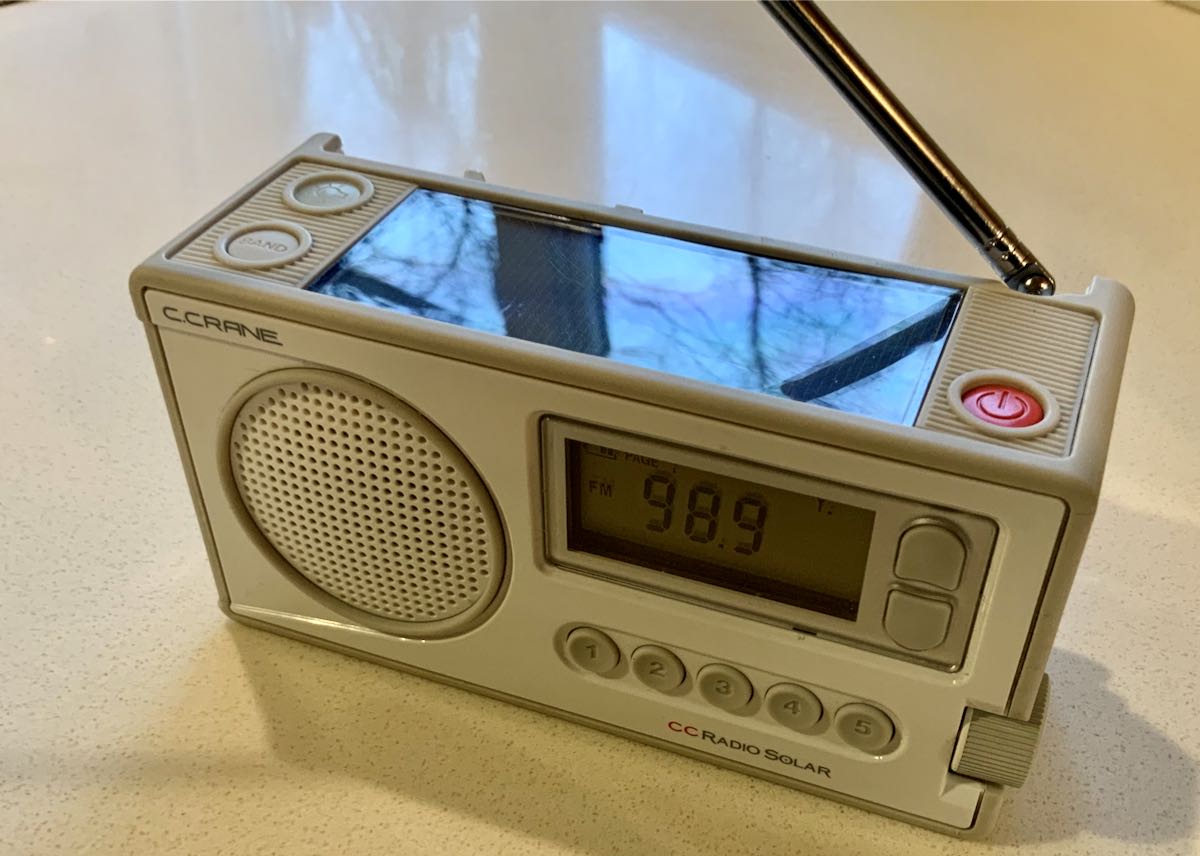 The solar panel is large for a radio of this size.
On the back, you'll find a fold-out hand crank and battery compartment for the internal Lithium-ion rechargeable battery and optional three AA cells. Yes, this radio can be powered from standard AA batteries!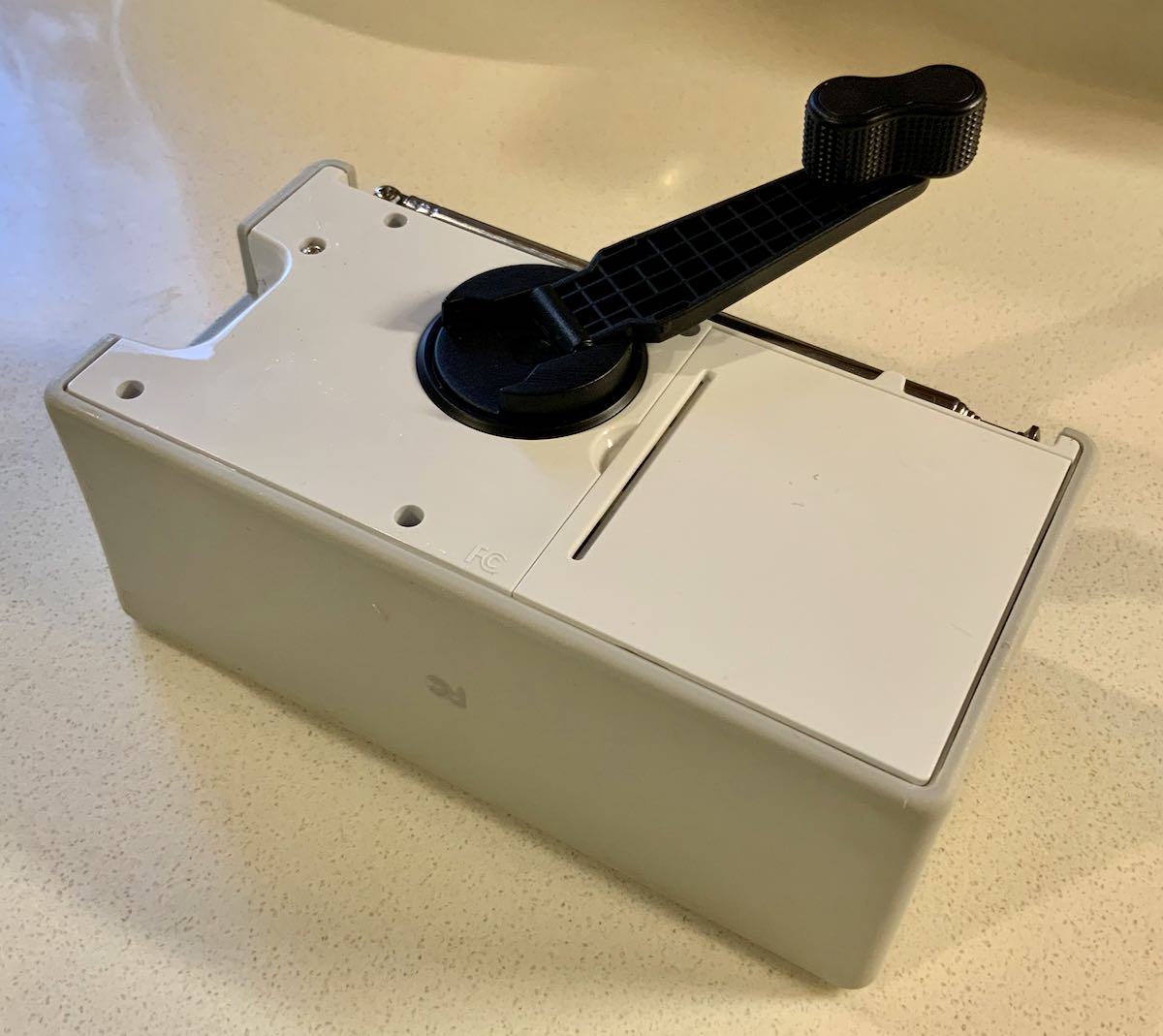 On the right side of the radio, you'll find the volume control and a cover that protects the headphones, micro USB charging port, USB power-out port, Aux In port, and a mechanical switch that allows you to toggle between Li-Ion and AA batteries.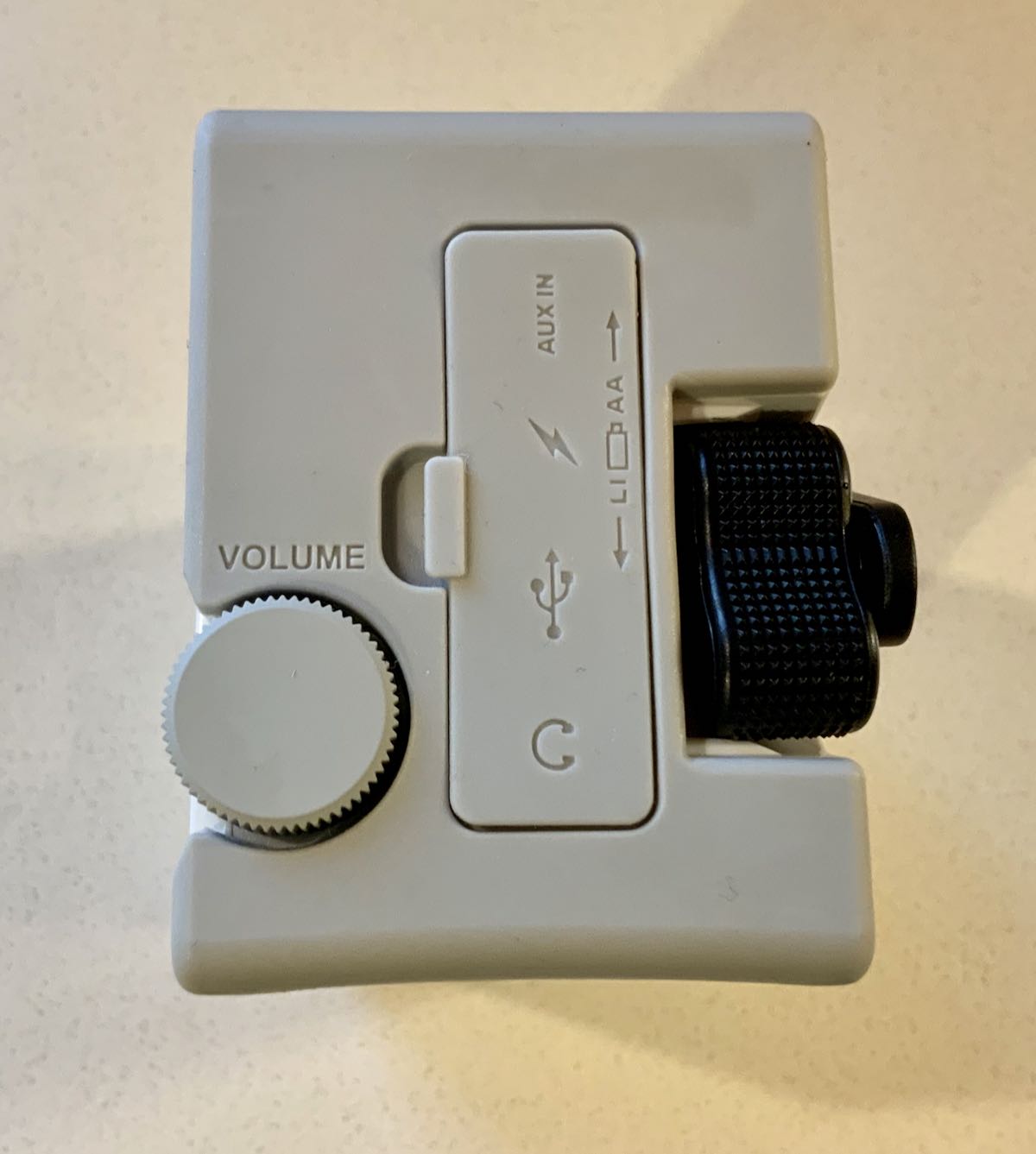 On the left side of the radio you'll find the attachment point for the supplied hand carry strap (I haven't attached mine), and the built-in LED flashlight.
CCRadio Solar features at a glance
Multiple power options:

Solar
Windup
USB
AA Batteries

Multiple bands

AM
FM
Weather radio with an alert alarm

Auxiliary input allows you to use it as an amplified speaker
Five one touch memory buttons with a total of 50 presets
Clock
Alarm
Sleep timer
Rubber jacket is UV resistant
Impressions
This CCRadio Solar is a pre-production model and it's my personal policy to not comment in detail about performance as this model comes from a very limited pilot production run.
Here's what I can say…
This is one of the first solar radios I've ever used that actually works as a daily driver.
Since I took delivery of the CCRadio Solar, it's primarily lived on our kitchen window sill. This window faces due south, so the CCRadio Solar gets ample opportunity to take advantage of solar charging.
I like to listen to the news when I cook, so the CCRadio Solar gets daily use. I've used it to listen to both my local NPR station and my "benchmark" distant NPR station on FM. I've also programmed a preset for my favorite daytime AM station which is a good 25 miles from my home.
This prototype, at least, shows promise in terms of its ability to receive distant stations with a great deal of stability.
Solar chops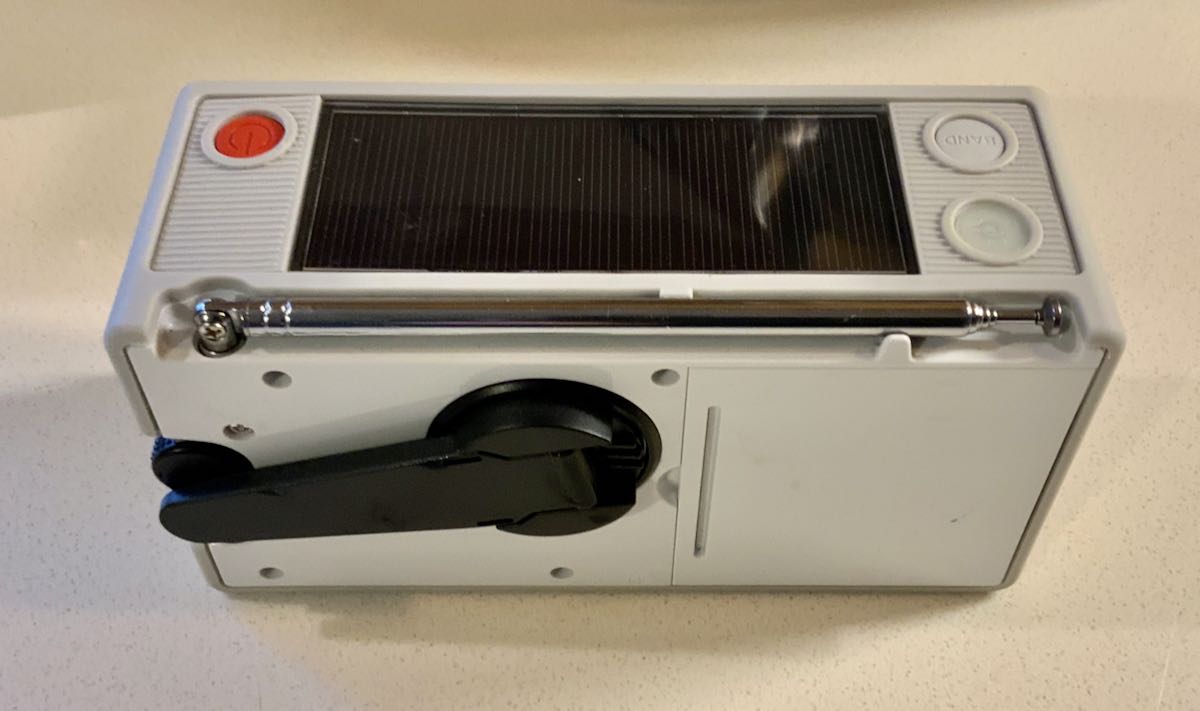 Last week, I realized that I've never had to charge the CCRadio Solar via the micro USB port. I've been using it since October for up to a couple hours a day–the solar gain from our kitchen window has easily kept the battery topped off!
I wanted to test this further, so a few days ago I moved the CCRadio Solar to another south-facing window in our living room area. I hooked it up to our SiriusXM receiver via the CCRadio Solar's AUX IN port. (FYI: when you insert an AUX IN source, the radio automatically switches to auxiliary input.)  This SiriusXM receiver is typically paired with my CCRadio3 and plays a variety of stations throughout the day for hours at a time–sometimes from early in the morning until the early evening.
The CCRadio Solar has been doing a brilliant job of playing all day long just on solar power and at a volume level that is room-filling, though not too loud to be distracting. Most impressive!
I should mention here that the built-in speaker provides (surprisingly) pleasant room-filling audio. The audio isn't as robust as, say, my CCRadio3 or KLH–obviously–but it's good enough that my wife has suggested we start using the CCRadio Solar as the speaker for our SiriusXM receiver because it's powered by the sun instead of the power grid. I'm in agreement with her: it works.
There are a couple of caveats here:
First of all, we've been having mostly sunny or partly cloudy days since I started running the radio all day long and
secondly, our home is passive solar so our south-facing windows, by design, do not have "Low-E" coatings that block UV rays.
I'm not sure if Low-E coatings affect solar panel performance, but I think it's worth mentioning.
Summary
If this prototype CCRadio Solar is any indication of how the production units will operate–and, in theory, it should be–I think the CCRadio Solar will become a very popular radio in the C.Crane product line.
At time of posting, there is no product page for the CCRadio Solar on the C.Crane website. When they do add it, it should appear on their Emergency Radios page.
I believe the price is projected to be $99.99 US–which is on the high side of the self-powered radio market–but if the production units function as well as this prototype I think it'll be worth it.
I believe C.Crane hopes to start shipping the CCRadio Solar sometime in the first quater of 2021. Since we're still coping with all of the logistics issues of the Covid-19 pandemic, assume that date could change. I'll continue to provide updates here in the SWLing Post. Just follow the tag: CCRadio Solar