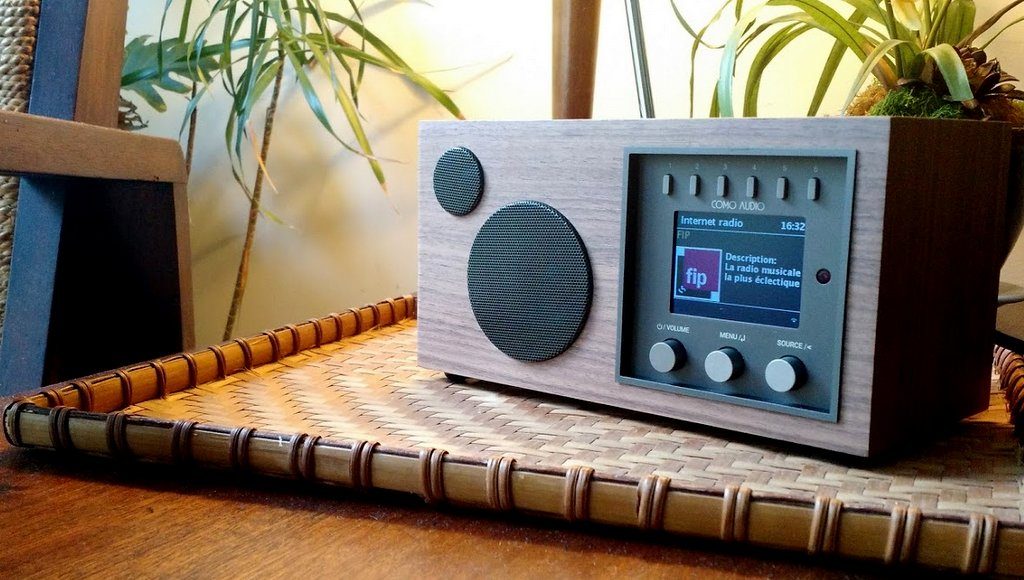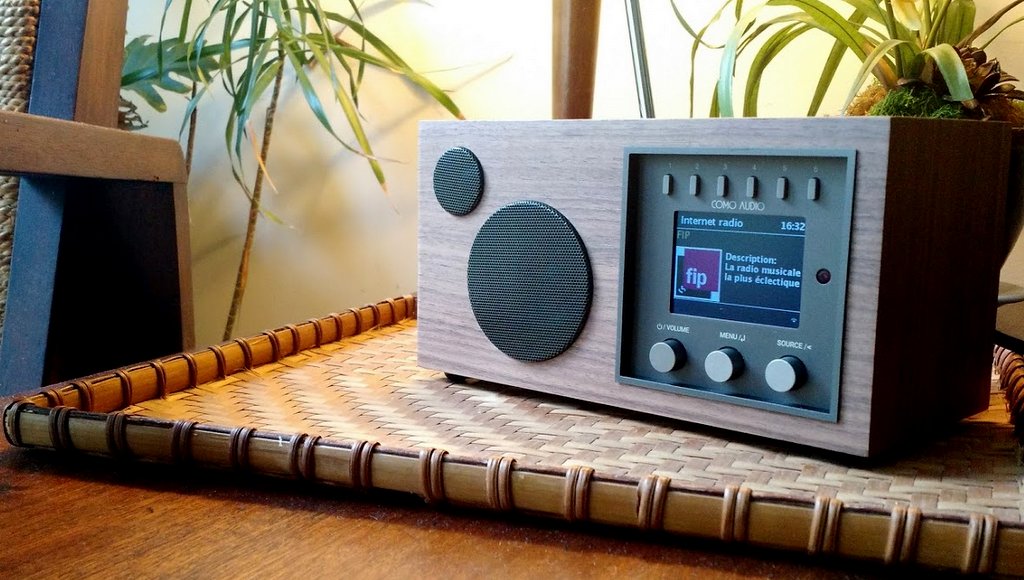 Regular SWLing Post readers might remember that this past summer, I made an impulse purchase–and in doing so, backed a Kickstarter campaign for the new Como Audio Solo.
But exactly why did I buy this small, self-contained digital music device–? Having just completed an in-depth review of several WiFi radios, I certainly didn't need another.  But the good-looking Solo, with its clean design and walnut casing really caught my attention…I couldn't resist checking it out.  Plus, in backing the radio via Kickstarter, I was able to purchase it for $100 less than the predicted future retail of $299 US.
The Kickstarter campaign funding Como Audio was prompt in communicating updates with backers and providing even more product options during the wait for production and delivery. Although several other snazzy finishes for the Solo were brandished before me, I stuck firmly by the walnut veneer I'd originally chosen.
Fast forward to the present. I finally received my Como Audio Solo a few weeks ago, and have had time to play with it. While I haven't had time to explore every nuance of this radio, of course, I have had an opportunity to form some opinions.
Design
I don't often comment on the design of radios I review, but in this case it's worth noting.
The Como Audio Solo, in wood, is elegant and simple. Love it: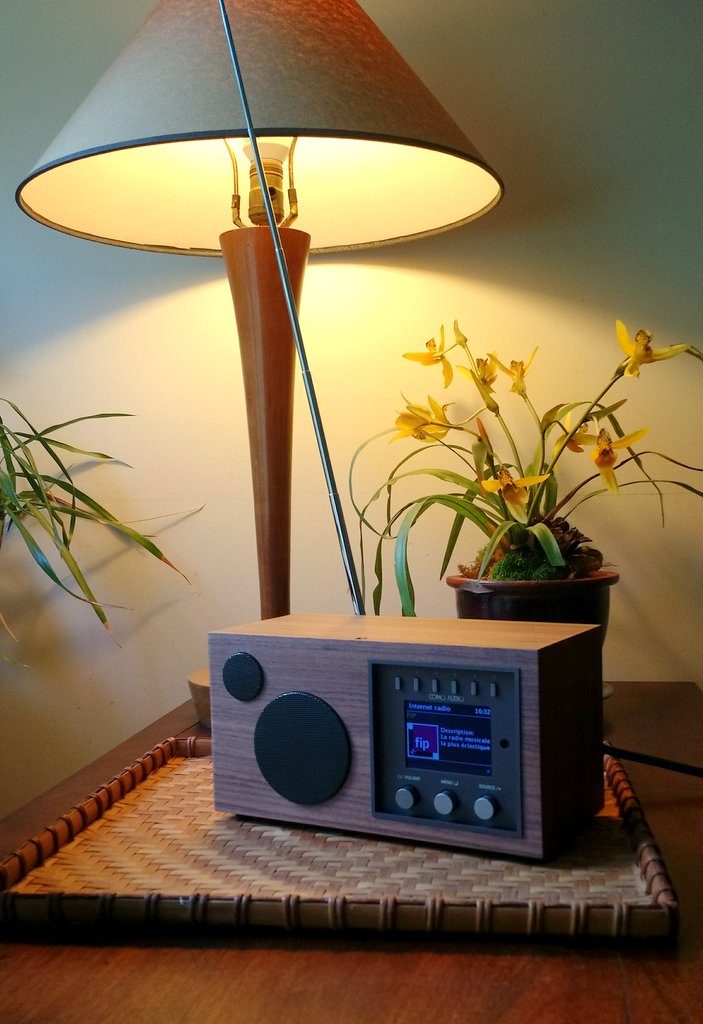 The only element of the design I'm not typically keen on?  I'm not the biggest fan of devices that sport colored backlit displays; to me they appear a bit flash and faddish, undermining a radio's overall aesthetic.
But I must say, the Solo pulls it off.  The color display in this case is somehow not too distracting–it's soft yet crisp, and easy to read even at a distance.
In short, the Solo is a stunning piece of kit, especially with that warm walnut casing, and looks right at home in any setting–office, living area, kitchen, or at the bedside.
I've only one gripe with the Solo's ergonomics: the front control knobs are a little too close to the bottom of the recessed controls area. When I try to turn a knob–for example, attempt to tune the FM band–I find my fingertips won't fit between the knob and lower edge of the recessed panel, making the knobs a little hard to turn in one fluid motion. (Of course,this is also due to the fact that I have big fingers; my wife doesn't seem to have this problem).
But this isn't a dealbreaker as I'm finding I don't often need to reach for the front controls, anyway.  Why? Because the rig's IR remote–or better yet, its smartphone app–control the radio effectively at any convenient distance from the radio.  Sweet.
Audio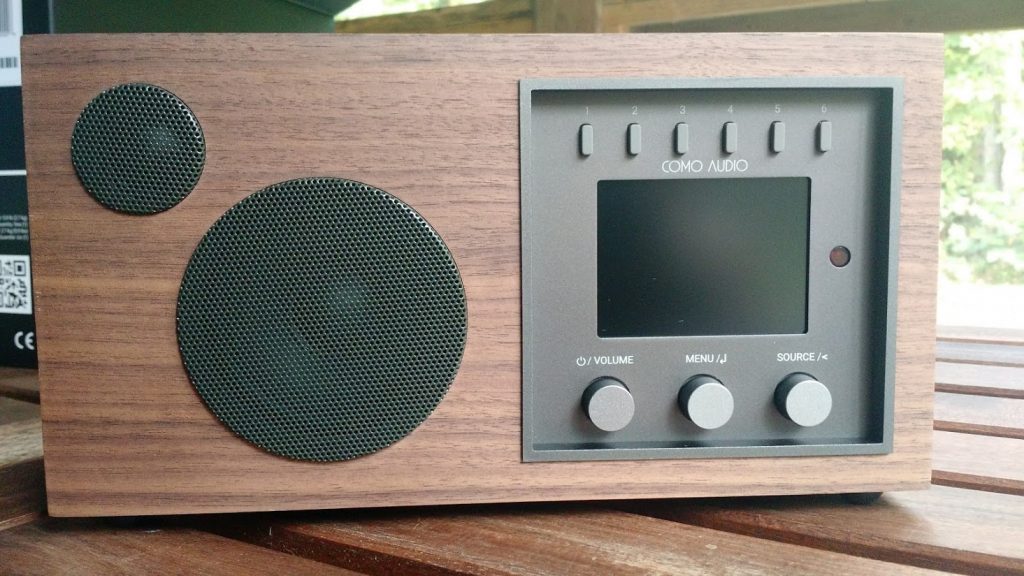 I'm a sucker for quality audio fidelity, and I must admit that this was one of the biggest deciding factors in purchasing the Solo: it touted extraordinary audio in a modest package, being designed around an acoustic chamber/chassis containing a 3″ woofer and 3/4″ dome tweeter fueled by a 2 X 30 watt RMS amplifier. I was very curious whether it could live up to its initial claim.
After turning on the Solo for the first time, I immediately wanted to hear audio, so I put it in Bluetooth mode and played a few songs, ranging from Jazz to Electronica.
In a nutshell:  Wow.
The audio is strikingly reminiscent of my Tivoli Audio Model One…which is to say, it's excellent. It packs more audio punch than any of the radios I reviewed in my WiFi radio comparison.
Out of the box, the audio is fairly well-balanced, too. But you can tweak the equalizer, and I did, drawing in a little more bass and treble.  My wife (also a bit of an audiophile) was impressed. And yes, the sound is all the more remarkable considering the radio's relatively small form-factor:  little box, big voice.
FM Reception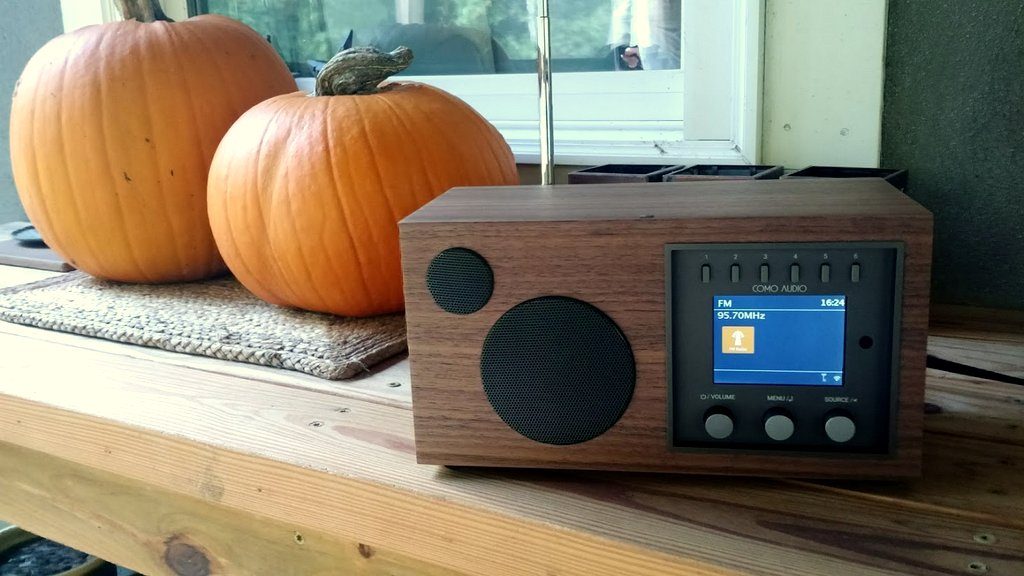 The Como Audio Solo is one of the few Wifi radios on the market that has a built-in analog FM and DAB receiver (save the $120 Sangean WFR-28, which has analog FM reviewed here).
Since I live in the US, I can't comment on DAB reception.  I have, however, had an opportunity to test the FM analog reception.  Keep in mind, I live in a rural area and require a decent FM receiver with telescopic antenna fully extended just to listen to my favorite regional programming.
When I tune the Solo to my benchmark FM stations, it can receive them–but not as effectively as many of my other radios, including the WFR-28. Even when forced to use the Mono setting only, the stations it receives carry too much static for good listening.  So obviously the Solo isn't as sensitive as some of my other radios, at least in this setting. Indeed, few stations it receives in this area are able to lock in to the point that there's no static in the received audio. For out-of-towners, this is a bit of a disappointment.
With this said, I imagine if you live in an urban area, the FM receiver should more than please you. I've no doubt it can faithfully reproduce beautiful audio from local FM outlets.
I should add that, while FM reception isn't stellar for distant stations, the RDS information does convey even when the audio isn't full fidelity.
WiFi radio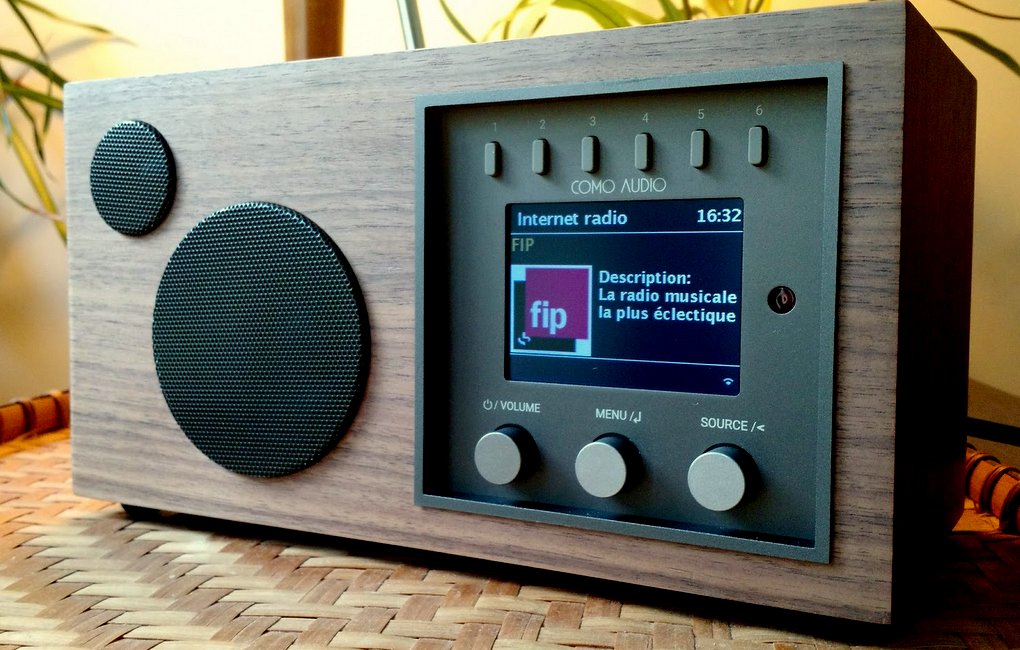 Of course, the main reason I purchased the Como Audio Solo was to use and review it as a WiFi radio…nothing at all to do with that sharp walnut chassis, or audio power.
As I outlined in my WiFi Radio primer, WiFi radios rely on station aggregators–extensive curated databases of radio stations–to surf and serve up the tens of thousands of streaming stations around the globe.
Based on feedback from Como Audio shortly after the Kickstarter launch, I was under the impression that the station aggregator of choice was vTuner. This concerned me, as vTuner's reputation as an aggregator is somewhat maligned due to a series of documented faults and weaknesses.  Fortunately, this turned out not to be the case: after the initial confusion, I soon discovered Como had adopted the more robust Frontier Silicon aggregator, instead–a better choice.
Click here to read our primer on setting up your Como Audio product on the Frontier Silicon radio portal.
Since I'm a pretty big fan of Frontier Silicon and since I've already been using their service with my Sangean WFR-28, once I connected my radio to my user account, the WiFi portion of the radio felt identical to that of my WFR-28. Simply brilliant, as the Frontier Silicon radio portal gives the user flexibility to create station lists and folders with ease–all of which readily convey to the radio itself.
The Solo also features six dedicated memory buttons on the front panel for quick access to favorites.
Turns out, there's also a comprehensive manual available online for download (click here).
Summary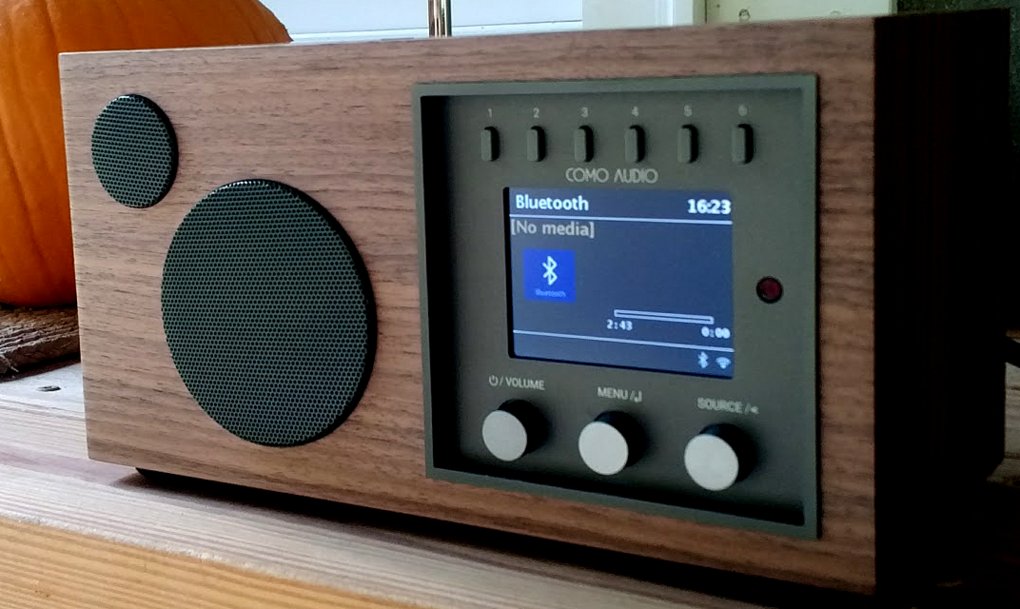 And am I please with the Solo so far?
I'll reply with a resounding "Yes!"
I love the Solo's design–this certainly is a handsome product. Moreover, I love the audio, and am pleased that it delivers the fidelity promised by its Kickstarter campaign. The Solo and Duet are loaded with features, connections, Aux In and Aux Out audio and digital ports–more, in fact, than any similar device with which I'm familiar. I regret that the rig's FM isn't suited for country life, but the audio coupled with its stylish exterior do make up for this somewhat.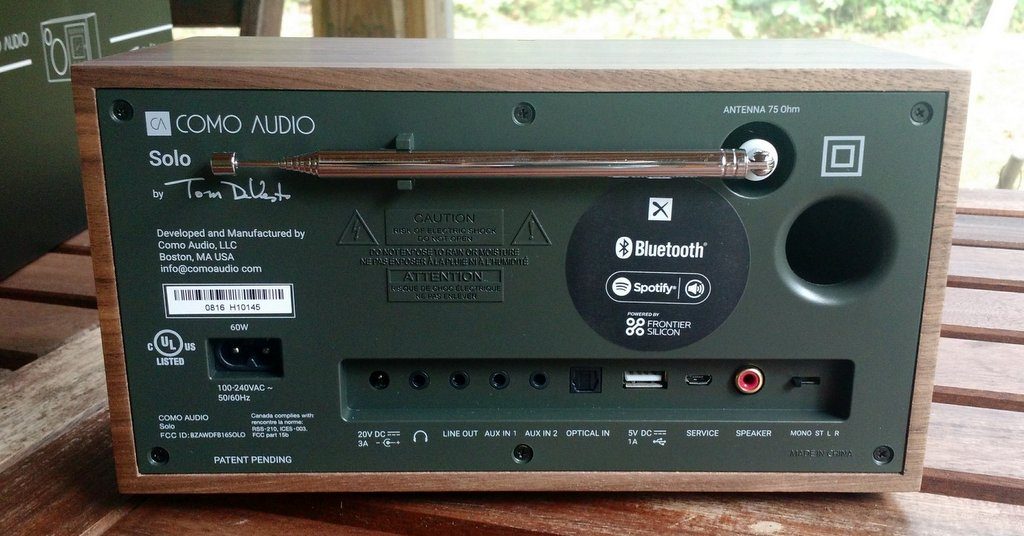 I do wish the Solo had an internal rechargeable battery option. Being able to move the receiver to different locations within a home or building could be a major plus for rural FM reception. As my friend John pointed out, however, the audio amplifier is robust enough, it might have been a challenge to implement an affordable-but-effective internal battery without compromising the audio amplifier's needs.
In truth, I favor audio fidelity over portability for a tabletop radio.
In conclusion…do I have any backer's remorse?  Absolutely not–!
In short, the Como Audio Solo is a keeper.  I'm still marvelling at this classy and dynamic radio that fills our home with rich beautiful audio. A few weeks in, the Solo has already become a permanent feature in our abode. It's one of the few radios I have that meets my artist wife's approval in terms of both design and audio.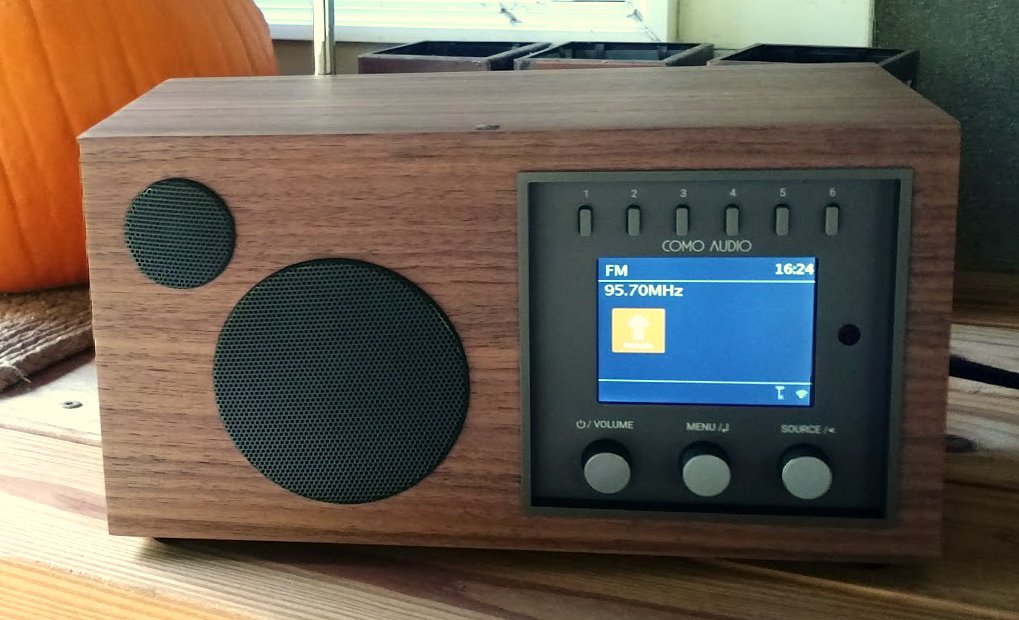 Great job, Como Audio!  If the Solo is any indication of radios to come, I'll certainly be looking for your future innovations.
Click here to order the Como Audio Solo and Como Audio Duetto.