I originally wrote this three-part WiFi radio primer and review series for the April, May and June issues of The Spectrum Monitor magazine.  Each part of this series will be posted with the tag: WiFi Radio Primer. You can read Part 1 by clicking here–I hope you enjoy Part 2 below:
---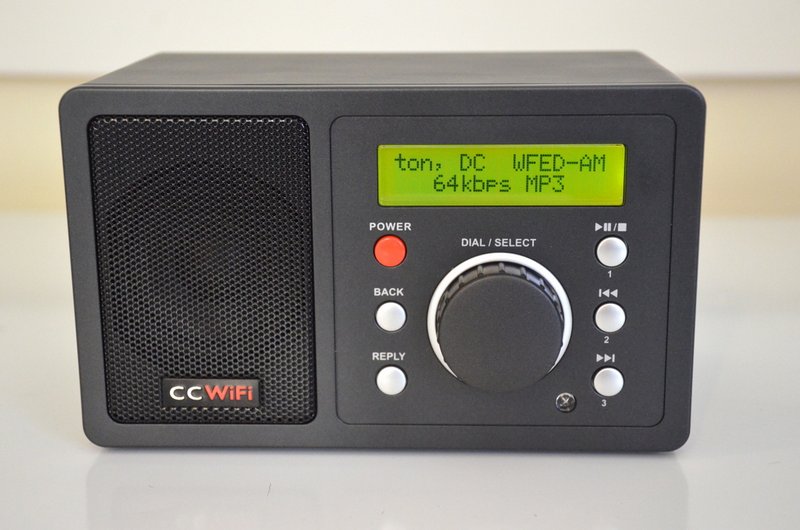 As I mentioned last week in the first of this three-part primer on WiFi radios, I never thought a WiFi radio was something I'd ever acquire.  By "WiFi radios," of course, I mean Internet radio devices that have the sole purpose and dedicated function of streaming radio audio, and so, as a die-hard ham with a penchant for a well-balanced tuning knob, I just couldn't see the need for what I thought of as an overly-simple, perhaps even redundant, device.
Indeed, until I began the as a search for the perfect radio for my family and XYL ("ex-young lady," old ham radio speak for wife), I had used only an app on my smartphone (with headphones), and on tablet PCs connected to amplified speakers, in place of a dedicated WiFi radio. And I was fine with that. Or so I thought…
Fast-forward several months. Now that the XYL and kids have been using WiFi radios for a while, I don't think they'll go back. And as for myself? Yes, I've crossed that no-return boundary, too. Our whole family's now joined the WiFi radio club, and the truth is, we're all enjoying the WiFi's simplicity and unique benefits.
In Part 1 of our WiFi Radio Primer, we discussed what makes WiFi radios tick––their ability to find radio stations via radio station aggregators. We also discussed the comparative merits of the most dominant aggregators on the market, and took a look at one easy alternative to the WiFi radio, namely, streaming from your smartphone or tablet.
Now we'll investigate some of my picks from the current market.
WiFi radios: an overview
WiFi radios, by and large, look like traditional radios; they typically have backlit digital displays, front panel buttons to recall memories, and an internal speaker. They function like them, too, in that they play radio stations––but there's where the resemblance stops. Streaming lnternet audio, and their dependence upon an aggregator to do this, sets them entirely apart.
The market for WiFi radios is actually not as broad and diverse as the shortwave radio market. If you're seeking a quality device that uses a well-known, properly-curated station aggregator (again, see Part 1 for more on this), you'll be looking at about a dozen (or so) radios currently on the market.
Here's a short list of the current market's most popular WiFi radios. Note that this is by no means a comprehensive list––it's a curated list of WiFi radios that are in wide use, are relatively simple to operate, have built-in speakers, and that use reliable aggregators. I've noted the aggregator in parentheses as well as the average US purchase price.
Amazon:
CCrane Company:
Grace Digital
Pure
Sangean
And now, let's meet our real contenders
After much research and head-scratching, I chose four WiFi radios from the above list: the C.Crane CC WiFi, the Sangean WFR-28, the Grace Digital Mondo and the Amazon Echo.
FYI––and in full disclosure––here's how I obtain my review radios. To keep my review budget within reason, I contact a supplier and request a loaner unit for review that I may return or purchase afterward; otherwise, I purchase the unit(s) outright. In this case, I purchased the Amazon Echo ($179), Grace Digital Mondo ($150), and rechargeable "D" cells for the WFR-28 ($30), while both C.Crane and Sangean kindly opted to send sample review radios, this being a less expensive route for these retailers. When I receive samples, my policy is to give away those I don't wish to keep; for those I do decide to keep, I donate the full retail price to Ears To Our World, a 501(c)(3) non-profit which sends self-powered shortwave radios to teachers in off-grid developing world communities.
The decision process, this time, was a particularly difficult one. Every model has its advantages and disadvantages; and there are no "perfect" WiFi radios––at least, none that satisfied all of my stringent requirements:
Handy size
Intuitive display
Dedicated memory buttons on front panel
Clear, robust audio
External connections
An internal rechargeable battery option (for portability)
Easy setup
Remote control
Traditional FM and/or AM radio tuner
Several friends urged me consider the Pure EVOKE F4, which reportedly has excellent audio, a simple interface, and superb customer support. Plus, it's a sleek little device, and…well, frankly, cute. Many have also touted Pure's own proprietary aggregator, as well. But I just couldn't justify purchasing and reviewing a WiFi radio with such a hefty price tag ($225), especially knowing that I would also need to purchase the optional battery pack ($50) for a total performance picture.
Reviews
Following are summary reviews of each radio I tested. These are not comprehensive reviews covering every feature; rather, in these summaries, I focus my analysis on their ability to tune stations, on audio quality, on portability, and simply on general usability.
The C.Crane CC WiFi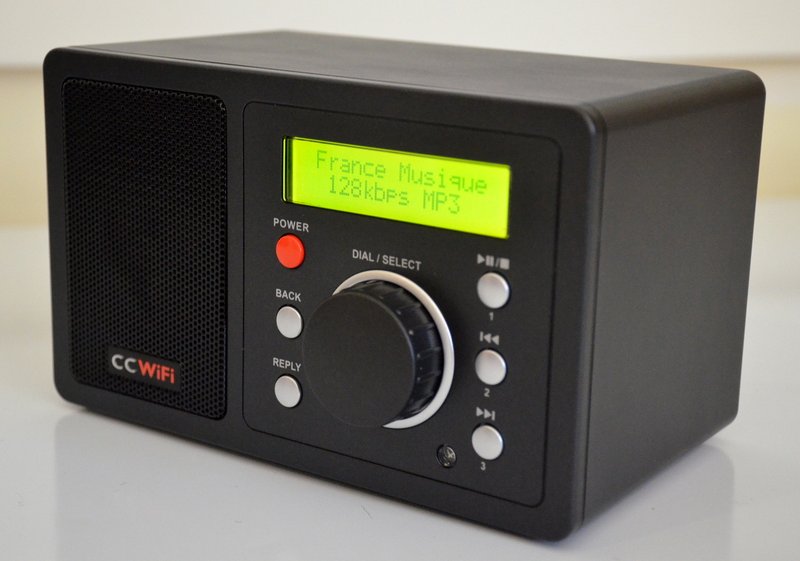 I've had many C.Crane radios in the past. I love C.Crane products because they're typically well-designed, effective, and because C.Crane offers excellent customer support.
The CC WiFi radio has been on the market longer than any other WiFi radio reviewed here. When I first unboxed the CC WiFi, I was a little surprised by its diminutive size: it is, perhaps, 30% smaller than I expected (based solely on web images and from the catalog). It comes with a small remote control with blister/membrane style buttons. The front panel on the CC WiFi is very simple: one large knob, six buttons, and a monochrome backlit two-line alpha-numeric display.
Setup is fairly easy; the accompanying owner's manual walks you through the process (another C.Crane strength is their production of good-quality manuals). Once I had set up the radio and registered it with the Reciva aggregator, I was tuning in the world.
The CC WiFi's plastic chassis feels rather thin––at least, thinner than I would have expected. But the radio is surprisingly lightweight, perhaps as a result of this. Fortunately I was pleasantly surprised by the audio from the internal speaker. It provides a full sound and is more than adequate for medium-sized rooms. Bass tones are present, though not especially deep. It's wonderfully balanced for the spoken word.
The CC WiFi only has three buttons on the front panel of the radio that act as dedicated memory presets. I wish this number were, at the very least, doubled. With the provided remote control, of course, memory presets are expanded to 99 allocations. Fortunately, you can pretty much operate the CC WiFi's functions without the remote control (a bonus for those of us who tend to misplace tiny remote controls).
There are a few updates that I think would make the CC WiFi shine:
To help with portability, it would make sense to add a carry handle and capacity for internal rechargeable batteries. The CC WiFi requires a DC power supply to operate; this is a shame because I suspect other listeners, like me, often enjoy radio away from home where there are no main power outlets. The unit is small enough, and lightweight enough, that it would lend itself very well to portability.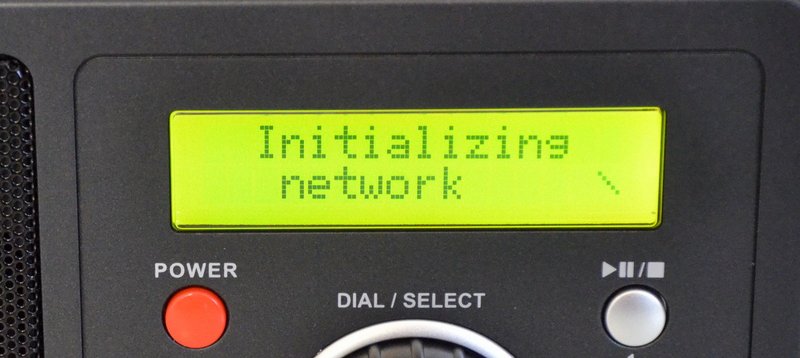 Though I'm sure the two-line backlit display was among the best in its class when the CC WiFi was introduced, I now find myself wishing this display could be a bit wider, taller, and (ideally) in color. The display is small enough that if you're browsing stations with the accompanying remote control, you need to be within a few feet of the radio. If it's across the room, however, it's very difficult to navigate.
Additionally, the display width is not sufficient for longer Reciva station names/labels. As an example, I have a folder with local CBC stations from across Canada. Stations are labeled with the town or city name following, for example, "CBC Radio One – Toronto" or "CBC Radio One – Charlottetown." When I'm browsing the folder of CBC stations, the display merely shows me a long list of "CBC Radio One" stations––which is to say, the truncated display cuts off the city's name. Of course, I can press the right arrow on the remote to have the station name slowly scroll into view, but this is a cumbersome process when browsing the list. There are, of course, work-arounds for this––I could, for example, create folders for each city, or assign the station to a dedicated memory position––but the then I would have to drill down another level to find my station. "Work" around is the operative term, in either case, .
Pros:
Small size
Ethernet connection
Line-out audio
Headphone jack (on back)
Included IR remote control
Affordable
Audio quite good for size of unit (bass, see con)
Extras include:

Pandora connect
Live365 (now defunct)
Cons:
No battery-power option
Thin, "plasticky" feel to chassis, seems less durable
Occasional slow connection time to WiFi
Internal speaker generates (comparatively) weak bass
No EQ for audio
Only three memory buttons on front panel
No smartphone/tablet app
Overall, I think the CC WiFi is a good value and is currently one of the least expensive WiFi radios using the excellent Reciva aggregator. The CC WiFi has a surprising number of features for its price class. None of the criticisms above are necessarily deal-breakers, but some strategic upgrades to this radio would keep it competitive for many years to come.
The CC Wifi can be purchased from the following retailers:
The Sangean WFR-28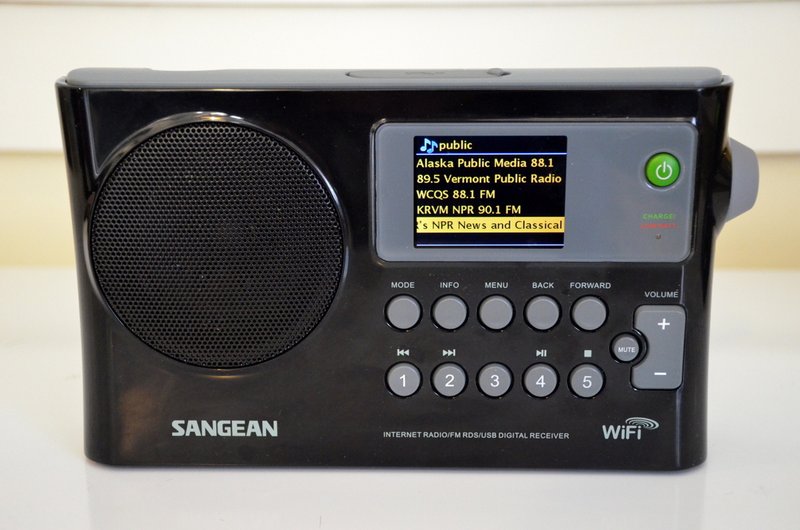 When I first unboxed the Sangean WFR-28, I immediately noticed its design, which bore a striking similarity to other Sangean AM/FM portables like the Sangean PR-D7. The WFR-28 has a glossy hard plastic body that feels robust and durable. The buttons are spaced well across the front panel and have a tactile responsiveness and weight that speaks of quality. There is a dedicated volume rocker button, five memory preset buttons, as well as a dedicated tuning knob and five function buttons.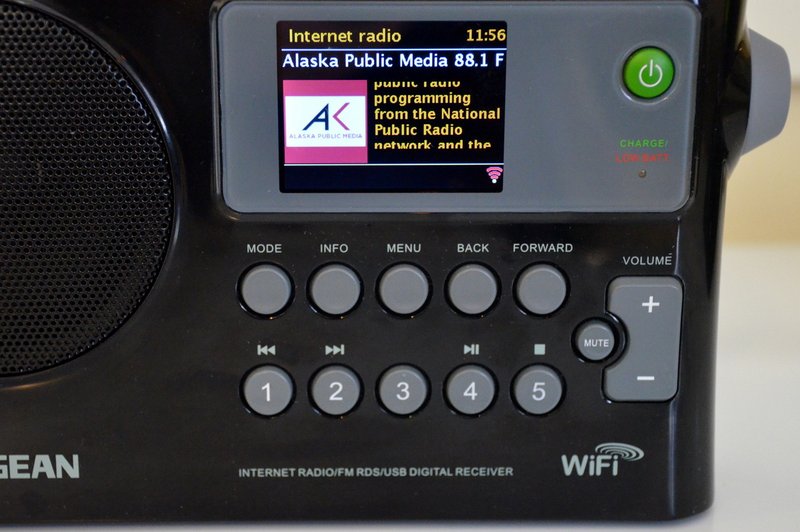 The WFR-28 also has an easy-to-read square color screen that provides about five lines of text and can display any broadcaster artwork/logos provided. You can access all of the WFR-28's functions by using the front panel buttons and tuning controls. As with most WiFi radios, doing so is not as enjoyable an experience as with most traditional radios, since you're using a tuning control to move up or down through selections on a small display.
The Sangean WFR-28 does not ship with a remote; however, if you have an iOS or Android smartphone or tablet, you can download a free "remote control" app to control your radio.
I find that this is actually more convenient than with a traditional IR remote, because you can control the radio functions from anywhere within your WiFi network. Not to mention, it's great to be able to turn the volume up from another room in the house!
What I really appreciate is the ability to browse the full Frontier Silicon database from the app-––so much easier than browsing through the radio's front panel. I do wish there was a way, however, to add stations to memory allocations via the smartphone app (take note of this for a future app update, Sangean!)
The Sangean remote app even allows you to control the various player modes: Internet Radio, USB, AUX in, and the traditional FM tuner.
Speaking of which, yes, the WFR-28 has a very good FM tuner. I can easily receive one of my benchmark distant-FM stations, and even successfully decode the RDS data––both the remote app, and the radio display FM station information. Nice touch, Sangean!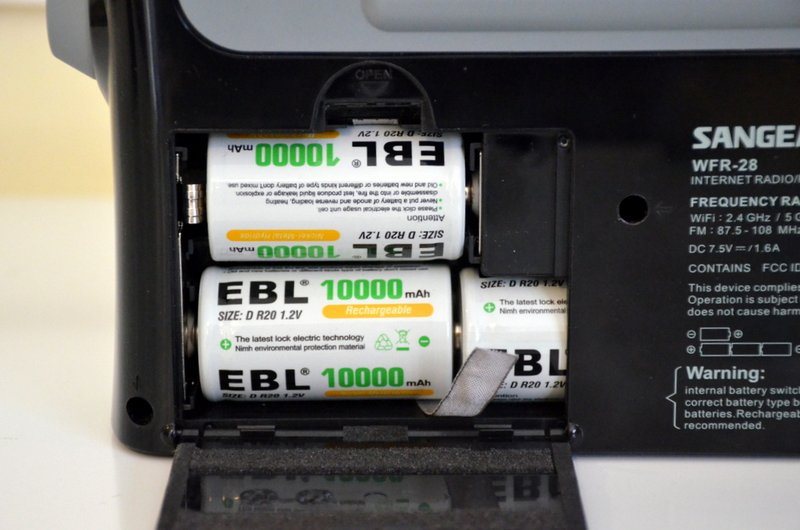 The WFR-28 doesn't ship with a battery pack: rather, it takes traditional D cells in either Alkaline or NiMH form. I purchased a four-pack of high-quality, high-capacity NiMH D cells––they'll set you back $25-30, but are well worth the investment. The WFR-28 will internally recharge the cells when plugged into an outlet. Once fully charged, you'll have hours upon hours of playtime. I haven't measured the total playtime after a full charge, but I imagine it to be in excess of 24 hours.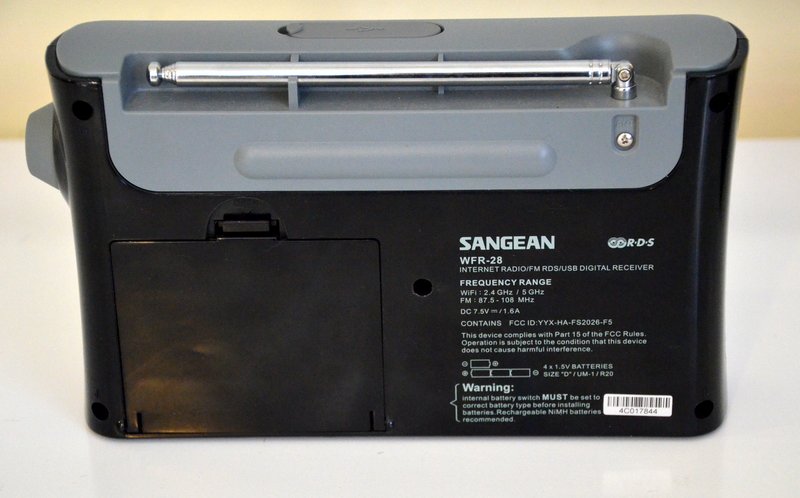 What is the WFR-28 missing? One obvious thing is a carry handle or strap, always useful. Other than that, it really packs a lot for a $122 radio.
Pros:
Good audio fidelity from internal speaker

Preset EQ settings
Customizable EQ
Crisp with noticeable bass tones

Affordable
One-touch preset buttons (see con)
iOS/Android app/remote control
Accepts and charges standard NiMH D cells
Very good FM receiver/displays RDS information
Superb playtime from 4 D cells/batteries
USB MP3 playback (MP3 and WMA compatible)
Stream Spotify music channels and selections
Cons:
Only five preset buttons
No carry handle
If unplugged to go portable, radio shuts down and restarts on battery power, rather than remaining on
No battery indicator on display
On a few occasions the audio has failed after being woken up from standby (turning the radio off, then on again, is the fix for this)
Overall, I believe the Sangean WFR-28 is an excellent WiFi radio; when combined with rechargeable D cells, you have a portable multi-function audio entertainment system that's simple to use. I should note that I've also been pleased with the Frontier Silicon station aggregator, as well; although more simple than other aggregators, FS just happens to provide all of my favorite stations and networks (do check for your faves before you buy).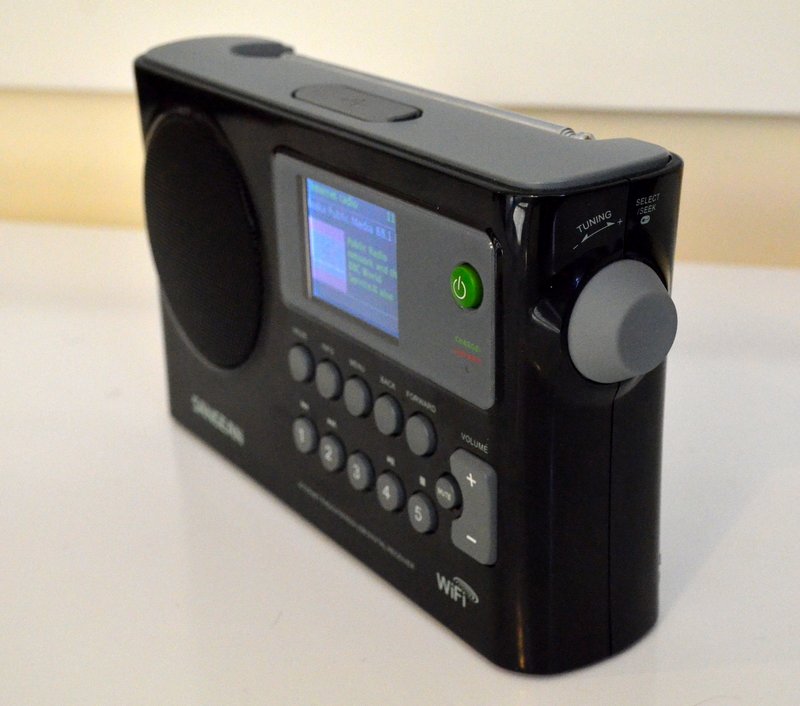 The Sangean WFR-28 can be purchased from the following retailers:
Stay tuned! In Part 3 of our WiFi Radio Primer, we'll take a look at two more WiFi radios: the Grace Digital Mondo and the Amazon Echo.