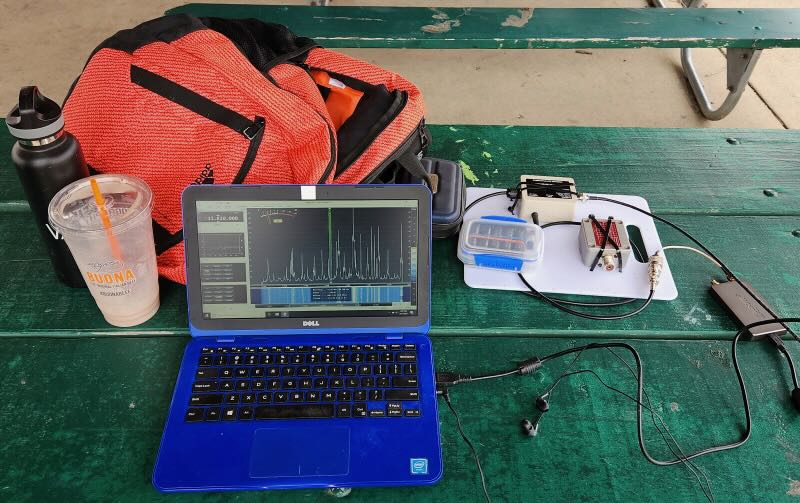 Loop on Ground Antenna Part 3
(using multiconductor wire)
by TomL
It dawned on me recently, perhaps due to sloppy thinking or unintended distractions, that I never wrote about my modified Loop on Ground (LoG) receive antenna that I use at parks and such.  For over a year now, I have been using 3-conductor rotor wire bought cheap at the local hardware store and have wired the conductors in series.  Grayhat (Andrew) was the inspiration when he decided to create a folded dipole along the side of his house.
The usual construction of a LoG antenna for shortwave is a single wire of about 60 feet in circumference in order to not go above one wavelength for 20 meter band usage.  If you recall, going above one wavelength will start creating weird lobes in the reception pattern.  See – Loop-On-Ground Antenna Part 2.
However, I did not like this 19 foot diameter wire on the ground in public parks just waiting to be tripped over.  Like, the time when a horse got loose from its owners and almost tripped over my 60 foot wire.  I don't think I would have liked the resulting lawsuit!
So out of fearful necessity I took some leftover RCA 3-conductor rotor wire, about 29 feet of it, and wired a loop with the conductors in series.  This gives about 81 feet of total conductive length.  But since it is folded onto itself, there is an undetermined loss of resonant length.  Callum (M0MCX) of DXCommander fame has experimented and found folded dipoles need three times more length in the folded section to reach resonance, so my loop is probably around 69 feet (electrically).  See – Fold the end of a Dipole Back – What's Happening?.
In the picture below, the black wire with Ring Terminal at the bottom goes all the way around to the other side, soldered to the green wire, which goes around and is soldered to the red wire, which goes around to the Ring Terminal at the top, plus tie-wraps to hold the wires together.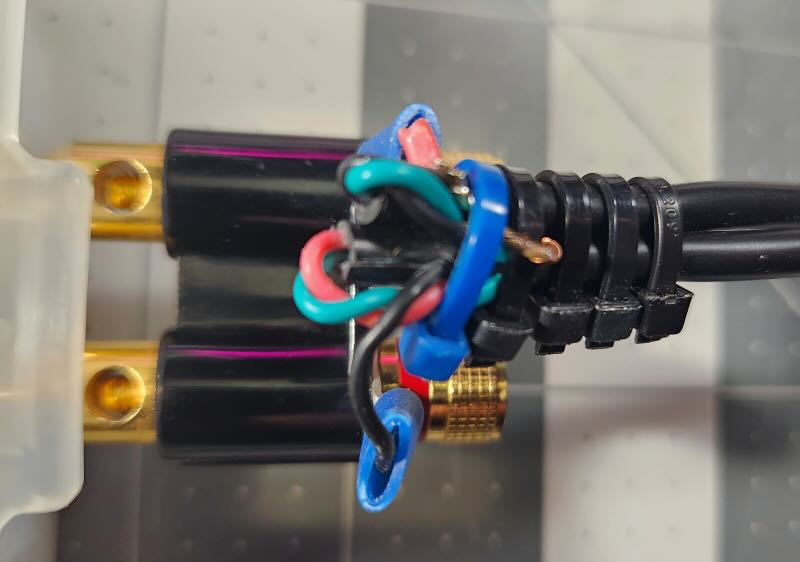 The next picture is how the Wellbrook Medium Aperture preamplifier is connected to the loop with BNC cable that goes to the 12V power injector.  I have had this Wellbrook unit for maybe 6+years with no signs of problems.  WARNING – do NOT use the Wellbrook preamplifier in the presence of high powered RF energy like your Amateur Radio antenna pumped with 1000 watts from a  linear amplifier; the Wellbrook premap might just overload and get damaged!  I did use this loop and preamplifier at last year's 2022 ARRL Field Day and was able to get away with it because we were only using 100 watts per station.  Listening to the 9pm 3916-net trivia group was fun but I still needed to keep it away from the transmitting antennas. Continue reading →