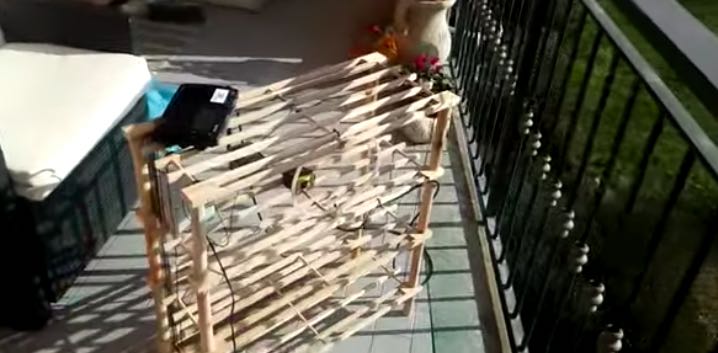 Many thanks to SWLing Post contributor, Giuseppe Morlè, who writes:
Dear Thomas,
I'm Giuseppe Morlè iz0gzw from central Italy on the Tyrrhenian Sea, Formia.
I am sending you this umpteenth project of mine built with poor materials…it is a test bench, loops / capacitors to find the best tuning.
The frame is a shoe rack in beech wood, very light, to take anywhere or to try out at home.
On the frame, there are 4 different loops of different sizes and 3 variable capacitors with different capacities. Only one signal transfer link to the receiver for all loops.
With alligator plugs I can use the different combinations of loop / variable to find the best tune
This test rig can tune the whole HF frequency range and medium wave.
I've attached 3 videos where you can see from the beginning to the last test on the balcony of my house.
Videos
Note that the following videos are in Italian, but you can turn on closed captioning and in the settings of the video have it auto-translate into the language of choice:
Click here to view on YouTube.
Click here to view on YouTube.
Click here to view on YouTube.
All, as always, spending very little and employing used materials!
Thanks to you and a warm greeting to the whole SWLing Post community.
I remain available for any clarification.
Greetings to all and good experimentation!
Thank you for sharing this Giuseppe! I love your ingenuity and spirit of experimentation! What a fun project that obviously yields excellent results!