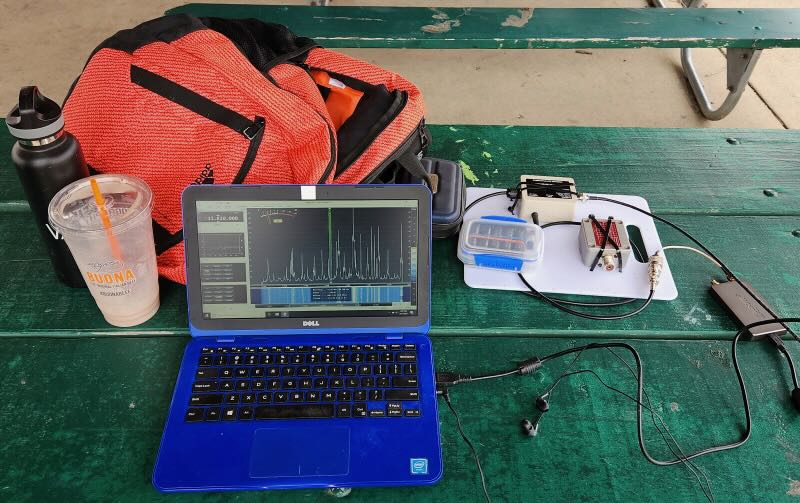 Loop on Ground Antenna Part 3
(using multiconductor wire)
by TomL
It dawned on me recently, perhaps due to sloppy thinking or unintended distractions, that I never wrote about my modified Loop on Ground (LoG) receive antenna that I use at parks and such.  For over a year now, I have been using 3-conductor rotor wire bought cheap at the local hardware store and have wired the conductors in series.  Grayhat (Andrew) was the inspiration when he decided to create a folded dipole along the side of his house.
The usual construction of a LoG antenna for shortwave is a single wire of about 60 feet in circumference in order to not go above one wavelength for 20 meter band usage.  If you recall, going above one wavelength will start creating weird lobes in the reception pattern.  See – Loop-On-Ground Antenna Part 2.
However, I did not like this 19 foot diameter wire on the ground in public parks just waiting to be tripped over.  Like, the time when a horse got loose from its owners and almost tripped over my 60 foot wire.  I don't think I would have liked the resulting lawsuit!
So out of fearful necessity I took some leftover RCA 3-conductor rotor wire, about 29 feet of it, and wired a loop with the conductors in series.  This gives about 81 feet of total conductive length.  But since it is folded onto itself, there is an undetermined loss of resonant length.  Callum (M0MCX) of DXCommander fame has experimented and found folded dipoles need three times more length in the folded section to reach resonance, so my loop is probably around 69 feet (electrically).  See – Fold the end of a Dipole Back – What's Happening?.
In the picture below, the black wire with Ring Terminal at the bottom goes all the way around to the other side, soldered to the green wire, which goes around and is soldered to the red wire, which goes around to the Ring Terminal at the top, plus tie-wraps to hold the wires together.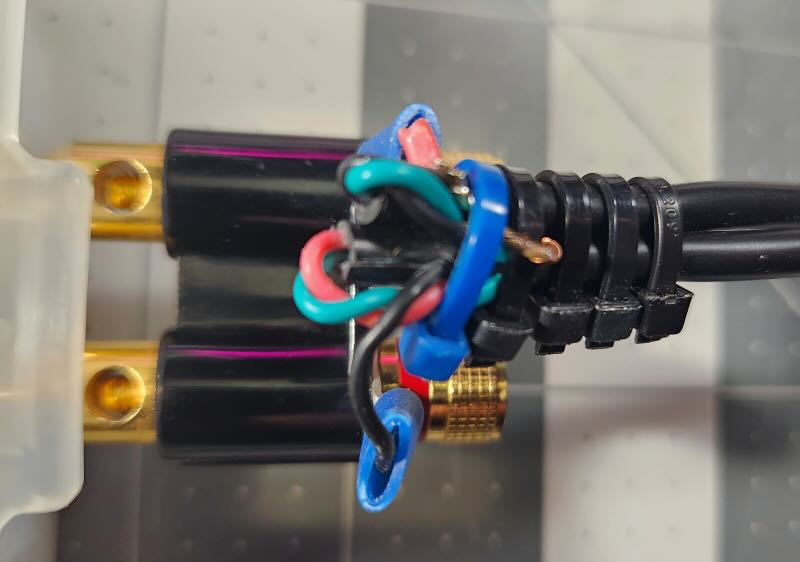 The next picture is how the Wellbrook Medium Aperture preamplifier is connected to the loop with BNC cable that goes to the 12V power injector.  I have had this Wellbrook unit for maybe 6+years with no signs of problems.  WARNING – do NOT use the Wellbrook preamplifier in the presence of high powered RF energy like your Amateur Radio antenna pumped with 1000 watts from a  linear amplifier; the Wellbrook premap might just overload and get damaged!  I did use this loop and preamplifier at last year's 2022 ARRL Field Day and was able to get away with it because we were only using 100 watts per station.  Listening to the 9pm 3916-net trivia group was fun but I still needed to keep it away from the transmitting antennas.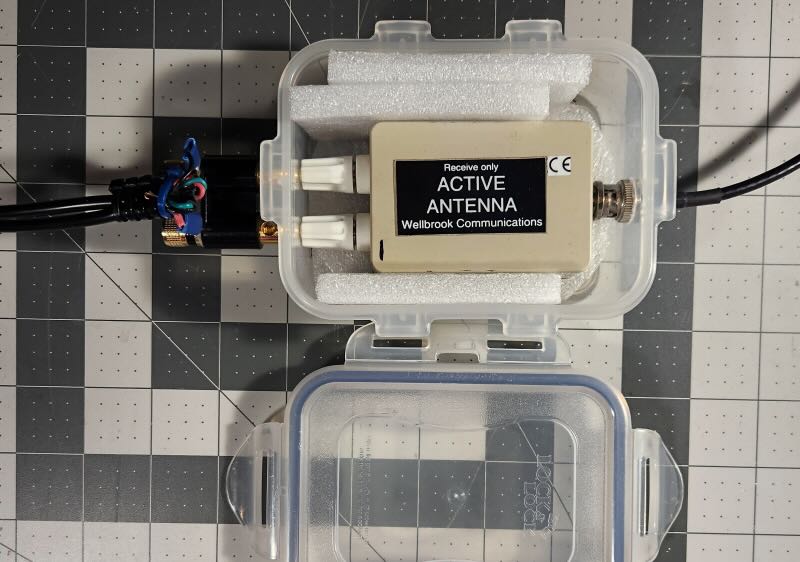 OK, the final picture is the wire lying on the ground.  It is not perfectly straight so it is about 8 ½ feet in diameter.  It fits nicely in a large zip lock bag coiled up and everything as usual fits into the backpack.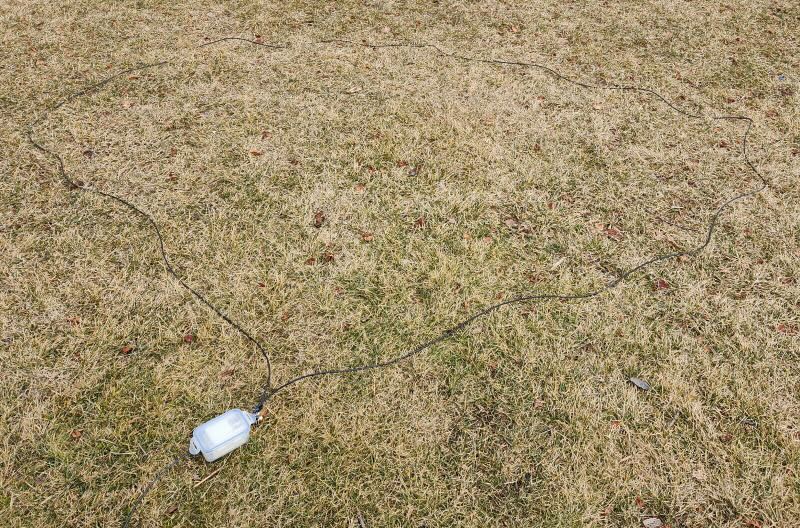 Truthfully, I did not intend to write this article but the recent solar activity has reminded me that there are signals out there to capture.  Also, on Amateur Radio, I was able to make first-time contacts with Amateur Radio operators from 16 different countries on 10 meters (28300 kHz and up).  It was quite a thrill!
Recordings
Here are just a few recordings I made on the 25 meter band in the late afternoon at the Campton Hills Forest Preserve, St. Charles IL.  The wind was gusting to 40 miles per hour and the temperature 38 degrees (F), but I felt the radio waves beckoning me.  Besides, I had a capable antenna that did not need any guy wires or trees to hold it up, plus it was a good excuse to make sure the old, cheap Dell computer could still work with the AirSpy HF+ SDR and SDR Console version 3.2.  Noise reduction using Audacity, as usual.
Voice of Vietnam in English: 100kW from Hanoi, 15 February 21:30 UTC, 11885 kHz.  I believe this is beamed to Europe and the torturous polar path made the signal very jittery.  Also, I think it did something to the woman announcer's voice which sounds over-modulated and muffled, harder to understand than the male announcer (I tried different SDR Console processing settings).  Signal strength S6 – S7 and S8 by the end of the broadcast.  The second file is their VoV Letter Box reading responses from listeners about World Radio Day (Yay!).   This woman announcer sounds fine in the second recording.
---
BBC in English: 125kW from Ascension Island, 15 February 21:21 UTC, 11810 kHz.  BBC strong signal S7. Interesting discussion about how to understand Russians.  Also, it is notable that this broadcast is for African consumption and not the usual one-sided "discussion" on Western main stream media (including BBC America TV).
---
KBS World Radio in English: 250 kW from Kimjae, 15 February 21:58 UTC, 11810 kHz.  Weak but usable, fluttery signal, S4 – S5.  This will take some listening skills.  BBC finishes their broadcast abruptly.  Notice the tones in the background (KBS Interval Signal).  There is also, way in the background, China National Radio #8 in Chinese (according to the schedule) jamming KBS.  KBS becomes the dominant station once BBC goes off the air, a woman's voice – "….KBS World Radio from Seoul, Republic of Korea", Interval Signal ends, then with clear ID, Intro Music, another ID by a man and news in English.  CNR #8 has changed to Mongolian and has an announcer with a very deep voice and some annoying music, and eventually swamps KBS.
---
Radio Thailand in English: 250kW from Udon Thani, 05 February 12:00 UTC, 9940 kHz.  Two weeks ago, from my noisy home location (using 2 Phased antennas), I heard Radio Thailand clearly, although with a polar flutter that makes it hard to understand.  "…this is Radio Thailand, FM88".
---
The extended recordings of these examples have been uploaded to Archive.org at the following URL's:
KBS sent me an e-QSL instantly upon submitting my QSL Report.  Happy Listening!
TomL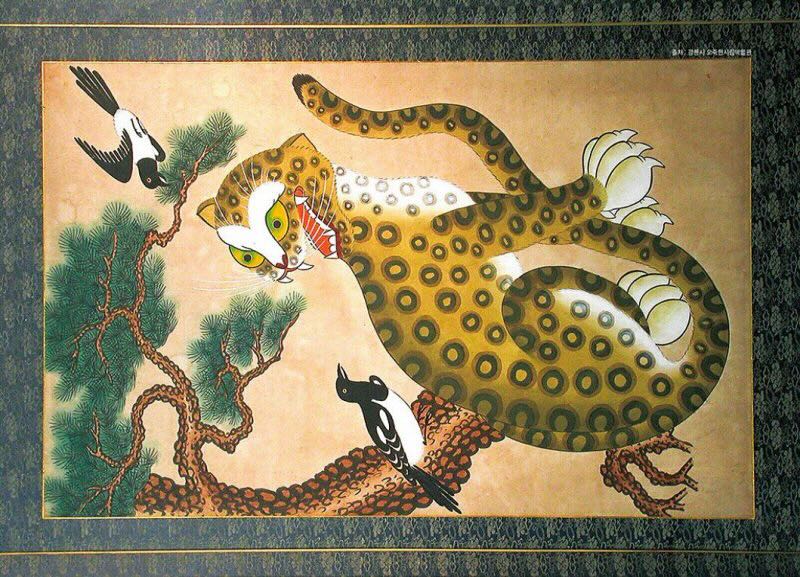 "Magpie and the Tiger (2022 is the Year of the Tiger) – Folk paintings featuring a tiger and a magpie were considered to bring good news and ward off bad energy.  They have been very popular among Korean people for generations."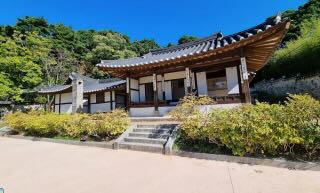 (Ojukheon Municipal Museum, Gangneung South Korea)