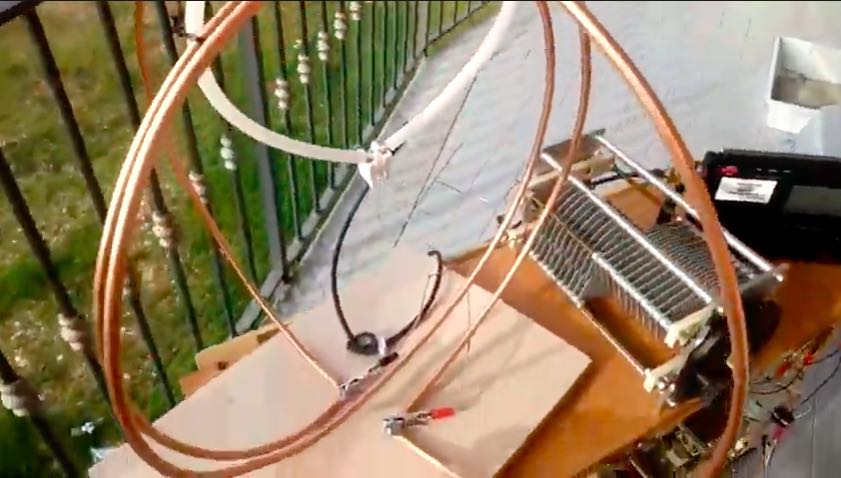 Many thanks to SWLing Post contributor, Giuseppe Morlè (IZ0GZW), who shares the following:
Dear Thomas and all friends of SWLing Post,
I'm Giuseppe Morlè iz0gzw from central Italy on the Tyrrhenian Sea, Formia.
A few days ago at a fair for radio amateurs in Latina, I bought an excellent very large variable capacitor–those of ancient military radios–and I found a splendid antique knob with a fantastic gear ratio.
I called this VariabilOne and it consists of two sections of 250pf each. It's very portable and can be applied to any loop with crocodile clips.
I built another cross loop made up of 2 turns the internal loop, 35 cm. and only one turn for the external loop, 40 cm.
I can tune frequencies from 3.500 to 20.0 MHz. The crossed loop is strongly directive given the two loops that work together being joined on their ends.
I have made some demonstration videos and it is a pleasure for me to share them for our entire community (see below).
Thanks to you and I wish you all the best for you and your family.
Greetings to all.
73. Giuseppe iz0gzw.
Click here to view on YouTube.
Click here to view on YouTube.
Click here to view on YouTube.
Click here to view on YouTube.
Giuseppe, thank you once again for sharing your brilliant homemade antenna projects with us. I absolutely love that monster variable cap and tuning whee! What a thing of beauty–and obviously your loop is very effective.
Thank you as always, Giuseppe!
Readers: click here to check out Giuseppe's other antenna projects.