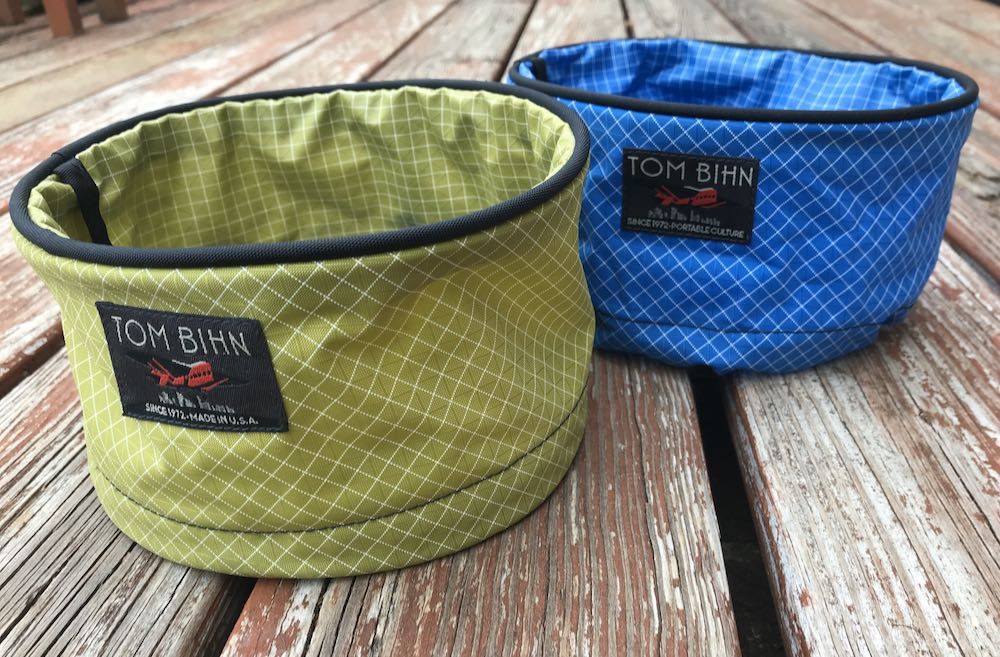 If you've been reading the SWLing Post for long, you no doubt know that not only am I radio geek, but a pack geek as well.
In a typical year––although, admittedly, this is not one––I do quite a bit of regional travel. I'm an minimalist traveler when I'm on the road, eschewing lots of unnecessary stuff, but I do still carry quite a bit of kit that's important to me…in the form of radio gear.
Several years ago, I discovered Washington state pack designer and builder, Tom Bihn. Like Red Oxx (another favorite), Tom Bihn manufactures everything in their US factory, treats their employees like gold, and guarantees their gear for life. Breath of fresh air.
Yes, since it's made on US soil, Tom Bihn gear can be pricey. But, hey, since it's with you for life, I feel it's worth the splurge.
I now own numerous Tom Bihn packs, bags, and accessories. But they make one product I use more than any other: the Travel Tray.
The Travel Tray (and don't be fooled by the name; it's definitely not for serving tea on a train) is an ingenious travel accessory––more of a pouch, really––that comes in two sizes: small ($22) and large ($25). I find the large size to be ideal.
So, what is it used for––? Let's start with TB's description:
Pop the Travel Tray out of your luggage when you arrive at your destination and drop in your keys, coins, wallet, cell phone — all that small stuff you don't want to have wander off while you sleep.

Think of it as a babysitter for the miscellanea that ends up in your pockets: our Travel Tray keeps an eye on all that until you're ready to face the world again. Unlike other travel trays, ours pulls shut with a drawstring so it can be used for more than just organizing the top of your bureau.

Need to depart with some degree of alacrity? Simply leave some or all of those little things in the tray, pull the drawstring, and hit the road.
When I arrive at a hotel, B&B, AirBnB, or at a home I'm visiting, the first thing I do is pull the flattened travel tray out of my pack, pop it up (yep, it's conveniently self-supporting), and throw in my keys, wallet, phone, earphones, passport, and everything else in my pockets. All kinds of little things land in there. If I pull something small from my pack, when not in use, it goes in the travel tray. This way, I'm way less likely to leave a small item in the hotel when I leave.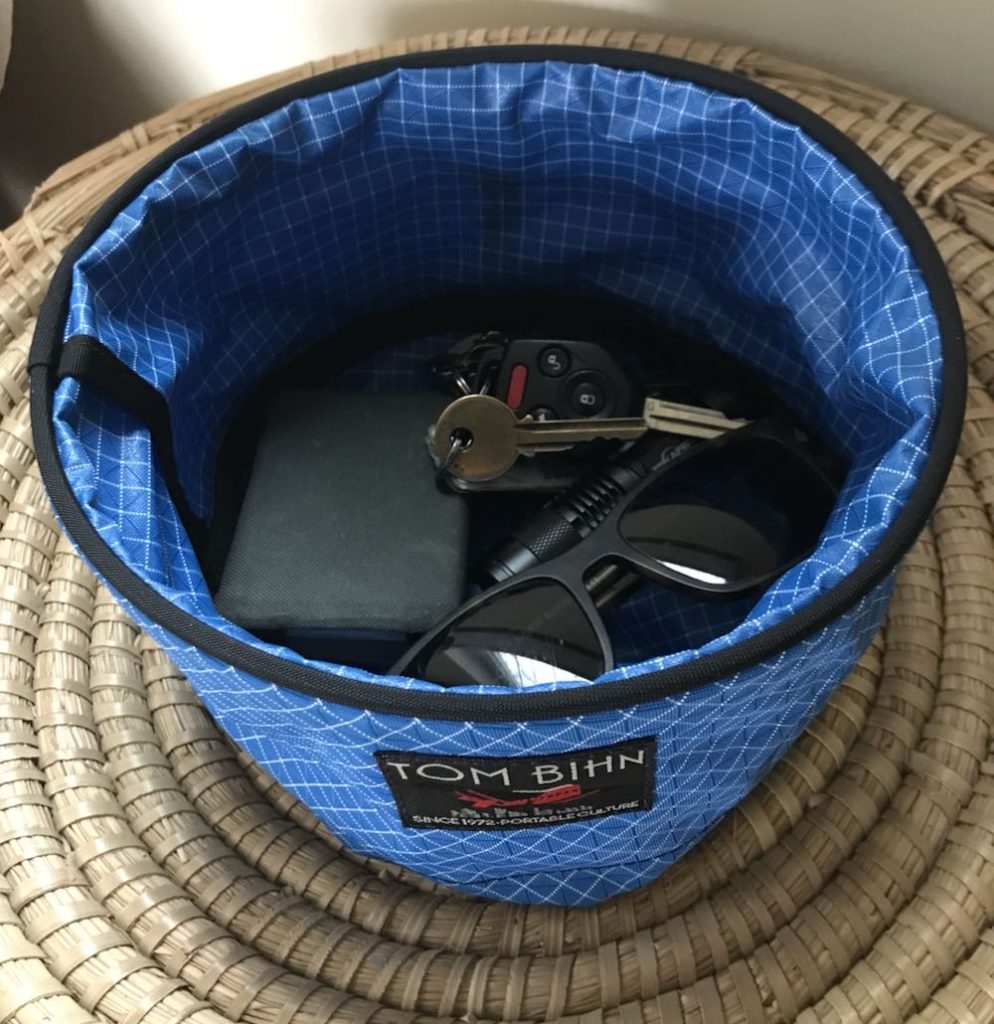 If you've ever been to one of my presentations, you might have even see me use a Travel Tray at the podium to keep track of any items I've brought to show. I've always carried a Travel Tray in both my EDC pack and my travel backpack.
And you know what? Since I've been using Travel Trays, I haven't left even one small item in a hotel room.
Great! But what does this Travel Tray have to do with radio––???
Not only can it hold a small radio or two…The large TB Travel Tray is ideal for something else:  antenna cables, power cables, and connectors!
In fact, I just discovered that it's the perfect portable storage for my recently-reviewed Airspy Youloop antenna!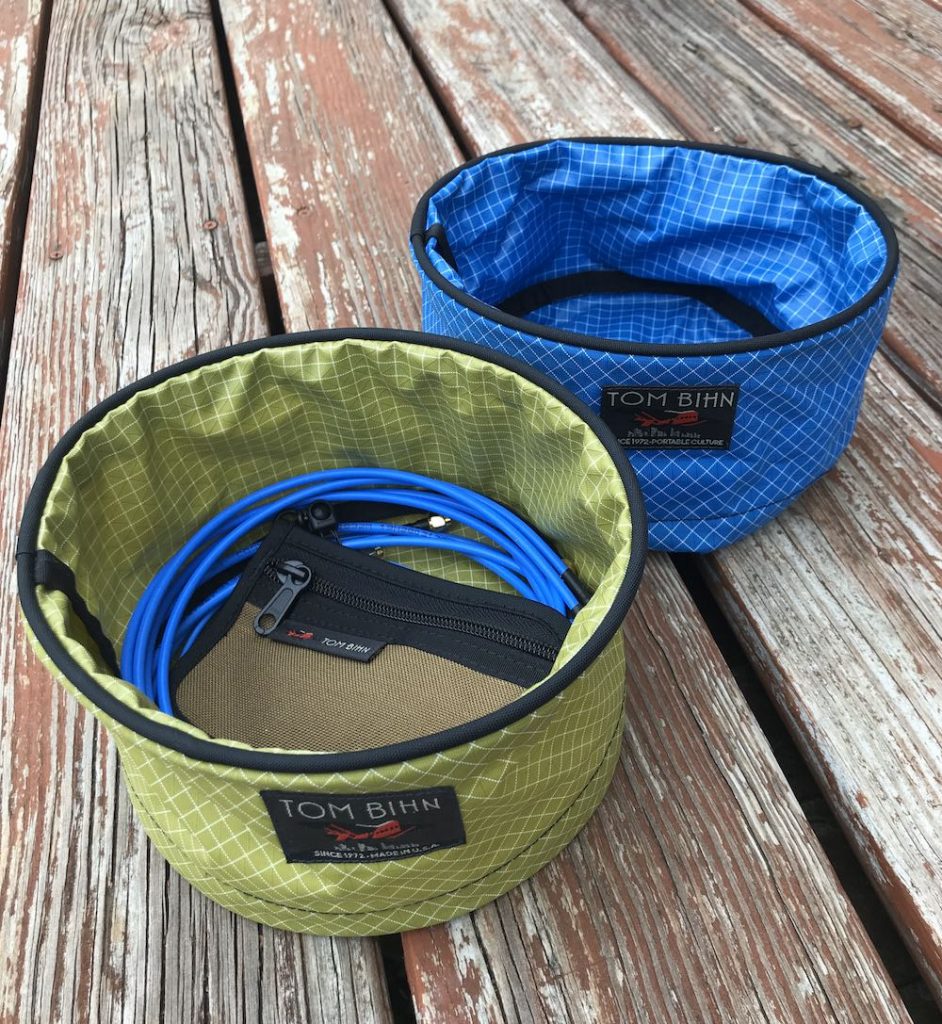 The Youloop rolls up for storage, and it just so happens the diameter of the Travel Tray is nearly identical to that of the poly bag in which the Youloop was shipped.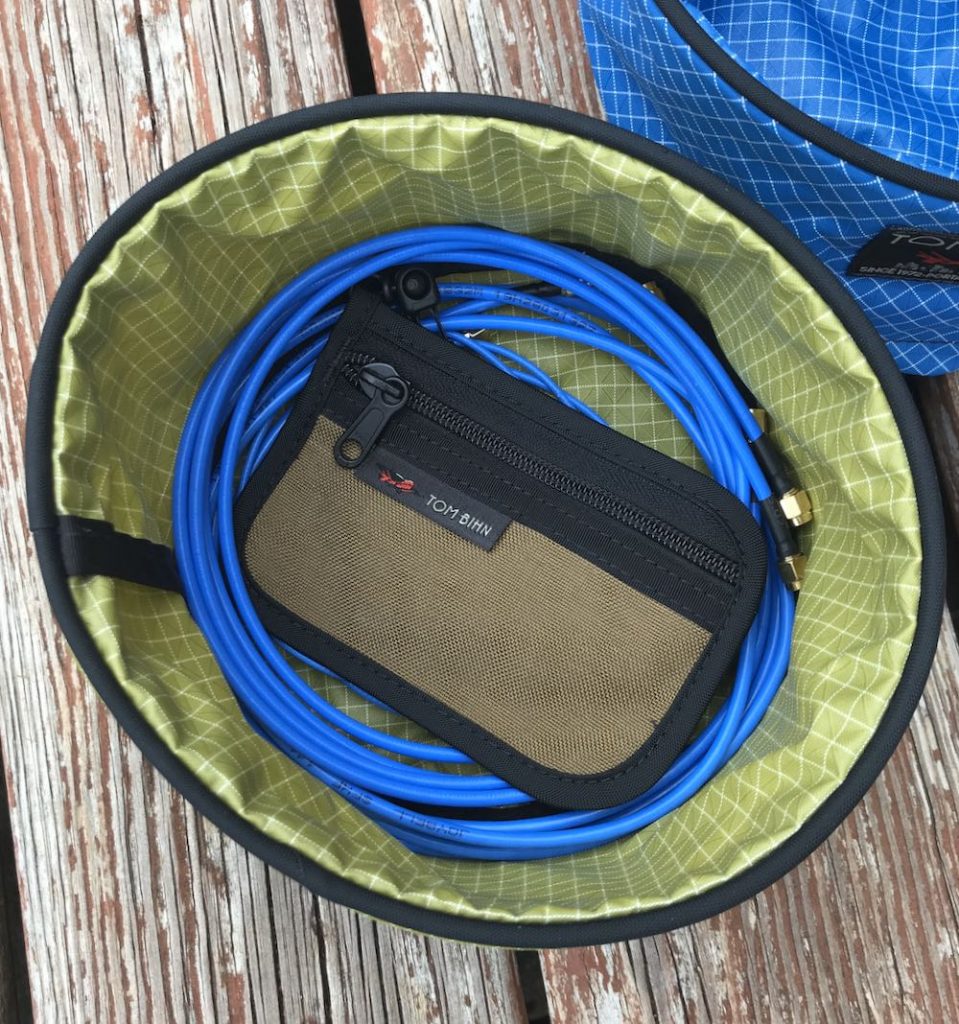 That little organizer pouch in the middle of the bag? It contains the Youloop cross-over box and tee, along with some small patch cables. Tom Bihn actually sent the small pouch free with my recent order of yet another Travel Tray––they're currently including one with every order (details here). Sweet!
I could easily fit an SDR and all associated cables in this pack, too. In fact, as you can see, the antenna only takes up a small fraction of the tray's capacity when it's popped up.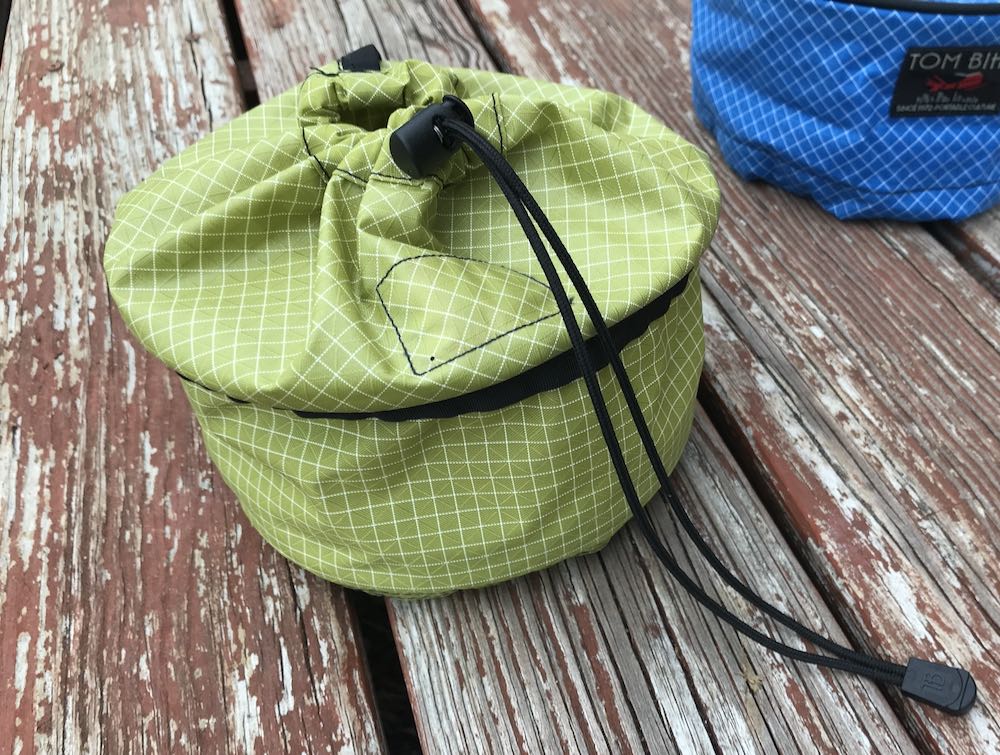 When I'm ready to travel, I just pull the drawstring, and squash the Tray flat! Then I have only to toss it in my pack…couldn't be easier.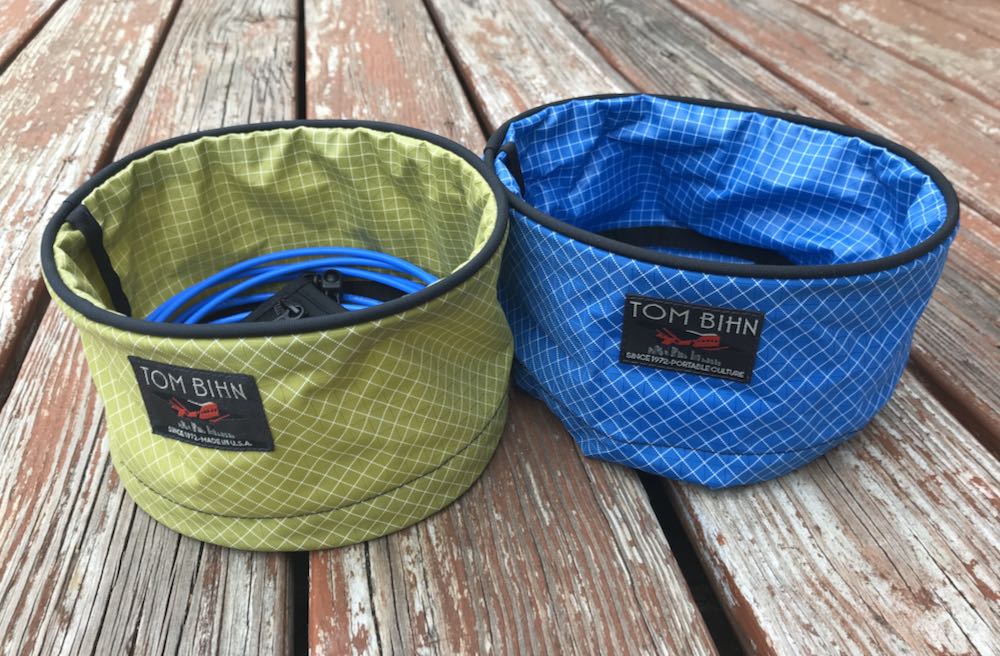 During the Covid-19 pandemic, I'm doing what I can to support small businesses that are important to me, such as this small American company. I purchased the blue travel tray above because…well, you can never have too many, right?
If you'd like to check out the Tom Bihn Travel Tray, here's a direct link to the product page on the TB website. Note that shipping times vary because the company is taking serious precautions, and also diverting much of their factory work to producing much-needed face masks right now. Go, Tom Bihn!
Again, I prefer the large Travel Tray, but they also make a handy small Travel Tray. These come in a number of other colors, but I go for the bright colors because they stand out, meaning a quick scan of that hotel room or wooded campsite will always reveal just where I left my gear. You can even choose your preferred fabric weight––"halcyon" fabric or a 210 ballistic. I prefer halcyon because it's lighter weight, yet still incredibly durable (both trays seen above are made with halcyon).
Got this Tom Bihn pouch? What do you use yours for? Feel free to comment below!
---
Do you enjoy the SWLing Post?
Please consider supporting us via Patreon or our Coffee Fund!
Your support makes articles like this one possible. Thank you!