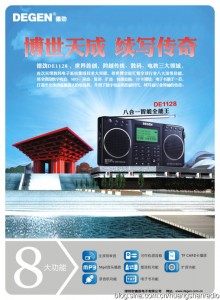 This blog has published more details about the DE1128. For those of us not fluent in Chinese, Google translate seems to do a fair job of translating details.
We have updated the SWRI entry for the Degen DE1128 with our interpretation of the translated features.
It appears it has many of the features we had assumed and is strikingly similar to the Grundig G2 Reporter.
Thanks to the Herculodge for the tip!
UPDATE: eBay seller Tao Qu has informed us that the Degen DE1128 will have AM (Mediumwave) steps locked in at 9kHz, meaning this portable would not be ideal for the MW DXer  in the US.