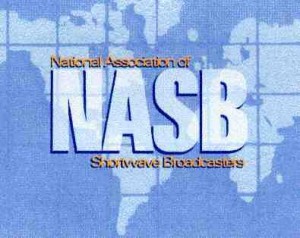 I attended and presented at the NASB meeting last year at Radio Free Asia's headquarters in Washington DC. It was an amazing meeting and great opportunity to talk radio with industry leaders. You should consider attending an NASB meeting if your schedule allows. Here are the details:
(Source: NASB Newsletter)
The 2013 Meeting will take place May 15-17, 2013 at EWTN Television in Birmingham, Alabama.
Registration for the meeting is free of charge, and it is open to anyone with an interest in shortwave broadcasting or listening. To register, fill out our online registration form at www.shortwave.org/meeting/meeting.htm or send your name and e-mail address to Jeff White at radiomiami9 [ a t ] cs.com.
As usual, the NASB Annual Meeting will be held in conjunction with the DRM-USA platform on May 15-17, 2013, at the headquarters of NASB member EWTN (Eternal Word Television Network) in Birmingham, Alabama. NASB President Glen Tapley, Terry Borders and other EWTN staff members will welcome shortwave broadcasters, listeners and anyone with an interest in shortwave radio to the Birmingham venue.
Arrangements have been made for hotel accommodation at the nearby Holiday Inn Express for a price of $75.00 plus tax, including breakfast daily. The Holiday Inn Express Irondale (a suburb of Birmingham) is about a half-mile from the TV network, the location for Thursday's meeting and tour of the TV studios. The hotel will provide a free shuttle service to and from EWTN and a continental breakfast. EWTN will provide lunch Thursday. On Friday, participants will take a 40-minute trip to the WEWN shortwave transmitter site high in the picturesque mountains surrounding Birmingham, and the radio staff will have a cookout on the hill for attendees. EWTN is looking forward to your visit!
TENTATIVE AGENDA FOR NASB 2013
WEDNESDAY EVENING
Reception at hotel with cocktails (including non-alcoholic) and hors d'oeuvres for all participants, sponsored by the Holiday Inn Express
THURSDAY
Meeting takes place at EWTN TV station 9:00 am-5:00 pm
The meeting will be opened by the EWTN President/CEO
Tour of TV plant
Lunch at TV plant
Afternoon presentations: DRM talks, AJ Janitschek of Radio Free Asia (on "Green Engineering"); Dr. Dowell Chow, President of Adventist World Radio; Mike Rosso, Vice President, and Dave Hultsman of Continental Electronics; Mark Allen of Rohn Tower Company; and Jerome Hirigoyen of Télédiffusion de France about TDF's Issoudun transmitter site
FRIDAY
Tour of shortwave transmitter site – vans will pick up at the hotel. Remarks by Terry Borders.
Cookout on the mountain for lunch
Back to TV plant for business and board meetings (or on the mountain if agreeable)
HOTEL RESERVATION DETAILS
Room reservations need to be made at the Holiday Inn Express by April 16 to ensure the group rate. After that, reservations can still be made, but only based on availability. There is no cancellation fee if the reservation is canceled by 6 PM the date of arrival. Otherwise there is a one-day charge.
Attendees simply need to e-mail: hiexpr[email protected] with the Subject: NASB Reservations
The hotel will send confirmation within 24 hours. The price is $75.00 per night plus tax.
Those who do not wish to use e-mail can phone the hotel at (205) 957-0555 and request to speak with Adrian or Margarita.
Information you need to provide in your e-mail or by phone:
Name of Guest(s):
Email/Phone Number:
Check in/out dates:
Estimated time of arrival:
Preference of room type (King or Two Queen Beds):
Number of People in Room:
Method of Payment: (Do not provide credit card number with e-mail. The Holiday Inn Express will contact you later for that information.)
If you have any questions about the 2013 NASB Annual Meeting, or would like to sponsor an event at the meeting, contact Jeff White at [email protected]
NASB Members:
Adventist World Radio
Assemblies of Yahweh
EWTN Shortwave Radio (WEWN)
Family Stations Inc.
Fundamental Broadcasting Network
Radio Miami International
Trans World Radio
World Christian Broadcasting
World Wide Christian Radio
NASB Associate Members:
Antenna Products Company
Babcock International Group
Continental Electronics Corporation
Far East Broadcasting Co.
Galcom International
George Jacobs & Associates
Hatfield and Dawson Consulting Engineers
International Broadcasting Bureau
Rohn Products, LLC
TCI International, Inc.
Telediffusion de France (TDF)
TDP (Belgium)
Thomson Broadcast & Multimedia