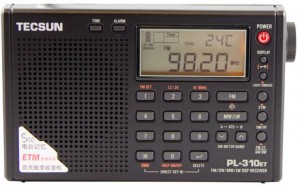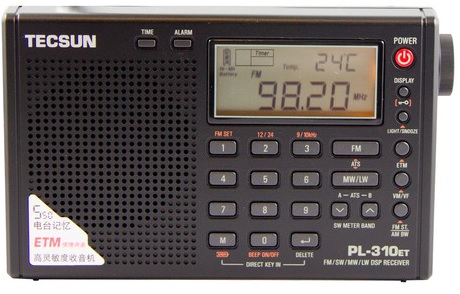 SWLing Post reader, Dietmar, writes:
"I recently saw a YouTube video that demonstrated that the new Tecsun PL-310ET has better reception than the previous PL-310 that you reviewed [see video below].

I purchased the PL-310ET for $50 (incl. shipping) from Anon-Co and received it from Hong Kong in less than two weeks. Anon listed the PL-310ET as their #1 selling item at the time of purchase (PL-660 was #3).

The PL-310ET now has the very useful ETM. I am quite impressed with the radio's reception. Basically, I could listen to the same radio stations that I could get with my 20+ year old ICOM R-71A. However, the Tecsun's sound quality was considerably better. The ICOM had a slight edge with interfering stations in a few cases.

When comparing radios, I used the Tecsun with its telescope antenna and the ICOM with an indoor Palomar shortwave loop antenna with range from 5000 KHz to approx. 17000 kHz.

The PL-310ET also has external antenna input and can charge NiMH batteries.

I consider the Tecsun a great bargain considering what I once paid for the ICOM."
Many thanks for your thoughts on the PL-310ET, Dietmar! I may just pull the trigger on a new PL-310ET. Perhaps it could replace my PL-380 as a travel radio. I'm curious if its dimensions are any smaller than the PL-380 and if it mutes between frequencies when band scanning.
Anyone else have thoughts about the PL-310ET?
I believe this is the comparison video Dietmar was referencing:

Click here to search eBay for the Tecsun PL-310ET.