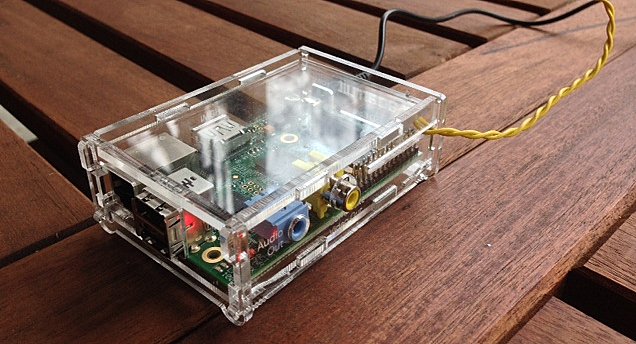 Two weeks ago, Make Magazine published a simple hack that turns your Raspberry Pi

into a low-powered and portable FM transmitter/radio station.
For those of you not familiar, the Raspberry Pi is a single-board computer developed in the UK by the Raspberry Pi Foundation. The RasPi is a cleverly-designed, useful device–especially if you like tinkering with mobile computing. Best yet, the Raspberry Pi is very inexpensive; the basic computer costs a mere $40 US, though there are starter kits that include common accessories for $70-80
.
One of the first things I did upon returning home, following nearly two weeks of US east-coast travel (which included the Winter SWL Fest), was to build my own Rasberry Pirate Radio. I had hoped to make the radio before my trip, but thought I wouldn't have enough time. Had I known what I know now–that the Raspberry Pirate Radio is a super simple and easy hack–I would have made it anyhow and taken it along for the ride.
To be fair, what makes this project so simple is the fact that Make Magazine so beautifully documents the procedure on their website.  It also helped that I have a little familiarity with creating disk images–still, I'm certain that if I were a total newbie, I could have done all of this within 30 minutes…Which is just what I did.  And I'll bet you can, too.
There are really only three steps required to make your own Raspberry Pirate Radio:
Make a simple FM antenna and attach it to pin 4 on the Pi's board. In my case, I had a small dual conductor connector attached to about eight inches of twisted pair wire. I simply connected one side of this connector to pin 4. Since my FM antenna is not cut to a resonant length, I know I'm compromising the FM transmitter's range a bit…Still, it's what I had on hand, and it works!
Download Make Labs' disk image and flash it to your SD Card.
Add music to the "Pirate Radio" partition of the SD card and edit the config file to your preferences. If you have the option to do this step on Mac OSX or Linux, the process is much easier than on Windows. But Windows users, fear not: Make Magazine describes, in detail, how to add files.
After I finished these steps, I simply plugged in my Raspberry Pi and tuned one of my radios to 89.9 MHz (the frequency I chose and saved to the config file). The Pi booted and started the Raspberry Pirate Radio script automatically.  Brilliant!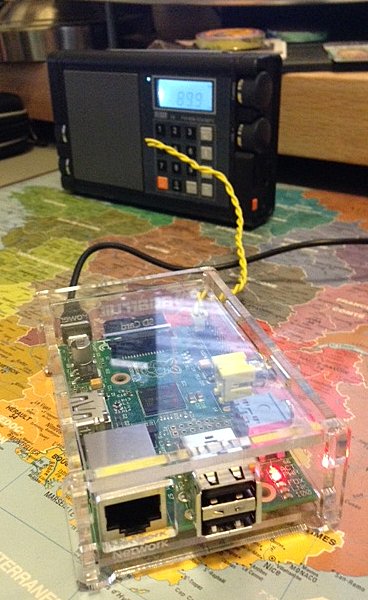 It's alive!
Being a shortwave radio nut, of course I loaded my Raspberry Pirate Radio with a few gigabytes of my off-air recordings that are a heavy on music (all of which you, too, can pull from our Shortwave Radio Audio Archive). It's kind of fun tuning my bedside Tivoli Audio Model One
 to 89.9 MHz and hearing the Voice of Greece, with all of its shortwave audio characteristics. If I close my eyes, I can pretend the Model One has a shortwave band. Love it!  Just the thing to drift off to…
I've kept the Raspberry Pirate Radio running nearly 24/7 here at home. I've also had excellent luck running the radio mobile by using my Eton Rechargeable Battery Pack
 as the power source (Universal Radio also sells a higher capacity version, if you like). I've yet to test how long the power block will run the Raspberry Pi, but I imagine it will last for a couple of hours, at least.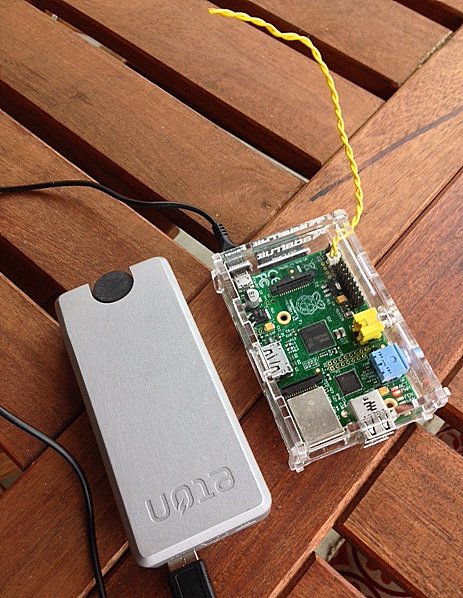 If you want to take your Raspberry Pirate Radio in the car, it's a simple matter to power it with a 5VDC USB power plug. You probably already have what you need, especially if you charge your mobile phone in the car.
If you've never experimented with the Raspberry Pi, this is a perfect first project for you. Just think about it: for under $50, you can make a simple-yet-effective FM radio station which shuffles your favorite music or recordings from any source–from obscure radio pirates to far more distant stations. Besides, once you have a Raspberry Pi, you'll find there are thousands of other radio projects to occupy your rainy weekends.  Enjoy!
Many thanks to Make Magazine for posting this simple project!
Update: Several people have written concerned that the Raspberry Pirate Radio has no output filtering of its RF signal.  This is true. Though I have not tested it, I would have to assume that it could radiate on harmonic frequencies and potentially interfere with other radios. Though the broadcast footprint is very small, if you live in a high-density neighborhood, you will need to keep this in mind. I live in a very rural area and my nearest neighbor couldn't possibly hear my Raspberry Pirate Radio.
I'm very curious if there's a simple mod to filter the output RF. If you can think of one, please comment!