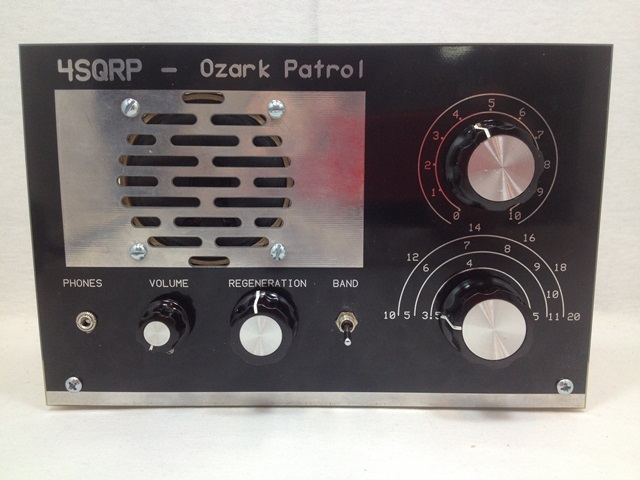 Just learned that David Cripe (NM0S) has a new kit for sale: the Ozark Patrol regenerative receiver kit.
The Ozark Patrol is a simple, straightforward kit, designed with beginners in mind. The kit uses through-hole components, which is to say, mounted on pads etched on the opposite side.  All of the component values and reference numbers are silk-screened on the board to indicate each part's location, making for truly quick and fool-proof assembly.
What's more, Dave is a talented kit designer; he's the brains behind the kit for our successful ETOW HumanaLight (originally conceived by engineer Greg Majewski). He's not only clever like that, he's also a great pal.
In the past, when Dave has announced new radio kits for sale, he's sold out within a few days. That's why I ordered mine the moment I saw the announcement.
And, hey…not only does just $40 plus shipping ($46 in the US) get you a superb regen receiver kit, but proceeds also support the Four State QRP Group. Win-win, in my book.
Here are a few specifications and design features listed on the Four State QRP Group's website:
Frequency Range: 3.5-15 MHz in two bands
Sensitivity: Yes!
Power Supply: 6 x AA batteries
Audio Output: A 2.6" speaker is included, as well as a jack for 1/8" stereo headphones
Want one, too? Click here to order your own Ozark Patrol kit…and enjoy tinkering as well as listening!