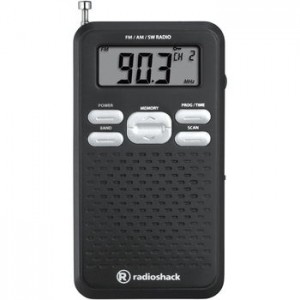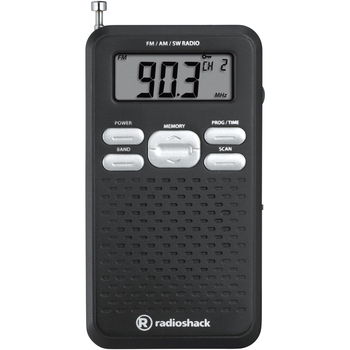 Regarding the performance of the RadioShack Model 2000669 portable radio, SWLing Post reader, Mike, comments:
I picked one up today, and overall, I'm impressed. It does have complete coverage from 2.5 to 26.1 MHz as advertised, and overall, it has very good sensitivity and adjacent channel rejection for a small portable (in fact, the best I've heard from such). Sure sounds like some sort of DSP filter is involved. Reception is at least as good as my old Grundig Mini 300 and much, much better than a Degen DE22. Clipping an external long-wire antenna did not cause overloading (I was very surprised by this). AM BCB reception is actually quite decent: I was able to listen to several distant stations that were only 10 kHz from local ones. Audio is OK but not great, and the case does not stand up stably. I guess you can't expect too much from a $30 radio. No case or earbuds are included.

By the way, if you go to a local Radio Shack store, be sure you get the internet price. We have two stores near my house; both had the radio marked as $39.99 instead of the $27.99 online sale price. The guys at the first store said "sorry, we can't change the sticker price." No sale. So, I went to the other store. When I pointed out the web price to the young women helping me there, she said, "this isn't right" and called her manager over who overrode the store price with the cheaper one.

So, who makes this radio? Good question. The back of the case says "Custom manufactured in China for Radio Shack Corporation." Maybe Tecsun?
Sounds like this may be a great portable for the glove compartment of a car, or to keep in your backpack/briefcase.
Thanks, Mike, and please share any other comments about this radio as you use it.