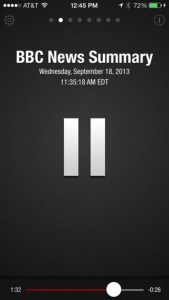 Regarding the new 1 Radio News App for Android devices, SWLing Post reader, Erica comments:
"I too wish 1 Radio News were available for iPhone. The nearest thing I know of however is an app called Hourly News. It allows you to listen to latest news bulletins from various news outlets.

Most news sources included are American broadcasters, but it does have Deutsche Welle, RTHK and VOA. You can also add podcast feeds to expand what you can hear. I hope this is useful to you all.
Many thanks, Erica. I use an iPhone when I'm on the move, so I'll give this app a try!