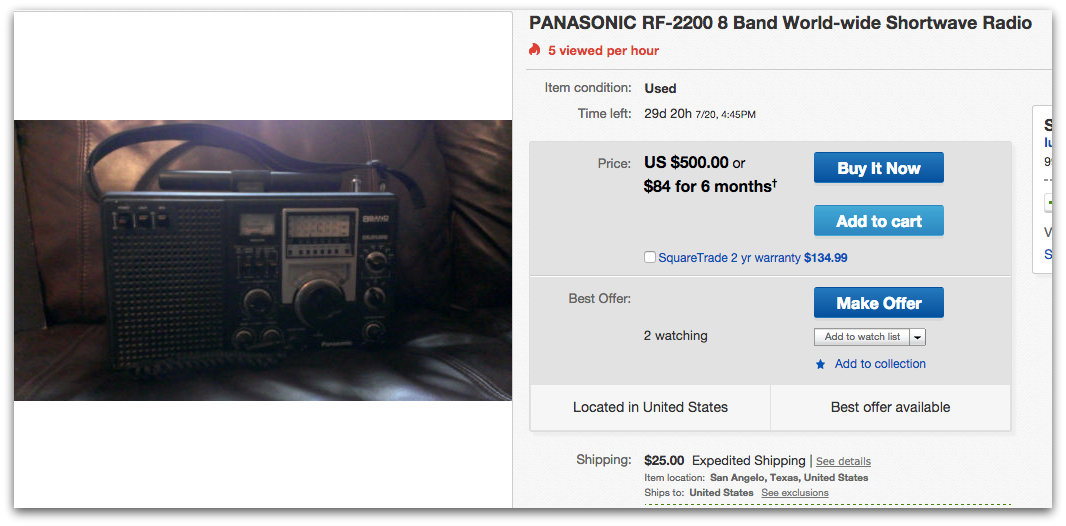 SWLing Post contributor, Dan Robinson, has recently noticed exorbitant prices demanded by certain sellers on eBay. Dan writes:
As readers of SWLing Post know, Ebay prices–at least asking prices–can often go completely off the scale.

While it's true that prices can be as high as the market will bear, some recent examples are cases in point. The RF-2200 by Panasonic was an amazing radio for its time, competing with the SONY 5900W and some other models back in the early days of sophisticated portables. The 2200 was known, and is still respected, for its directional AM loop antenna, and is a prized part of the stables of many SWL's today.

But let's face it…only a 2200 found new-in-the-box, or in [like]-new condition, should fetch anything over $250-300. Other examples recently include a DX-302 for which the owner was seeking something like $1200. Price inflation has also been seen with SONY ICF-6800Ws. The [difference] with these sets is that they truly are in new or 10.0 condition, worth several hundred dollars.

New SONY ICF-2010s–[and] there are still some circulating that are new-in-the-box or in [like]-new condition–can and do bring prices north of $400, sometimes more. So do new-in-box SONY ICF-SW100s if they are complete with all accessories, in the box–but beware, they should be the newer modified versions and not the old version (you can tell this by looking at the hinge on the SONY, which should have a notch to indicate the revised version of the radio).

Another classic portable that deserves somewhat higher pricing is the Panasonic RF-B65. In [new-in-the-box] condition, these can go for more than $300.

So, [unless] you're seeing astronomically high prices for RF-2200s, stop and think about it. These are old portables, and you should not be paying exorbitant prices–UNLESS you [encounter] a time capsule with a radio in the box that was never used. Even so, buyers need to ask multiple questions of sellers to protect yourself.
I agree completely, Dan. If you want to purchase an item at a fair market price or even a bargain, you must do your research before simply using the "Buy It Now" option on eBay. There are plenty of sellers who charge fair prices still; leave the stratospheric-priced items on the eBay shelf.

A case in point (above): never mind the grammar error in the above listing, the $125 "Buy It Now" price for the Tecsun PL-365 is frankly excessive. The PL-365 is identical to the CountComm GP5/SSB–a radio I recently reviewed–and is available new from Universal Radio for $79.95 plus shipping. And since there are currently no other listings for the PL-365 on eBay (I'm not sure why) this price might appear reasonable to a new buyer.
This same seller initially offered the Tecsun PL-365 for a much higher price–in excess of $180, I believe. While this seller has excellent ratings, and no doubt would stand behind the product, the markup is simply too high for me to endorse (hence, no eBay link here).
In the past, I've also noted a semi-rare vintage radio–a "boat anchor" variety with a market price of perhaps $1,500–up for auction with a first bid amount in excess of $20,000 US! Yet I felt confident of the $1500 market price because I checked and cross-referenced it in Fred Osterman's Shortwave Receivers Past & Present, which provides fair market values.
So, while I continue to support eBay, which remains one of the most secure platforms from which to buy unique and vintage goods on the open market, I want to encourage readers to heed Dan's warning: research all pricing before making radio purchases on eBay…and keep the holes out of your pockets. Note that I will never directly link to unreasonable eBay listings.