In today's episode of absurd eBay prices, I present the Tecsun PL-680: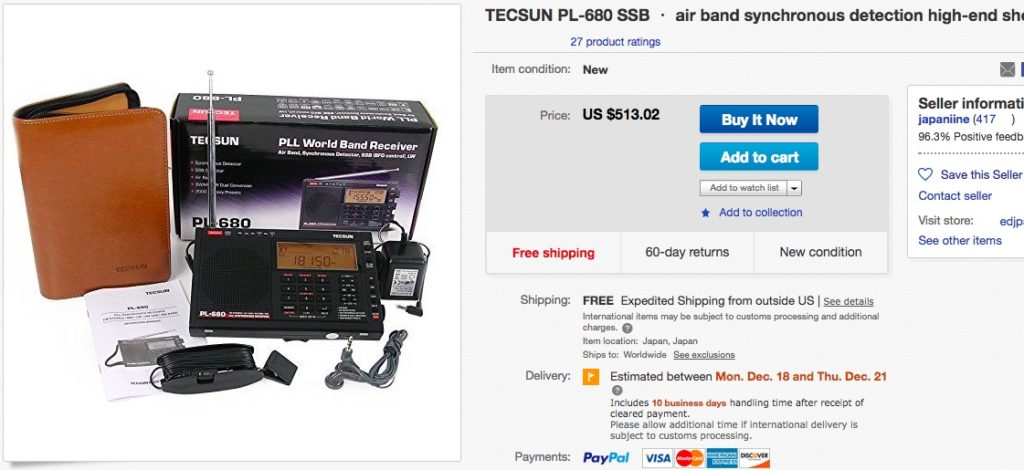 A price of $513.03 US (shipped) from an eBay seller with a 96.3% approval rating, when you could purchase the same radio from the excellent Anon-Co for $111 US shipped?
When I see over-inflated eBay listings, I feel so sorry for the unlucky person who pulls the trigger and buys an item at five times the retail price. I must assume–based on the sheer number of these listings on eBay–people are indeed purchasing grossly overpriced items.
No matter what sort of radio you're seeking on eBay (or elsewhere) please do your research in advance. Check reliable retailer prices (Anon-Co, Universal Radio, Ham Radio Outlet, DX Engineering, Amazon, ML&S, Nevada Radio, RadioWorld, etc.) prior to purchasing anything that's currently in production.
If you're seeking a vintage or rare unit, use eBay's excellent price research tools that reference past sold listings. In addition, consult Fred Osterman's excellent book: Shortwave Receivers Past & Present.
This has been an SWLing Post Public Service Announcement! 🙂